Dir/scr: Adrian Biniez. Uruguay-Germany-Argentina-Netherlands. 2009. 84mins.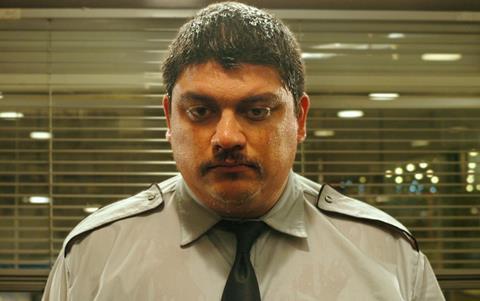 The only gigantic thing in this otherwise modestly minimalist first movie is the large supermarket in which it is set. Adrian Biniez's main character, a solitary 35-year-old security guard who is secretly infatuated with a cleaning woman working the night shift, is another worthy addition to the gallery of lonely men so much in favour with new Latin American cinema. While it generates some curiosity for the first half hour, Gigante loses its grip as its non-plot plods slowly towards an ending that might be the beginning of a sequel. Film festivals could be interested, but elsewhere it should be restricted to art houses with a Latin American bent.
Jara (Camandule), a heavy-set surveillance office working the graveyard shift, leads a dull and routine existence: he watches CCTV monitors all night long, goes home to sleep on a sofa while the television drones on in the background, solves crossword puzzles, listens to heavy metal on his iPod and spends some time with his nephew. At the weekends, he works as a bouncer/doorman at a local discotheque. Things change when he notices young cleaning woman, Julia (Svarcas) on his monitors, and he becomes fascinated with her to the point of obsession. He starts to wait for her to come out in the morning after work, and shadows her through the streets of Montevideo.
Jara never dares to speak to Julia until he learns that cutbacks at work will mean that she loses her job: he now has to decide whether he will part with her forever or make a decisive move at long last.
Biniez, who had a small part in the acclaimed Uruguayan film Whisky, evidently believes that it is up to the audience to fill in all the empty spaces in a film. There are certainly more than a few here, but somehow Jara is too placid, underdeveloped and bland to spark the viewers' imagination. He is silent most of the time out of choice and while he is sympathetic, he isn't interesting enough to care about and there is nothing in Horacio Camandule's performance to change this impression.
Most of the time, the mood is controlled and subdued. There are a few attempts at levity, but not all of them are successful: a cleaning lady stumbles into a mountain of toilet paper while sweeping the shop's floors; Jara fixes a colleague's aching neck just like he has seen it done on television; he gloats triumphantly after beating his nephew on his playstation. It's all low-key stuff: a bit more punch wouldn't have hurt.
Production companies
Control Z Films
Pandora Films
Rizoma Films
IDTV
ZDF/ARTE
International sales
The Match Factory
(49) 221 539 7090
Executive producers
Fernando Epstein
Agustina Chiarino
Cinematography
Arauco Hernandez
Production designer
Alejandro Castiglioni
Editor
Fernando Epstein
Main cast
Horacio Camandule
Leonor Svarcas
Nestor Guzzini
Federico Garcia
Fabiana Charlo