The Chilean drama won acclaim from critics at the Berlinale while The Necessary Death of Charlie Countryman came in last.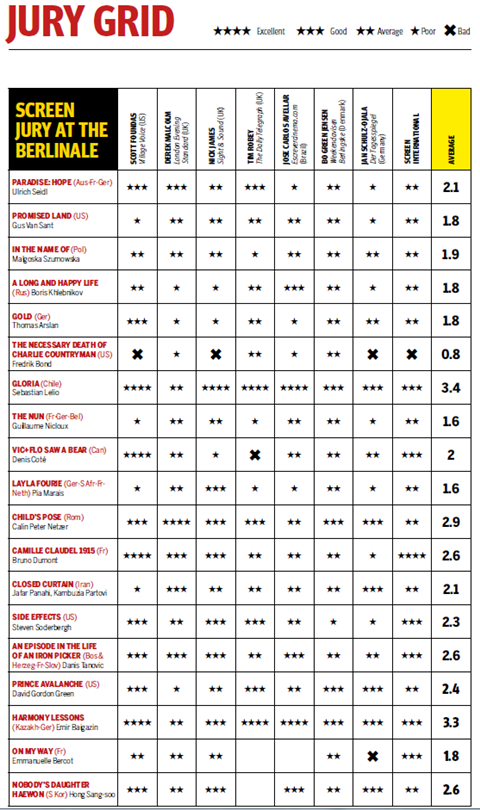 The annual Screen critics' jury at this year's Berlinale provided an insight into how many critics were viewing the main competition films, and while not fully reflecting the final decisions of the jury the ratings during the festival point to the up-and-downs of reactions to the films on show.
Golden Bear winner Child's Pose, which cropped up mid-way through the festival, was greeted with respect and more than a little admiration by our group of critical voters, and was clearly deemed a strong contender though not a likely outright winner with an average score of 2.9. The official festival jury thought otherwise.
At this year's festival only two films reached an average score of more than 3.0 - Chilean drama Gloria and the Kazakh-German co-production Harmony Lessons.
There is a solid argument that the arrival of Gloria came as a cinematic relief after a poorly received run of competition films.
Ulrich Seidl's Paradise: Hope was seen as a solid first competition film (though its spread of scores only ranged from one to three stars), but there was clear disappointment with the four subsequent films – Promised Land, In The Name Of, A Long And Happy Life and Gold – all of which failed to reach a 2.0 average score.
After that poor run, the sheer verve and vibrancy of Gloria (and especially Paulina Garcia's impressive and deservedly prize-winning performance) was the feel-good film that reviewers needed to re-charge their critical batteries.
Everyone could see that Garcia was pretty much a shoe-in for best actress, but there was a niggling feeling that the high scores were as much a response to the run of so-so films than the possibility that Gloria could take the Golden Bear.
Peter Netzer Child's Pose was clearly perceived as a contender by the Screen jury grid contributors, gaining a higher score than pre-festival favourite Bruno Dumont's Camille Claudel 1915 (which screened on the same day) and seen as an impressively made drama and certainly a contender.
Towards the end of the festival David Gordon Green's Prince Avalanche was well received – though not a real favourite, his Best Director award coming as something of a surprise, with certain critics favouring Hafsteinn Gunnar Sigurðsson's Either Way, the film on which it was based – as was Emir Baigazin's Harmony Lessons, which came a smart and elegantly filmed surprise towards the end of the festival.
Most poorly received film of the festival – from the Screen criticial contributors at least – was Fredrik Bond's The Necessary Death Of Charlie Countryman, which received four 'x' scores (with 'x' meaning 'bad') and achieving a dreadful average of 0.8. Clearly one for Shia LaBeouf completists only.