China box office: Godzilla had an impressive opening at the China box office last weekend, grossing $37m and pushing Edge Of Tomorrow to second place.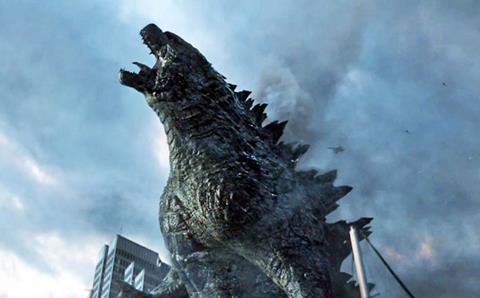 The Legendary Pictures/Warner Bros production racked up 5.9 million admissions over three days (June 13-15) and set a record for the biggest opening weekend for a Warner Bros film in China. Bryan Singer's X-Men: Days Of Future Past remains the biggest Hollywood opener of the year in China with $39.35m, followed by Captain America: The Winter Soldier with $39.23.
Meanwhile, Tom Cruise's sci-fi action title Edge Of Tomorrow, also a Warner Bros release, grossed a further $24.67m in its first full week (June 9-15) for a cumulative gross of $50.57m.
Fox's X-Men: Days Of Future Past, which came in third, has now grossed a mighty $114.38m in China, following an additional $7.1m take last week.
Alan Mak and Felix Chong's Overheard 3 was the top-grossing Chinese-language film, coming in fourth with $5.26m for a cumulative gross of $47.45m. Local romantic comedy Night Of Adventure came in fifth with $1.73 for a cume of $3.62m, followed by Zhang Yimou's Coming Home, which took a further $1.22m for a cume of $46m.
The only other openers in the top ten were local horror film Midnight Hair, directed by Liu Ning, which grossed $840,000 for seventh place, and Til Schweiger's Guardians, which took $480,000 for ninth place.
Two local animations filled out the rest of the top ten: in eighth position, GG Bond 2 took $490,000 for a cume of $6.67m, while Happy Little Submarines 4 – Adventure Of The Octopus took $350,000 for a cume of $7.39m.