Joy, surprise and humility on a day of celebration for film's leading lights.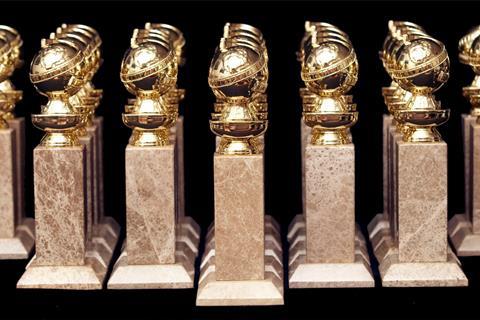 Thursday brought good news for plenty in the industry as the Hollywood Foreign Press Association announced their nominees.
Screendaily spoke to some of the nominees. The Golden Globe awards ceremony will take place on January 10, 2016 in Los Angeles.
Best Motion Picture – Drama
"We are swept away by the generosity of the Hollywood Foreign Press Association with five Golden Globe nominations, and especially the double best actress nomination of Cate and Rooney. It's incredibly rewarding to see the hard work of Number 9, Killer and Film 4 come to light in the making of this wonderful Todd Haynes film."
Producers Elizabeth Karlsen, Stephen Woolley & Christine Vachon, Carol
Best Motion Picture – Musical or Comedy
"I am grateful to the HFPA for recognising Joy and the picture's leading light, Jennifer, who has taken new risks, across the lifespan story of this picture that can spread inspiration to everyone who has a dream that might have been forgotten. And I'm grateful to all our remarkable cast who made this story of the ordinary becoming extraordinary in life, come true"
David O Russel, Joy
"I can't thank the HFPA enough for recognising funny movies. We are absolutely thrilled to have our international comedy Spy and its amazing star Melissa McCarthy nominated. We'd also like to request four extra bottles of wine at our table that night. Woo hoo!!!"
Paul Feig, Spy
Best Motion Picture – Animated
"Creating 'The Good Dinosaur has been an arduous, exhilarating, and even at times terrifying, but life-changing adventure, not so unlike Arlo's journey in the film. On behalf of our hard working crew and everyone at Pixar, we
would like to thank the Hollywood Foreign Press for the tremendous honour of this nomination."
Peter Sohn, director, and Denise Ream, producer, The Good Dinosaur
"It has been incredibly humbling to see the reception to Inside Out by audiences around the world. We set out to make a film that would help us better understand our children, but never imagined it would have the impact that it has, and we could not be more thrilled or filled with JOY to receive this nomination from the Hollywood Foreign
Press."
Pete Docter, director, and Jonas Rivera, producer, Inside Out
"The whole Peanuts team is doing the Snoopy happy dance right now over our Golden Globes nomination. We have no grief today, good or otherwise. Thank you, HFPA, for finally letting Charlie Brown kick the football."
Paul Feig, producer, The Peanuts Movie
Best Motion Picture – Foreign Language
"Absolute Dream. Absolute honour. It's just a pure moment of magic. Every single reception of our film and every screening we have made in the US each time was a wonderful encounter. I've been thrilled that our film has been travelling so far and so beautifully and that the voice of these girls were heard so far from home…There was an urgency to say what it was to be a woman in Turkey… It's our first feature film and it's given us the exception to be the only feminist film in the list. And it's wonderful to have these five young girls, the actresses of the film, be [nominated] along these other films. We have a pack of free and courageous girls holding an exceptional flag in their hand and I'm very happy about this. I'm very happy their voices were heard."
Deniz Gamze Ergüven, writer-director, Mustang
"We are thrilled to find ourselves nominated for a Golden Globe this morning. It is a very happy and gratifying moment for us. Since the film's premiere at Cannes in May we have been on a whirlwind tour and are stunned by the positive reaction to the film in the US. Son Of Saul is about such an important topic, one that bears acknowledging for every generation. For our cast and crew we are very happy indeed. Many thanks to the Golden Globes. "
Laszlo Nemes, Son Of Saul
Best Performance by an Actress in a Motion Picture - Drama
"I can't express how special it is that this little film called Brooklyn has been embraced by so many people around the world. Thank you to the Hollywood Foreign Press for your support. The last time I was at the Golden Globes, I needed a chaperone – I'm so excited to be there for a film that means this much to me."
Saoirse Ronan, Brooklyn
"I am truly thrilled and grateful to the HFPA for both of these wonderful nominations! To be considered amongst all these brilliant actresses and their outstanding performances is such an honour. Working on The Danish Girl and Ex Machina were such gifts in themselves, and for this to happen is all so exciting. Thank you."
Alicia Vikander, The Danish Girl
"It's an incredible story that parallels the story of our lives instead of it becoming a tale that changed into something bizarre and far away from us. Emma had taken this story and turned into a beautiful allegory about growing up and learning to step out and live a bigger, more complex life."
Brie Larson, Room
Best Performance by an Actor in a Motion Picture – Drama
"Thank you to the Hollywood Foreign Press Association. I am incredibly grateful for their nomination, as well as the recognition they have given to this film and to Alejandro's vision as its director. Making The Revenant was a true honour for me. I also want to extend congratulations to all nominees this season. Thank you again to the HFPA."
Leonardo DiCaprio, The Revenant
"I'm very grateful to the Hollywood Foreign Press Association for the nomination. This film, and working with Danny Boyle and our amazing cast, has been one of the most creative and amazing experiences of my professional life. It's lovely to be honoured."
Michael Fassbender, Steve Jobs
"I am incredibly grateful to the HFPA for having included me in such a brilliant troupe of actors. I'm equally thrilled that Alicia and Alexandre have been recognised as well. Having the opportunity to help tell Lili and Gerda's story has been a great privilege for me, and I am hugely grateful for the guidance, generosity and insight given to me by the transgender community."
Eddie Redmayne, The Danish Girl
Best Performance By An Actress In A Motion Picture – Musical Or Comedy
"I am absolutely thrilled to be nominated for a Golden Globe, and to be in such terrifically talented company. I look forward to seeing you all in LA in January. Thank you."
Maggie Smith, The Lady In The Van
Best Performance By An Actress In A Supporting Role In a Motion Picture
"I am truly thrilled and grateful to the HFPA for both of these wonderful nominations! To be considered amongst all these brilliant actresses and their outstanding performances is such an honour. Working on The Danish Girl and Ex Machina were such gifts in themselves, and for this to happen is all so exciting. Thank you."
Alicia Vikander, Ex Machina
"Thanks to the Hollywood Foreign Press for recognising two projects that mean so much to me. Getting an acting nomination for my role as Daisy in The Hateful Eight is a testament to the great Quentin Tarantino and would not have been possible without the cast (especially the one I was handcuffed to, Kurt Russell). Anomalisa is a project so close to my heart and Charlie and Duke's film is mind-blowing. I'm so happy people are loving it as much as I do. Inever get such great news while making my son's lunch in the morning!"
Jennifer Jason Leigh, The Hateful Eight
"I am completely over the moon and feel so honoured to be nominated for a Golden Globe by the HFPA for this film.
I am genuinely ecstatic."
Kate Winslet, Steve Jobs
Best Performance by an Actor in a Supporting Role in a Motion Picture
"I'm so grateful to be acknowledged by the HFPA for my work. I know they are true devotees of the cinema and I can tell every time I speak with one of them how much they care about what they do. I am very much looking forward to this ceremony and seeing them all again."
Michael Shannon, 99 Homes
"Wow thank you to the HFPA, who have always been so amazingly supportive of me throughout my career. I'm so excited, in particular, to be recognised for both Luther and Beasts Of No Nation. For Luther, what better way to celebrate the end of a great run than with this stellar acknowledgement. As for Beasts, I can only hope this attention will get more people to see the brilliance of all that is Cary Fukunaga and my extraordinary co-star Abraham Attah. I share in this exciting moment with everyone who poured their hearts into these projects and for who I could not have done this without."
Idris Elba, Beasts Of No Nation
"I want to thank the members of the HFPA for nominating my work in both Bridge Of Spies and Wolf Hall. My work does not stand alone, and only comes together with the help of all the talented craftspeople I have had the pleasure to work with on Wolf Hall and Bridge Of Spies, particularly Peter Kosminsky and Steven Spielberg who are directly responsible for my performance in both pieces. I would especially like to acknowledge my friend Tom Hanks. I don't think you can isolate my playing of Abel from Tom's playing of Donovan. It is the friendship between us as characters that should be awarded. Many blessings."
Mark Rylance, Bridge Of Spies

Best Director – Motion Picture
"I'm thrilled to be in the company of this incredible group of directors, and so honoured that the Hollywood Foreign Press has recognised the creative collaboration that is Carol – from Carter's score, to our relentless producers, to the stunning talents of Cate & Rooney."
Todd Haynes, Carol
"We are all very excited and very grateful to the Hollywood Foreign Press Association for embracing our film and Matt's brilliant performance so warmly. Making The Martian was one of the highlights of my career and the fact that it is being recognised in such a generous way is fantastic and very much appreciated."
Ridley Scott, The Martian
"I can't believe this time last year we were in Calgary shooting The Revenant, and right now I'm in London and just heard the good news! I'm thrilled for our incredible cast and crew. Any nominations for this film are an acknowledgement of them, their hard work and great passion. I'm especially happy for Leo, his emotional performance and what he does is truly remarkable. This film is very personal for me; so I think I will have a drink with my daughter tonight to toast to everyone who was a part of it. Thank you to the Hollywood Foreign Press Association, this is very nice."
Alejandro G. Iñárritu, The Revenant
"I'm very excited. It's a good morning for me. It's a good morning for the film. Especially for the best picture [nomination], they're all wonderful nominations but the best picture nomination acknowledges everybody's hard work. The screenwriter Josh Singer, the producers, the amazing ensemble, and never to be forgotten: the all-important crew! So I'm sure somewhere they all have a smile on their face and that makes me happy. It's a terrific bit of work and I haven't had a chance to say thank you individually… Awards are exciting for a lot of reasons, but you know that everyone who worked on it is hearing and reading about it, so you're like, 'Yeah! That's my movie I worked on' As a director, that puts a big smile on my face."
Tom McCarthy, Spotlight
Best Screenplay – Motion Picture
"I'd like to express my gratitude to the Hollywood Foreign Press for nominating me for Best Screenplay. To be named in such honourable company - especially since Room is my first feature film - is a startling delight."
Emma Donoghue, Room
"Thank you, HFPA, for this personal honour, and for all four nominations for Steve Jobs. This has been a very special film for all of us involved as well as a brave choice for Universal and we're grateful for the support you've shown it today."
Aaron Sorkin, Steve Jobs
Best Original Score – Motion Picture
"It's amazing, I'm very excited. [Carol] is a great canvas for a composer because there's a lot of space in the film…there's so much restraint on the part of the characters, a lot of what they're feeling they don't know how to say in words. The culture doesn't really provide them with that opportunity, so there's a lot of room for music to help them… It's a great pleasure working with Todd… I steeped myself in a lot of the pop music of the period but it didn't specifically inspire the music. I can't say that there's anything that's in the score that is based off of any music from the period, but it did help because we used the world of these characters to know what kind of music they were listening to."
Carter Burwell, Carol
"What fantastic news to be receiving from the HFPA! Tom Hooper is a master at using music in his films, and I am lucky to be part of his Danish Girl. Merci!"
Alexandre Desplat, The Danish Girl
"I am deeply honoured and grateful to receive this nomination on the eve of the European premiere of The Hateful Eight here in London. I thank Quentin Tarantino for his trust and the total freedom he has given me conducting this score."
Ennio Morricone, The Hateful Eight
"Wow! I just got nominated for a Golden Globe - that is proper bonkers! I wanted to 'Think Different' in how I approached this score and working with a cinematic visionary like Danny Boyle meant I could. Since Steve Jobs was brilliantly written by Aaron Sorkin in three acts I took three different musical approaches, so Danny got three scores for the price of one - bargain of the year!"
Daniel Pemberton,Steve Jobs
Best Original Song – Motion Picture
"We couldn't be more excited to hear that Love Me Like You Do has been honored with a Golden Globe nomination. Thank you to the Hollywood Foreign Press Association and the whole Fifty Shades Of Grey team, including music supervisor Dana Sano and Universal's president of film music Mike Knobloch for their leadership and guidance. Also a big congratulations to the amazing Ellie Goulding whose voice brought our song to life!"
Max Martin, Savan Kotecha, Ilya Salmanzadeh and Ali Payami, 'Love Me Like You Do', Fifty Shades Of Grey
"This is amazing! I am so grateful to Paolo Sorrentino for making a beautiful movie about a classical composer. I have spent my whole life listening closely to the music in movies, but it never occurred to me that I might be a part of it all. I am honoured, excited and very happy. Thank you, members of the Hollywood Foreign Press!"
David Lang, 'Simple Song #3', Youth
"Thank you to the Hollywood Foreign Press Association for recognizing See You Again with a nomination for best original song. We aimed to write something that truly honored the legacy of Paul Walker and are humbled it has touched so many people."
Wiz Khalifa and Charlie Puth, 'See You Again', Furious 7
Executives
"It's our philosophy at Film4 to look for bold, inspirational and innovative filmmakers when choosing the films we support. This year audiences have been blown away by the depth of that creativity from a wonderful range of unique voices and distinctive stories and we salute the filmmakers and cast from Carol, Room, Youth and Ex Machina nominated this morning by the Golden Globes. Congratulations to all our partners and friends."
David Kosse, director of Film4