Dir/scr: Peter Greenaway. Netherlands-UK-Croatia-France. 2012. 128mins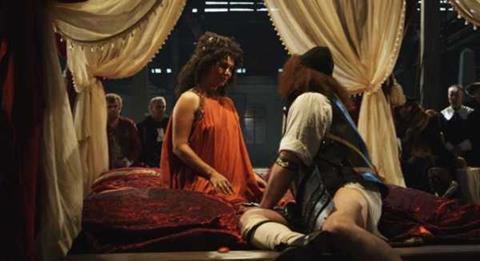 Peter Greenaway gets younger with every film. In fact his latest, a self-consciously stagey period drama about a sixteenth century Dutch printer and his travelling company of artisans and actors, feels like it was made by a student theatre director in the 1980s, out to shock us with his sexual frankness and dazzle us with his erudition. Far less successful in its meld of drama, art history lecturing and digital jiggery-pokery than the director's 2007 Rembrandt excursus Nightwatching, Goltzius And The Pelican Company is a return to The Draughtsman's Contract territory, 30 years on – but with neither that first feature's freshness, nor the coherent dramatic structure that lurked behind its incoherent narrative.
There's plenty of sex, none of it particularly erotic, and Greenaway's usual gastro-scatological obsessions are on prominent display.
Still, the stirring neo-Baroque soundtrack, by regular Greenaway collaborator Marco Robini and his Architorti string quintet, helps to make the slow trudge through the film's six racy stagings of Old Testament stories easier to bear. And the visual package does have a certain verve to it. It's hard not to feel in fact that this is where the director's interests lie – in using sets, costumes, lighting and digital effects to imagine what the seventeenth century would have looked and sounded like if this technology had existed back then.
It's just a shame he didn't give the same attention to crafting a story that works with an audience. And the audience for this looks as slender as an engraver's burin: by comparison, Nightwatching and the Tulse Luper films were marquee numbers.
Hendrik Goltzius was a Dutch printmaker, active between 1577 and 1617 famous for the grace and exuberance of his engravings of Biblical and mythological subjects. Greenaway has embroidered liberally around a voyage that Goltzius made to Italy via Germany in 1590, imagining a stopover in Colmar to solicit funds for a new printing press from the wealthy Margrave of Alsace – played gamely by F. Murray Abraham, first seen on his ceremonial toilet, attended by blacked-up servants, "taking a public shit" for the edification of his subjects.
As in The Draughtsman's Contract, an initial bargain is entered into. In return for the Margrave's promise to consider disbursing the money, Goltzius (a camped up Ramsey Nasr, speaking English with a ridiculous Clouseau accent) undertakes to present the libertarian ruler with a book of engravings of Old Testament stories; he also offers to stage dramatizations, for the benefit of the Margrave and his court, of a series of 'scandalous' Biblical stories that embody six sexual taboos: voyeurism, incest, adultery, seduction of the young, prostitution and necrophilia.
Goltzius' actors are his printmakers, their wives and hangers-on, while his in-house playwright is a heretically-minded Englishman called Thomas Boethius (Berruti), perhaps modeled on Christopher Marlowe. In one of the direct-to-camera explanations the engraver-narrator gives, often with talking head and shoulders superimposed over the action like a newsreader in drag, we are told that there were close links between publishing and playacting in the 1590s.
These narrative asides are painfully wordy, like the dialogue, and in the mouths of the majority of non-mother-tongue-English actors, sound wooden and just-learnt. Perhaps this is the point, in a film that channels the hammishness of the acting tradition of the time: but it makes for a tiresome viewing experience. Floating insets of engravings by the real Goltzius and other artists of the parables in question (Susanna and the Elders, Samson and Delilah and others) illuminate surprisingly little – ditto the staged theological debates supplied to order by the trio of religious figures associated with the Margrave's court – a Catholic, a Calvinist, and a Jewish rabbi.
There's plenty of sex, none of it particularly erotic, and Greenaway's usual gastro-scatological obsessions are on prominent display. The setting for the Margrave's court – a disused industrial hangar, turned into a Baroque palace with 3D effects in the style of architectural drawings – works reasonably well, and some of the actors (notably Lars Eidinger as chief printer Amos Quadfrey) manage to flesh out their schematic characters. But by the time the two hours are up, we've had enough Biblical rumpy-pumpy to last a lifetime.
Production Company: Kasander Film Company
International sales: Bankside Films, www.bankside-films.com
Producer: Kees Kasanader
Cinematography: Reinier van Brummelen
Editor: Elmer Leupen
Production designer: Ben Zuydwijk
Music: Marco Robino
Main cast: F. Murray Abraham, Ramsey Nasr, Kate Moran, Giulio Berruti, Anne Louise Hassing, Flavio Parenti, Pippo Delbono, Halina Reijn, Lars Eidinger