Dir: Heitor Dhalia. US. 2012. 95mins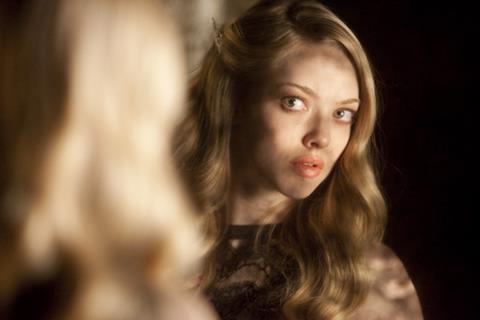 Diverting but disposable, Gone is an overheated, underdeveloped mystery-thriller that goes through its paces without generating much tension or suspense. The story of a serial killer on the loose and the one emotionally unstable woman who can stop him, this Summit offering wasn't screened in advance for critics, but the resulting film is less an out-and-out disaster as much as it is a limply executed genre misfire.
Seyfried plays the character at the exact same level of intensity throughout, which doesn't suggest any complexity or depth underneath.
Opening in the US today, Gone will hope to capitalise on star Amanda Seyfried's mid-range marquee value, although the so-so performance of the recent Red Riding Hood and In Time (which did bring in more than $111m in foreign markets) should properly temper theatrical expectations. With its cable-movie plot, Gone will probably fit more comfortably on the small screen than it will at the multiplex.
Seyfried stars as Jill, a young Portland woman who's still recovering from a violent, terrifying abduction that happened to her a year ago. (She takes medication and has become obsessed with self-defence classes.) But because the police never found her assailant or his lair, they're convinced she made the incident up, which makes it hard for them to sympathise when she insists that her sister Molly (Emily Wickersham) has just now been kidnapped by the same man. Since the authorities refuse to believe her, Jill decides to hunt down the kidnapper herself.
Directed by Brazilian filmmaker Heitor Dhalia (Adrift), Gone gets a lot of its jittery energy from Seyfried's hyperbolic performance as the tightly-wound Jill. The film wants the audience to side with her as she single-handedly tracks down the clues that will hopefully lead her to Molly, but the ham-fisted way in which Gone makes the callous police force (mostly in the form of Daniel Sunjata's disinterested detective) serve as obstacles in her path starts to feel manipulative rather quickly.
Additionally, Seyfried fails to convince as this unhinged heroine. Rather than leaving the viewer to wonder whether Jill might indeed be crazy and have imagined her own kidnapping, Seyfried plays the character at the exact same level of intensity throughout, which doesn't suggest any complexity or depth underneath.
Fans of TV cop shows and procedurals such as Law & Order may enjoy the film's smooth transition from scene to scene as Jill starts to unravel the whereabouts of her sister and the killer. Unfortunately, it's a testament to Gone's generally mediocre tenor that Jill isn't a particularly cunning sleuth: She repeatedly has the good fortune of asking the exact right strangers the exact right questions that lead her to the next clue in her search. Equally uninspired, the filmmakers try to plant hints about who the kidnapper might be, but the obviousness of the red herrings instantly eliminate those characters from consideration.
Much of this could have been forgiven if Seyfried had proved to be a compelling rooting interest, but her gritted-teeth, near-hysterical performance simply doesn't provide that emotional centre. Likewise, the rest of the cast seems to be compensating for the melodramatic plotting by delivering flat, dry line readings that are presumably meant to suggest a lot of serious acting is occurring. Ironically, Gone gets most of its moody urgency not from its actors or story but, rather, cinematographer Michael Grady's utilisation of Portland's eternally grey, cloud-laden skies.
Production companies: Lakeshore Entertainment, Sidney Kimmel Entertainment
Domestic distribution: Summit Entertainment, www.summit-ent.com
Producers: Sidney Kimmel, Dan Abrams, Chris Salvaterra, Tom Rosenberg, Gary Lucchesi
Executive producers: Andre Lamal, Eric Reid, Ted Gidlow, Bruce Toll, Jim Tauber, Matt Berenson
Screenplay: Allison Burnett
Cinematography: Michael Grady
Production designer: Charisse Cardenas
Editor: John Axelrad
Music: David Buckley
Website: www.gone-movie.com
Main cast: Amanda Seyfried, Daniel Sunjata, Jennifer Carpenter, Sebastian Stan, Wes Bentley