Dir. Clint Eastwood. US. 2008. 116 mins.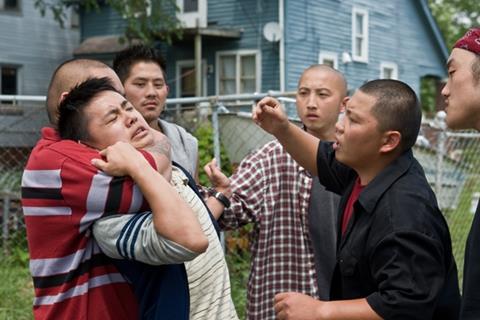 Gran Torino is an unpretentious, often very funny humanist drama which is a small jewel in Clint Eastwood's canon of work as a director and a highpoint in his career as an actor. Revolving around a racist curmudgeon with a military past - a cross between Dirty Harry and Archie Bunker - the film is unlikely to reach the box office or critical heights of Mystic River or Million Dollar Baby. But Eastwood's standing as a perennial star, even at 78 years of age, and the publicity surrounding his provocative character Walt Kowalski will guarantee solid box office numbers from adult moviegoers, and a healthy return on investment for Warner Bros and Village Roadshow.
The film is ultimately a tearjerker with a momentously moving finale
In the awards race, to which he is no stranger, Eastwood is most likely to score recognition in the best actor category. He has never won an acting Oscar and has only two nominations to his credit (for Unforgiven and Million Dollar Baby), so, regardless of the fact that he gives a magnificent performance here, sentiment alone should drive him into the final five. Eastwood has hinted that this will be his final performance, a fact which may also work in his favour.
The film opens at the funeral of Walt's wife. A Korean War veteran who stands by her coffin grumpily judging his two sons and their families during the service, Kowalski keeps his M1 rifle in the house, is hostile to the local priest (Carley) when he comes to call, and is full of contempt and abuse for the Hmong immigrants who have moved into the neighbourhood.
He has few pleasures in life - gruff banter with the local barber (Lynch), the companionship of his dog Daisy, regular intake of bottled beer, and his Gran Torino car which he keeps in pristine condition in the garage.
Walt's life changes when his neighbour, shy teenager Thao Lor (Vang), is bullied into stealing the Gran Torino by a group of gun-toting Hmong gangbangers. Walt scares him away and the next day pulls his gun on the gang, winning the admiration of all the Hmongs in the neighbourhood. Thao's mother and older sister Sue (Her) insist that Thao confess to Walt that he was the would-be thief and offer to make amends.
Though he wants nothing to do with the Hmongs, Walt likes Sue's spunky personality, and enjoys their tasty food. He puts the boy to work in his house and in the neighbourhood, and the two develop an unlikely rapport. He tries to help Thao develop handyman skills so that he won't follow the seemingly inevitable path into gang warfare. Gradually his understanding of the family next door leads him to unlock his own damaged soul and confront demons from his past.
Eastwood still commands the screen even while he is spitting out racist comments or coughing up blood. He growls, scowls, threatens and pulls a gun whenever he feels like it. But while the trailer might imply that he is returning to a Dirty Harry 'Make My Day' persona here, his character ultimately doesn't obliterate the gang with a gun but with a noble act. It's anything but Dirty Harry Redux.
Similarly Walt's abusive language to the Hmongs - which includes just about every racist epithet you can think of - is shocking at first but gradually becomes comic as he himself realises how absurd his prejudices are.
The two young newcomers Bee Vang and Ahney Her give spirited performances as the Lor siblings whose lives are inextricably bound together with loss and violence.
Eastwood is America's great humanist director at present, making eloquent calls for compassion in films like Million Dollar Baby, Letters From Iwo Jima and this year's Changeling, but never at the expense of spinning a good yarn. Gran Torino is a plea for racial tolerance in the US but it is also a compelling story of friendship which lingers in the mind when the extravagances of Benjamin Button and Australia have faded from memory.
As with Eastwood's other recent films, the film is ultimately a tearjerker with a momentously moving finale. As Clint's own gravelly voice starts up over the end credits singing the mournful title song, it's genuinely sad to think we might not see him act again, but somehow fitting that he should bow out with Walt Kowalski.
To sign up for Screen's weekly Reviews Newsletter with all the week's new releases, international openings and full festival reviews delivered free to your mailbox every Friday, please click
HERE
Production companies
Double Nickel Entertainment
Malpaso
Warner Bros Pictures
Village Roadshow Pictures
International distribution
Warner Bros Pictures/WBPI/Village Roadshow
Producers
Clint Eastwood
Robert Lorenz
Bill Gerber
Screenplay
Nick Schenk
From a story by Dave Johannson & Nick Schenk
Cinematography
Tom Stern
Editor
Joel Cox
Gary D Roach
Music
Kyle Eastwood & Michael Stevens
Main cast
Clint Eastwood
Bee Vang
Ahney Her
Christopher Carley