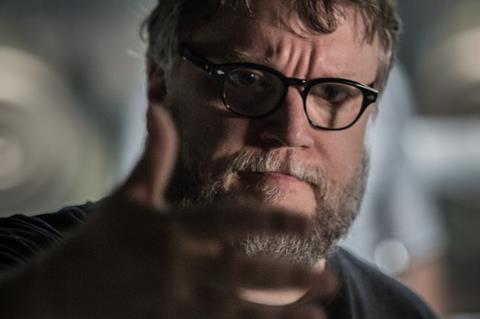 Oscar-winner Guillermo del Toro was due to join film industry colleagues on Thursday night (May 21) for an online showdown with Mexican officials after a government bid to scrap a production fund sparked industry outrage.
Del Toro, who won the best director Oscar for The Shape Of Water two years ago, warned of a "devastation" that would wipe out support for future generations of storytellers should lawmakers approve a proposal to remove the Fidecine fund.
"After we thought we had arrived at a solution they [the government] have made this unilateral move," del Toro told Screen.
Earlier this week the director of the national film agency Imcine said the organisation would try to protect its commitments to the film community despite government austerity measures.
"If the government is allowed to do this, it's truly a devastation within a structure of an already very fragile ecosystem. It's like a deforestation," continued del Toro, who noted that support was necessary not just to foster artistic voices but to offer diversity at a time when Hollywood exports continued to dominate local box office.
The government move came on Wednesday night (May 20) amid sweeping cuts imposed by president Andrés Manuel López Obrador's administration as Mexico, like everywhere else, buckles under the economic fallout from the coronavirus pandemic.
Del Toro, whose credits include Pan's Labyrinth, Cronos and Hellboy, said the national Fidecine fund (for higher budget, more mainstream films) and Foprocine fund (for auteur-driven work) have been a lifeline for modern generations of storytellers. The film community fears cuts would set the local industry back by years.
"This economic crutch allowed first-time filmmakers to make movies – without it there would have been no new generation when I was coming up in the late '80s and early '90s," he said. "There would have been no [Alfonso] Cuaron, no [Alejandro Gonzalez] Iñárritu, no [Emmanuel] Lubezki, or [Carlos] Reygadas and the later generations."
Del Toro added that public funding had enabled the industry to establish a global reputation. In the last seven years, Mexican directors – del Toro, Cuaron and Iñárritu – have together won the best directing Oscar a total of five times.
"When I was coming up in the '80s you could count the number of Mexican movies being produced – it was less than double digits," he said. "Now we have a healthy industry that nevertheless still has to be sustained. It has a zero carbon footprint and employs hundreds and hundreds and hundreds of families that are sustaining a tradition that comes from our golden age of cinema – people like grips and those who work in effects and crafts whose fathers or fathers' fathers worked with Gabriel Figueroa and Emilio ["El Indio"] Fernández.
"If we don't continue this tradition, everybody will be working on commercials and soap operas. It's a really irresponsible act to remove this support from the country."