Dir/scr: David L.G. Hughes. UK. 2012. 86mins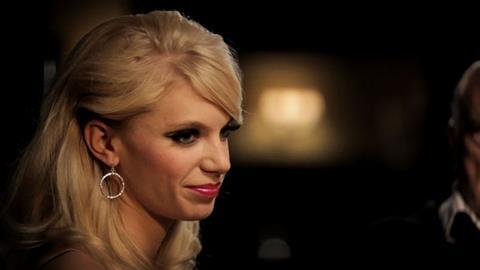 A brave and stylish attempt to fuse hard boiled film noir (hence the candy reference of the title) with the classic British gangster genre reaps mixed results in David L.G. Hughes's ambitiously structured feature debut Hard Boiled Sweets.
Hughes nicely plays around with his story structure.
Rather casually dismissed by some critics in the UK, there is actually a lot to commend in the film, and the command of design, cinematography and structure are impressive. To UK audiences its clichéd Brit gangster dialogue comes across as oh-so familiar and its mixture of multiple voice-overs, chapter breaks and overly knowing story arc will see it receiving only a modest release, but this is a cleverly made film that coasts breezily to its bloodily satisfying conclusion.
The film is driven by a strong cast (though perhaps too many characters) and a sharp visual style, and while it perhaps lacks a dark humour that would help balance its pulp sensibilities it is delivered in sharp and staccato fashion with enough bodies and gunplay to keep interest levels up. The fact that it is exec produced by Margaret Matheson, a well-known UK developer of talent, is also a good sign, plus it has been picked up by Universal for several territories.
There is a running confectionary gag linking each of the key characters to a hard boiled sweet (or candy) and while this is engaging enough a device it feels a little overplayed as the story develops. So London-based crime boss Jimmy The Gent (Peter Wight) is a Mint Imperial – "the king of mints" – and blonde-and-ambitious wife to a rival boss Porsche (Ty Glaser) is a Sherbet Lemon – "the sweet that's really tasty and tart" – and while amusing, it feels more like a literary device than a way of helping drive the story.
The story is essentially a simple one. A mixed band of thugs, hookers, pimps, corrupt-cops, gangsters and various hangers-on are all linked in various ways to a series of overlayered plots to steal a briefcase containing £1 million from Jimmy the Gent, who heads to East Coast resort of Southend-on-Sea (portrayed as a smaller, sleazier variation on Las Vegas) to collect money from local boss Shrewd Eddie (a nicely cast Paul Freeman).
Hughes nicely plays around with his story structure, offering up characters and subplots that turn out to be complete red herrings, though chief amongst the players are Porsche (Glaser gets better and better as the film develops); newly released from jail Johnny (Scot Williams); cruel pimp 'Daddy' (Adrian Bower), and baby-faced hooker Delta (Laura Greenwood). There are some impressively bloody moments – mainly stemming from Shrewd Eddie's obsession with dumping his rivals off the end of Southend's 1.3 mile long pier – and a nicely feminist twist at the end.
The film is based on Hughes' 2007 short film A Girl And A Gun, which starred Freeman, Ian Hart (who has a brief cameo in the feature version) and Anna Walton. Hard Boiled Sweets is technically top-notch – from Anders Bundgaard's slick opening credit sequence through to Sara Deane's bright and lustrous cinematography – and while perhaps too complex and mannered for its own good, it is still an intriguing debut.
Production company: Fatal Black Films
International sales: ContentFilm International, www.contentmediacorp.com
Producers: David L.G. Hughes, Lara Greenway, Demelza Jones, Michael Riley
Executive producer: Margaret Matheson
Cinematography: Sara Deane
Editor: Lloyd George
Production designer: Chloe Brady
Music: Tom Morrison
Website: http://hardboiledsweets.com
Main cast: Paul Freeman, Ty Glaser, Scot Williams, Danny Sapani. Laura Greenwood, Peter Wight, Ian Hart, Elizabeth Berrington, Adrian Bower, Nathaniel Martello-White, Philip Barantini, Liz May Brace, Scot Williams