Dir: Steven Soderbergh. US. 2011. 93mins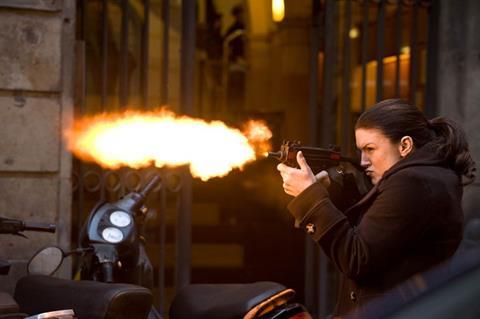 A fetching example of director Steven Soderbergh in fun mode, Haywire eschews the terror of Contagion and the sociological commentary of The Girlfriend Experience for good ol' fashioned action-thriller kicks, punches and a lot more kicks. Featuring a dazzlingly physical performance from Gina Carano, a mixed martial arts star making her Hollywood feature debut, this uber-stylish treat may have low nutritional content and not the most original storyline, but the kinetic hand-to-hand combat fight scenes and Soderbergh's lethal confidence throughout are simply seductive.
Nearly every shot in Haywire is a beauty, with a game cast easily getting on Soderbergh's effortless-cool wavelength.
World premiering Sunday night at AFI Fest in Los Angeles, Haywire is set to open January 20, 2012, when it will square off with Underworld Awakening, the latest instalment in the Kate Beckinsale vampire/werewolf franchise. Carano's name won't be that recognizable to film fans, although her MMA popularity may help attract that crowd. Regardless, Soderbergh's cachet paired with a starry supporting cast that includes Channing Tatum, Ewan McGregor and Michael Fassbender could prove potent.
Carano plays Mallory Kane, an operative for a covert government contractor who barely escapes alive after she's double-crossed during an operation in Dublin. Determined to get revenge on the men responsible, she works her back to the States while trying to evade her former boss (McGregor) who wants her eliminated.
In tone and feel, Haywire very much resembles the Ocean's Eleven films, brimming with style and panache and goosed along by a score from Ocean's composer David Holmes. Cutting back and forth in time from Barcelona, Dublin, San Diego and elsewhere, the film smoothly segues from one set piece to another, evoking the globetrotting élan of the Jason Bourne films or the recent James Bond pictures.
What's unique, however – beyond the fact that the protagonist is a woman – is Soderbergh's reliance on incredibly visceral and intimate fight scenes that find Carano punching and kicking her assailants in close quarters. Breathtakingly executed by Carano and the rest of the cast, these action scenes proudly fly in the face of the CG-heavy sequences we've come to expect from other modern-day action films. As a result, there's a legitimately breathless thrill to watching the balletic, feverish movements.
For its first half, Haywire flies high on its adrenaline-fuelled rush, introducing us to Mallory while she's on the run and then flashing back to explain how she got into her present predicament. And even though Carano doesn't have much acting experience, she proves to be a likable, sexy tomboy warrior as the never-phased Mallory. The role doesn't require much emoting, but she more than captures the character's pithy, steely resourcefulness.
Perhaps it's inevitable that after some propulsive opening reels Haywire does eventually start to lose some of its momentum. (To be fair, it would be downright heroic to keep up such a frenetic pace.) Additionally, the reveals regarding the circumstances behind Mallory's betrayal prove less rewarding than their build-up. And while Soderbergh and Carano are clearly having a blast with their tough-chick protagonist, she's ultimately not that far removed from the Bourne/Bond template of the seemingly invincible spy who can always outthink, outfox, and out-punch the enemy.
Still, those quibbles feel petty in the face of Haywire's sly fun. After making three Ocean's films, Soderbergh can do this sort of cosmopolitan thriller in his sleep, so it's very satisfying to report that he continues to top himself in laying out electric action set pieces. Nearly every shot in Haywire is a beauty, with a game cast (that also features Michael Douglas and Bill Paxton) easily getting on Soderbergh's effortless-cool wavelength. This film may be nothing but shallow pleasures, but Soderbergh makes sure there are plenty of them.
Production company: The Irish Film Board
Domestic distribution: Relativity Media, www.relativitymediallc.com
Producer: Gregory Jacobs
Executive producers: Ryan Kavanaugh, Tucker Tooley, Michael Polaire
Screenplay: Lem Dobbs
Cinematography: Peter Andrews
Editor: Mary Ann Bernard
Production designer: Howard Cummings
Music: David Holmes
Website: www.haywiremovie.com
Main cast: Gina Carano, Michael Fassbender, Ewan McGregor, Bill Paxton, Channing Tatum, Mathieu Kassovitz, Michael Angarano, Antonio Banderas, Michael Douglas