Lionsgate's relationship with prolific film-maker Tyler Perry is set to pay ever greater dividends.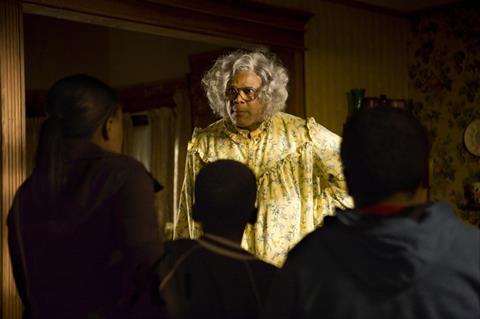 For the past five years, Lionsgate has reaped the rewards of a lucrative association with the Saw franchise. But there is another jewel in the studio's crown that promises to keep on sparkling - and possibly for a lot longer than the horror series.

For almost as many years, Lionsgate has been cultivating its relationship with Tyler Perry, the prolific film-maker whose talents have provided the studio with a steady flow of successful product for the North American market in particular.

It all began in February 2005, when Lionsgate released Diary Of A Mad Black Woman. Up until then, Perry had plied his trade as a playwright, as well as an actor, producer and director on a series of video releases put out by Lionsgate Home Entertainment.

Diary Of A Mad Black Woman was the first of Perry's creations to secure a theatrical release and came out of nowhere, knocking the Will Smith vehicle Hitch from its pedestal en route to grossing just over $50m domestically.

Budgeted at approximately $5.5m, the film was not only very profitable for Lionsgate but gave the studio something that arguably no other distributor had: a potential gateway to the underexploited African-American audience.

Four-and-a-half years later, Perry and Lionsgate are more than a year into a first-look deal that runs until July 2011 and ensures the partners stay close. The relationship has worked well so far, earning more than $400m at the global box office and delivering two films a year, three of which have opened at number one in the US chart.

The most recent of these was I Can Do Bad All By Myself, starring Taraji P Henson, which launched in September and to date has grossed more than $48.3m, making it Perry's fifth biggest film to date behind Madea Goes To Jail's $90.5m. I Can Do Bad All By Myself continues to play and could overtake Why Did I Get Married to become the third biggest of Perry's films.

As brands go Tyler Perry, who opened the Atlanta-based Tyler Perry Studios in October 2008, appears to be rock solid. There is no other regular and prominent theatrical brand in cinema that caters to African-American audiences, specifically the content is slickly produced and holds broader demographic appeal due to its light-hearted, comedic style and faith-based undertone that tends to convey a positive message.

Lionsgate also handles Perry's TV show Tyler Perry's House Of Payne in broadcast and first-run syndication on PBS and Fox, and upcoming theatrical releases under the first-look deal include Why Did I Get Married Too for 2010 and For Colored Girls Who Have Considered Suicide When The Rainbow Is Enuf for 2011.

Perry's stock among audiences looks set to rise as he builds his status as a champion of storytelling and as an African-American role model. His role as executive producer on the Sundance sensation and awards season contender Precious: Based On The Novel Push By Sapphire and the fact he is one of the film's most ardent supporters will do him no harm whatsoever.

"He's one of the most original, prolific and successful creative voices in the entertainment world today' the Tyler Perry franchise is a unique global phenomenon," Lionsgate's president of motion picture production Mike Paseornek said last October.
Top five Tyler Perry films
| Title | Release | Opening | Final |
| --- | --- | --- | --- |
| Madea Goes To Jail | Feb 20, 2009 | $41m | $90.5m |
| Madea's Family Reunion | Feb 24, 2006 | $30m | $63.3m |
| Why Did I Get Married | Oct 12, 2007 | $21.4m | $55.4m |
| Diary Of A Mad Black Woman | Feb 25, 2005 | $21.9m | $50.6m |
| I Can Do Bad All By Myself | Sept 11, 2009 | $23.4m | $48.3m* |