Dir/scr: Leos Carax. France-Germany. 2012. 115mins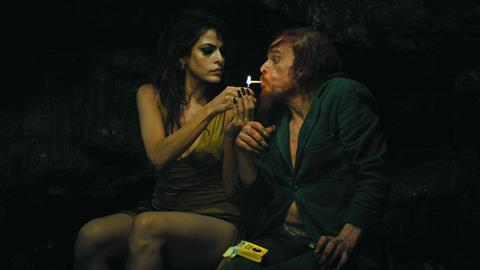 Absent from feature-making since 1999's Pola X, French cinema's mystery man Leos Carax makes up for lost time with the rambling, radically loopy Holy Motors. A metaphysical fugue in which a protean protagonist shape-shifts through shades of the human condition, Holy Motors will be acclaimed by some as a visionary, game-changing masterpiece and dismissed by others as an derivative wallow in unfocused imagery.
Visually, the film is a formidable package - Carax's two cinematographers make Paris an eerily atmospheric dreamzone.
In fact, Carax's comeback could best be described as an uneven portmanteau film. This is an undoubtedly ambitious work, and it's hard to imagine anyone who won't be tickled by at least one episode. As a whole, however, Holy Motors is scuppered by the transparence of its claims to philosophical resonance, while the nods to Cocteau, Buñuel, Franju et al make Holy Motors feel like generic neo-Surrealism rather than a truly original work. While it will divide audiences, the current dearth of eccentricity on the market will make Holy Motors a desirable, if highly specialised, cult commodity.
The director himself appears in a distinctly Lynchian prelude as a man who finds a cinema behind the wall of his room. The narrative proper then begins with one Monsieur Oscar (Lavant) stepping into a white stretch limo to begin his day's work. He's apparently a wealthy banker - but, as he's delivered to the first of a series of 'meetings', we realise that Oscar is no one person in particular.
Through the course of a day, he adopts various roles, including a beggar woman, an assassin and his döppelganger victim, and the leader of a boisterous band of rock accordionists. He also plays a motion capture specialist who performs a bravura dance under ultraviolet light, and Merde, the grotesque goblin creature seen in Carax's contribution to the three-part Tokyo! film of 2008.
As Oscar is driven round Paris by his mysterious assistant Céline (svelte doyenne Scob), we quickly twig to the film's premise: that each man in his time plays many parts. The film wears its philosophical intent increasingly heavily, its tendentiousness offset by Lavant's anarchic Chaplinesque grace. Depending on the guise, he can be detached and enigmatic; or, in the Merde episode, feral and abject. This episode is the most grating, a sub-Fellini farce in which Merde kidnaps a model (Eva Mendes) and carries her off to his subterranean lair. At times, however, the film achieves a hypnotic intensity: notably, the motion capture sequence, which is mesmerising until Carax brings in the knowingly tacky CGI monsters.
But for much of the time, Carax too visibly strains at poetic resonance - and when he couches his themes in song, the effect is clumsy, as in a closing-act ballad (by Carax and The Divine Comedy's Neil Hannon) sung by Kylie Minogue, playing another limo passenger.
Visually, the film is a formidable package - Carax's two cinematographers make Paris an eerily atmospheric dreamzone. And Lavant is hugely imposing in his Lon Chaneyesque versatility. Overall, this is a film crammed with ideas, yet it lacks the grace of bona fide Surrealism; missing the aura of the genuinely, ineffably strange, it finally remains a self-conscious upmarket weird-out.
Production companies: Pierre Grise Production, Théo Films, Arte France Cinéma, Pandora Film, WDR-Arte
International sales: Wild Bunch, www.wildbunch.biz
Producers: Martine Marignac, Maurice Tinchant, Albert Prévost
Cinematography: Caroline Champetier, Yves Cape
Production designe: Florian Sanson
Editor: Nelly Quettier
Main cast: Denis Lavant, Edith Scob, Eva Mendes, Kylie Minogue, Elise Lhomeau, Michel Piccoli