Fox Filmed Entertainment's two-year-old local production unit, Fox International Productions (FIP), started the year with local hits in China and India. President Sanford Panitch tells Jeremy Kay about FIP's expanding ambitions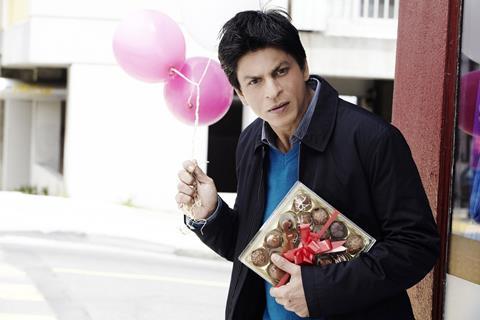 In mid-February, when Avatar's domination of the overseas arena was at its height, Fox International pulled off a more modest but nevertheless notable feat. In the same weekend that the Chinese comedy Hot Summer Days launched at number one in China on approximately $3.8m, the Bollywood production My Name Is Khan starring South Asian icon Shah Rukh Khan soared to the top of the Indian charts on a whopping $9.2m. Both bore the mark of Fox International Productions (FIP).
The resurgence of indigenous cinema has made the US majors increasingly anxious to share the spoils in markets where audiences can no longer be guaranteed for every Hollywood export.
"To have opened number one in China with our Chinese film and in India, the same weekend, with My Name Is Khan, was a really nice result," says Sanford Panitch, FIP's cerebral and affable president. "The [traditional] studio role is to be able to sell the movie in the best possible way ― market and distribute. But often, you can work just as hard on a movie you're making only a fee on as you would on a film you co-produced and co-financed. When we saw some of the success of the films we had been involved in purely as a distributor, it became an obvious next step to think about taking a bigger role and financing them in addition to distributing."
Fox launched FIP under Panitch in 2008. The initial agenda was to bring international acquisitions, the split-rights business and local productions under one roof.
"When we saw some of the success of the films we had been involved in purely as a distributor, it became an obvious next step to think about taking a bigger role."
"There had been a three-tier approach to the mission," Panitch says. "We spent the first few months organising it under one umbrella, which allowed us to be more efficient and to communicate more effectively worldwide. The next step was rethinking the traditional Hollywood infrastructure to adapt to the local way of making films. And the third tier ― can you do it well?"
Ever since FIP struck a production deal in May 2008 with Fuji TV in Japan to remake Alexander Payne's Oscar-winning Sideways, the company has steadily ramped up its slate with particular focus on a handful of key regions. "We have had great luck with finding dynamic local development and production people in various territories ― in India [Fox Star and Vijay Singh], in Russia [Olga Gorodetskaya], China [Carrie Wong], Japan [Yui Tamae] and Germany [Gabriela Bacher]."
Staff use existing resources in many of the local Fox or News Corp offices around the world or work on new ways to find spec scripts, become involved with packages, strike development deals or buy bestselling books and articles. "In that way, the business is very similar to the job I have been doing for 20 years," Panitch says. "Buy the rights and try to turn it into a movie."
Statistics from certain countries paint a picture of dwindling interest in standard Hollywood fare, which in turn points to the need for greater grass-roots overseas involvement. "When you have markets like Japan where 65% of the box office is local films, or 95% in India, you want to participate in some of this if you can."
The local spoof Spanish Movie recently crossed $11m. "The idea of doing it came after we saw the success in Russia of their local-language spoof The Very Best Movie, or in China with Almost Perfect. It seemed like a good idea for us and we were approached to do the same thing in Spain."
Fox Spain, run by Miguel Lustau, has had a "particularly strong year", Panitch says. In addition to Spanish Movie it distributed the Spanish co-production Agora, which took more than $30m, and the comedy Brain Drain.
Meanwhile If I Were You and its sequel have prospered in Brazil, so much so that Panitch believes the $20m-plus result of the second film puts it at the top of all-time Portuguese-language releases.
Current projects in the works include: Yellow Sea (pictured), a collaboration with Showbox in South Korea; Vallanzasca: The Flower Of Evil in Italy with Romanzo Criminale director Michele Placido and starring Paz Vega; and the comedy Love Carrot 3 (Lubby Dubby 3) in Russia.
Panitch makes it his business to stay on top of emerging markets and the case of Love Carrot 3 illustrates this perfectly. The first two instalments grossed $11m in 2007 and $18m in 2008, impressive numbers that, Panitch notes, came from a market which was not even in the top 20 five years ago and is now the fifth biggest in the world.
"What's been particularly fascinating is the shifting sands of the emerging markets."
Fox already has a footprint in Russia. Fox International, which distributes and markets the bulk of the FIP slate, has already released the top three local titles in Russia: The Irony Of Fate 2, Admiral and Day Watch. This infrastructure is the key to a film's potential crossover success. "Local distributors are limited to their territory, so if you want to have international success you will need to go outside the market, which is where Fox can come in," Panitch says. "The economics of making local films can't assume the film will always travel, but if we're relying on the film to travel, that's a different decision.
"Of course making a good movie in any language provides that potential opportunity. For example, there's The Girl With The Dragon Tattoo, Pan's Labyrinth, The Orphanage and Gomorrah, but the markets we're focused on don't require that. In Japan, with no other international box office, Toho's Rookies has grossed almost $90m; CJ's Haeundae, the South Korean VFX tsunami film, grossed $70m; and Reliance's 3 Idiots has taken almost $60m in India."
It helps to have a parent company with a broad reach. News Corp's Star is the biggest buyer of Indian films and the leading broadcaster in India. Star Greater China has the largest Chinese film library in the world and is the largest buyer of Chinese films. Star's satellite footprint reaches 300 million in Asia. "In India, we created Fox Star to align our respective strategic interests. [Hot Summer Days] was a collaboration with Star Greater China. Fox Star produced My Name Is Khan, which recently scored record launches for a Bollywood film in North America, the UK and Australia."
As far as Panitch is concerned, keeping on top of new audience trends can yield rich rewards. "What's been particularly fascinating is the shifting sands of the emerging markets," he says. "In India, a film without singing and dancing was once unthinkable, but recently there have been some very good films that have challenged traditional Bollywood conventions. In China, Brazil and Russia, new genres are constantly emerging. Being a part of this new creativity is just where we should be."
Sanford Panitch
■ Began his career in 1989 working at James Cameron and Gale Anne Hurd's Pacific Western Productions on films including The Abyss and Terminator 2: Judgment Day. Then ran Arnold Kopelson Productions from 1993-96.
■ He was named executive vice-president at 20th Century Fox in 1997. In 1999 he was also named president of production at Fox-based New Regency Productions. During the period up to 2000 he was the executive on Titanic and initiated the Dr Dolittle franchise.
■ Launched Fox International Productions in 2008 as president.
■ During his tenures, he has supervised more than 75 feature films including The Fugitive, Falling Down, Jumper, Office Space, Alvin And The Chipmunks, Man On Fire, Big Momma's House and Mr & Mrs Smith.