Dir/scr: Gavin Wiesen. US. 2010. 84mins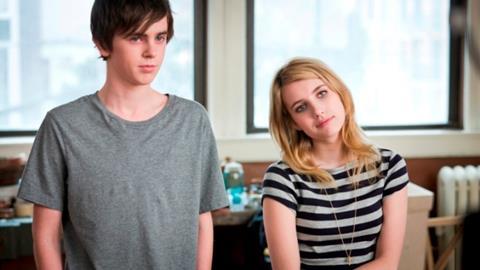 Homework, is a high-school romance that is proof that there is still life in the Beverly Hills 90210 formula for someone willing to remix and relocate the familiar ingredients at feature length.
Some of the best moments come when Alicia Silverstone plays a no-nonsense teacher who won't tolerate George's refusal to do his work.
The after-school-special knockoff about a gifted misfit who won't do his assignments will struggle to interest anyone who has watched any teen-driven features or television. Still, stars Freddie Highmore and Emma Roberts could leverage a potential audience in the US and internationally.
Foreign audiences in anyplace but the most wealthy countries may be left wondering why private school pampering in Manhattan is such a hardship.
In Gavin Wiesen's feature debut, Freddie Highmore plays George, the gaunt preppie in a shabby coat who won't open his notebook, except to draw cartoonish pictures of monsters and caricatures of those around him. True to type, George is vastly smarter than everyone else, especially the adults, which adds to his torment. As if this were a fairy tale, George must endure a pig-headed stepfather (Sam Robards) who doesn't understand him and, even worse, has failed at his business.
When George is caught smoking on the roof with glamorous Sally (Emma Roberts), an intimate bond is forged, yet George risks losing her to Dustin (Michael Angarano), an "older" artist of 25, because he can't acknowledge it.
Gavin Wiesen is cooking with a recipe in his screenplay, and it's a bland reheated one. The nerd and the beauty unite to battle silly rules and sillier grownups in dialogue, like that of 90210, which seems to be written for teens by thirtysomethings.
The dialogue of Homework doesn't ring true, nor do its characters, nor does its depiction of the preppy cocoon.
If the script were witty, all this would be beside the point. Yet most of the humor of Homework seems to be unintentional. Some of the best moments come when Alicia Silverstone plays a no-nonsense teacher who won't tolerate George's refusal to do his work.
Silverstone, with charm but little credibility in this role, still has an appealing girlish quality about her, fifteen years after Clueless (1995). It's odd that Wiesen would cast an actress who will remind the audience of one of the cleverest high-school comedies ever made. The comparison does not make "Homework" look any better.
Exteriors in Morningside Heights make effective use of Riverside Park, in which Manhattan doesn't look like an oppressive place. Cinematographer Ben Kutchins covers all the bases in the lives of comfortable teens, and his close-ups capture the young stardom that Homework is seeking to exploit.
Production companies: Mint Pictures, Gigi Films, Atlantic Pictures, Island Bound Productions, Goldcrest Films
US Distributor: Fox Searchlight Pictures
International Sales: Goldcrest Films, www.goldcrestfilms.com
Producers: P. Jennifer Dana, Kara Baker, Gia Walsh, Darren Goldberg
Executive Producers: Andrew Levitas, David Sweeney, Henry Pincus, Jonathan Gray, Nick Quested, Gretchen McGowan, Anthony Gudas
Cinematography: Ben Kutchins
Editor: Mollie Goldstein
Production Designer: Kelly McGehee
Main Cast: Freddie Highmore, Emma Roberts, Michael Angarano, Elizabeth Reaser, Rita Wilson, Blair Underwood, Alicia Silverstone