Dir: Tim Hill. US. 2011. 95mins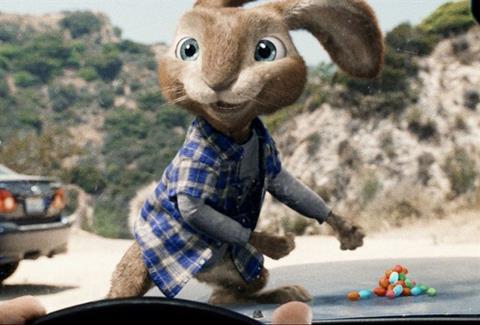 The bunny is cute, but the story is pretty mangy in Hop, a forgettable family film that may play well to young tykes but won't hold the interest of parents or older siblings. A combination of live-action and animation, this tale of the Easter Bunny's impetuous teenage son who runs off to become a drummer is only mildly amusing, with voice actor Russell Brand lacking the necessary dynamism to make this character inherently lovable.
The mix of live-action and animation for the most part is executed smoothly.
Opening April 1, Hop is surely hoping to follow in the footsteps of other live-action/animation hybrids, such as the Alvin And The Chipmunks movies. With no major family competition in the marketplace until the arrival of Rio two weeks later, this Universal release will play up its connection to Despicable Me, which like Hop was produced by Illumination Entertainment. If things all bounce the right way, this kids' film could land significant coin before enjoying healthy ancillary returns.
E.B. (voiced by Brand) rejects his birthright to become the next Easter Bunny, longing to become a rock drummer rather than the rabbit who gives out candy during the spring holiday. Dashing off to Hollywood, he befriends Fred (played by James Marsden), who initially resents the bunny's presence but soon warms to the little critter's aspirations.
Hop is directed by Alvin And The Chipmunks helmer Tim Hill, and like that film this genial comedy incorporates obvious pop culture references and broad humour to produce a strategically inoffensive movie parents can feel safe taking their kids to. But while it projects an innocuous spirit, Hop isn't a particularly warm or joyous film, settling for a wisecracking, over-the-top style of comedy that feels rather hollow.
Additionally, the story lazily follows the blueprint for many contemporary children's films, inventing an elaborate world (in this case, the realm of the Easter Bunny and his candy-making factory) and then concocting obstacles in the form of an evil adversary who will force the hero to engage in an extended fight sequence in the third act. If the filmmakers invested these clichés with real heart, Hop could have worked, but instead the overall lack of inspiration suggests a production that's content to transplant the Bug's Life/Monsters, Inc. style of Pixar entertainment into a rather pedestrian story.
Previously, Brand has leaned heavily on his outlandish behaviour by portraying uncouth buffoons, but as E.B. he's just too much of a generic pest, causing problems for Fred without suggesting much pathos. Just as he did in Enchanted playing the comically self-involved prince, Marsden is a good sport as the directionless man-child Fred, but like most of Hop's other live-action actors he seems to have been encouraged to exaggerate his behaviour so that the little ones in the audience don't miss any of the character's emotional beats.
The mix of live-action and animation for the most part is executed smoothly, although Fred's time on Easter Island (the Easter Bunny's headquarters) looks far less seamless. Most crucially, Hop never makes Easter feel very magical - a crucial deficiency since so much of the story relies on the supposed importance of what the Easter Bunny's gifts bring to the holiday.

Production companies: Relativity Media, Illumination Entertainment
Domestic distribution: Universal Pictures
Producers: Chris Meledandri, Michele Imperato Stabile
Executive producer: John Cohen
Screenplay: Cinco Paul & Ken Daurio and Brian Lynch, story by Cinco Paul & Ken Daurio
Cinematography: Peter Lyons Collister
Production designer: Richard Holland
Editors: Peter S. Elliot, Gregory Perler
Music: Christopher Lennertz
Website: www.iwantcandy.com
Main cast: James Marsden, Russell Brand, Kaley Cuoco, Hank Azaria, Gary Cole, Elizabeth Perkins, David Hasselhoff, Chelsea Handler, Hugh Laurie