Dir: Nick Moore. UK. 2011. 90mins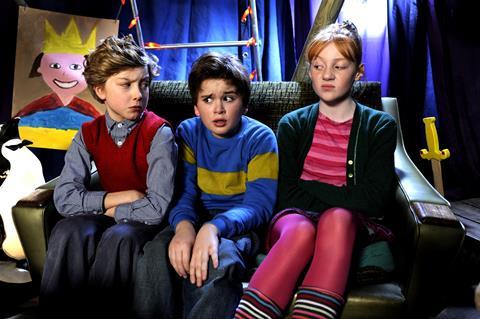 Horrid Henry: The Movie is a vibrant and energetic bit of 3-D entertainment for the under-tens, and could prove to be a popular mainstream success for those territories familiar with the best-selling children's book and whose audiences are appreciative of broad and boisterous British humour.
Director Nick Moore does an impressive job in keeping the momentum up, the 3-D fun and energetic and the young cast focused and in character.
The books, created by author Francesca Simon and illustrated by Tony Ross, have been translated into 22 languages and are available in 27 countries (more than 16million books have been sold in the UK alone), and a British spin-off TV series has already been a big success.
As the The Diary Of A Wimpy kid film adaptations have proved, there is a strong market for kid flicks aimed young, and this freewheeling film – which was shot on 3-D – should find a willing young market. Horrid Henry: The Movie opens in the UK on July 29, a few weeks after the last Harry Potter film and just as the school holidays start.
The film is laced with impressive acting talent in the adult roles, mainly British performers such as Richard E Grant, Parminder Nagra and Prunella Scales, though the addition of Anjelica Huston as Henry's teacher nemesis Miss Battle-Axe helps international profile. In the UK, though, casting of children's TV hosts Dick & Dom (aka Richard McCourt & Dominic Wood) as well as Girls Aloud singer Kimberley Walsh will help garner press and attention.
Given that the film is very much aimed at the young – and therefore often restless and easily distracted – fans of the books (and probably also the TV series) the film smartly aims to keep things busy and energetic, with lots of bright colours, smart use of the 3-D and a simple plot that offers laughs, mild drama and even a few (though not heavy-handed) life-lessons.
As might be expected, Henry himself (played by Theo Stevenson) is a hero to his young friends (especially those rascally members of the 'Purple Hand Gang' who he leads); the sworn enemy to the girls in his class and a constant source of irritation to the teachers at Ashton Primary School. He wages a constant – though childishly innocent – war against teachers and his parents…who always seem to want to make him do his homework!
While Henry is avoiding his homework and planning a new campaign – involving purple goo – against his next-door neighbour and main enemy in class, Moody Margaret (Scarlett Stitt), it turns out that the school is in trouble. It is on the brink of closing down due to the machinations of Vic Van Wrinkle (Richard E Grant), who runs rival Brick House School.
Against all the odds, Horrid Henry finds himself in an unholy alliance with Moody Margaret and his irritating little brother Perfect Peter (Ross Maron) as they look to outwit Van Wrinkle's dastardly plans. These plans involve Henry winning a series of challenges on kids' television programme Too Cool For School to play for a massive cash prize that could help save Ashton Primary.
Director Nick Moore (who directed Wild Child, and worked as editor on films such as Nanny McPhee and The Full Monty) does an impressive job in keeping the momentum up, the 3-D fun and energetic and the young cast focused and in character. There are some moments half-way through when that sense of energy dries up for a while and the script gets a little too convoluted, but the strong performances by Theo Stevenson, Scarlett Stitt and (especially) Ross Maron help it get back on course and on towards its boisterous climax.
Richard E Grant has by now perfected his hiss-worthy performance, and is perfect as the evil headmaster, while Rebecca Front (so good in scathing UK comedy series The Thick Of It) is impressive as headmistress Miss Oddbod. Anjelica Houston makes a fine impact as Miss Battle-Axe, though drifts out of the film, only to return with a flourish in the final scenes.
Parminder Nagra (from Bend It Like Beckham and US TV series E.R.) is suitably charming as the school's super-nice teacher Miss Lovely, while engaging performances from the likes of Matthew (Gavin And Stacey) Horne and Siobhan (My Family) Hayes as Henry's parents add to the enjoyable sense of familiarity. This is enhanced by cameos from Brit comedians such as Jo Brand and Noel Fielding.
Production companies: Vertigo Films, Novel Entertainment, Aegis Film Fund, Protagonist Pictures, Prescience, UKFC
International sales: Protagonist Pictures, www.protagonistpictures.com
Producers: Lucinda Whiteley, Rupert Preston
Executive producers: Alan Niblo, James Richardson, Mike Watts
Screenplay: Lucinda Whiteley, based on characters created by Francesca Simon and illustrated Tony Ross
Cinematography: Sam McCurdy
Production designer: Richard Bullock
Editor: Simon Cozens
Main cast: Theo Stevenson, Scarlett Stitt, Ross Maron, Anjelica Huston, Richard E Grant, Parminder Nagra, Rebecca Front, Kimberley Walsh, Matthew Horne, Richard McCourt & Dominic Wood (aka Dick & Dom), Siobhan Hayes, Jo Brand, Noel Fielding, Prunella Scales