Dir: Thor Freudenthal. US. 2009. 100mins.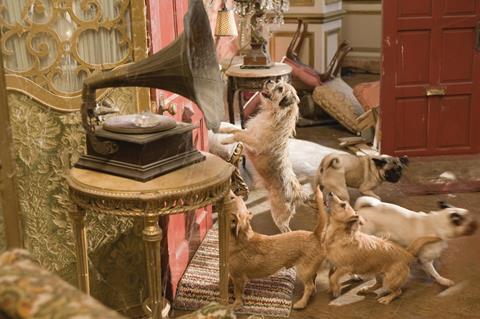 A colourful, well cast family film, Hotel For Dogs tells the story of a group of resourceful kids who band together to turn an abandoned hotel into a tricked-out, de facto boarding home for abandoned pooches of all shapes and sizes. Whimsical and at times a bit formulaic, but never overly sentimental, the movie benefits from a strongly sketched collective adolescent point-of-view, letting its kid stars drive the action in a world full of mostly buffoonish adults.
The script does a good job of providing a variety of dogs withoutattempting to establish different personalities for each of them
In everything from Cats & Dogs and Disney's two live-action Dalmatians movies to the animated Bolt and recent hit Marley & Me, canines have proven a reliable big screen draw; even 2007's Underdoggrossed $65 million worldwide. Based on Lois Duncan's beloved children's book of the same name, Hotel for Dogs should play like catnip to dog lovers, and strong word-of-mouth will help boost general audience family turnout for those unfamiliar with the source material. The only mitigating factors might be the film's wintry release date (traditionally a tough proving ground for family fare) and the film's proximity to Marley & Me; will audiences be dog-tired of dog tales' Given the easily translatable nature of its story, international returns should be solid, while the film's gadgetry and peppy action sequences will have younger viewers primed for its eventual DVD sell-through.
Sixteen-year-old orphan Andi (Roberts) and her younger brother Bruce (Austin) have only one another. Well, each other and Friday, the little old dog that they secretly keep against the edict of their narcissistic new foster parents, Carl and Lois Scudder (Dillon and Kudrow), who pay them little mind, except to heat up an occasional microwaveable meal and point out all the things they're doing wrong.
When Friday goes missing, however, Andi and Bruce are distraught. While looking for him, they make some friends at a local pet shelter. When Friday turns up with a stray dog, and runs into a vacant hotel, Andi, Bruce and their new friends decide to turn it into a comfy permanent hiding place for all the city's unclaimed canines. Using his mechanical skills and items strewn about the hotel, Bruce assembles gadgets - a projected car ride, a self-repeating tennis ball toss, a series of auto-flushing toilets - to keep the dogs all happily entertained, safe and fed.
Displaying some of the same grace and charm of her famous aunt, Julia, 17-year-old Roberts ably anchors Hotel For Dogs,even if the movie's pinch of puppy love between her and Johnny Simmons doesn't really convince. The film's strongest selling point is that, not unlike Home Alone, it strongly establishes a world in which the abandoned kids still all seem to be actively in control of their own destiny. Whether thwarting some dog-catchers or devising an automated feeding system for a couple dozen dogs, they're making the whole world they want to live in, which is a powerfully attractive story to younger audiences.
Visually and emotionally, Hotel For Dogs conveys a bounciness and vibrancy that doesn't tip over into cloying overeagerness. Debut director Thor Freudenthal, who served as lead storyboard artist on the Stuart Little films, injects plenty of light-heartedness into his chase and montage sequences; this is a movie that wholeheartedly embraces the word 'hijinks,' and is all the better for it. The script also does a good job of providing a variety of dogs without doting to a wearying degree on attempting to establish different personalities for each of them.
Primary colours dominate the production design by William Sandell, which also displays a blend of hand-crafted ingenuity and savvy effects work. If there's a strike against the film, it's that certain exterior passages unfold in over-shot downtown Los Angeles, which doesn't always seem to match the rest of the setting.
As the social case worker for Andi and Bruce, and the sole sentient adult in the movie, Cheadle ably shoulders the load of do-gooder conscientiousness. Kudrow and Dillon, meanwhile, have an absolute scene-stealing blast as a couple of snippy, deluded would-be musicians, convinced their big break is just around the corner.
To sign up for Screen's weekly Reviews Newsletter with all the week's new releases, international openings and full festival reviews delivered free to your mailbox every Friday, please clickHERE
Production companies
DreamWorks Pictures
Nickelodeon Movies
Cold Spring Pictures
Donners' Company
The Montecito Picture Company
Domestic distribution
Paramount/DreamWorks
International distribution
Paramount Pictures
Producers
Lauren Shuler Donner
Jonathan Gordon
Ewan Leslie
Jason Clark
Executive producers
Ivan Reitman
Tom Pollock
Jeffrey Clifford
Screenplay
Jeff Lowell
Bob Schooley & Mark McCorkle
Based on the book by
Lois Duncan
Cinematographer
Michael Grady
Production designer
William Sandell
Editor
Sheldon Kahn
Music
John Debney
Main cast
Emma Roberts
Jake T Austin
Kyla Pratt
Johnny Simmons
Troy Gentile
Don Cheadle
Lisa Kudrow
Kevin Dillon
Ajay Naidu
Eric Edelstein