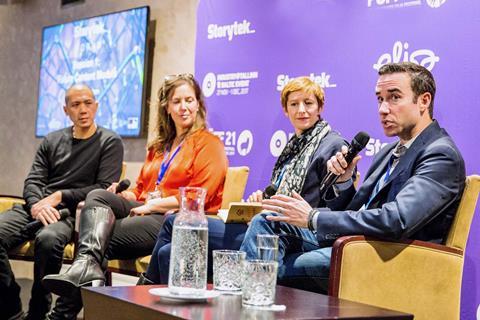 "After 100 years, the film industry as we know it is facing its limits," says Sten-Kristian Saluveer on the need for Story­tek, the initiative he founded in 2016. Based in the Estonian capital of Tallinn, Story­tek is a content and media industry innovation consultancy and an accelerator programme designed to enhance the international film industry through story­telling and technological innovation.
The programme is currently halfway through a three-year funding cycle granted by the Estonian government's Enterprise Estonia scheme and the European Regional Development Fund. Last year, Storytek selected five projects for a 10-week development bootcamp, adding to six selected in the previous cycle (two have since left the programme).
Saluveer says that 20% of those projects have progressed to a stage where they have either raised or are close to raising the finance they need, including UK project CUES, an app that matches audiences and films, and Cinuru from Germany, a research project that analyses data from a cinema loyalty app.
Applications are now open for the next iteration of the accelerator, and 10 projects from teams around the world will be selected for the 2018 cohort, which kicks off on September 21. The teams will participate in the initial 10-week bootcamp in Tallinn before going on to Helsinki-based start-up event Slush, Tallinn Black Nights Film Festival and, in spring 2019, to Latitude59 in Estonia and Marché du Film's Next programme in Cannes.
Nascent projects
The Storytek team — which includes Saluveer, accelerator and teams mentoring head Indrek Poldvee, and former film educator-turned-digital marketing expert Anniken Haldna — nurture the projects from an early stage, creating a strategy for their growth and then working with each project until it is executed. For select projects, Storytek will either become a minority co-investor or strategic adviser for raising further investments, or will help to execute their go-to market strategy.
To date, it has become an advisory investor in two projects: Manabu (Croatia), a black-and-white transmedia project spanning animated series, mobile games and other digital channels, and Zelos (Estonia), an events management software system that uses gaming principles.
This September, Storytek is also hosting two masterclasses at the Taipei Film Academy in Taiwan. "The market size and dynamics are similar to Estonia, and it has a very good tech sector," says Saluveer of Taiwan. "The structure is already there — we want to give a new kick to Taiwanese filmmakers." The programme is also planning another Far East event that is currently under wraps.
Saluveer adds that one of his key plans is to expand into Southeast Asia, especially Korea and the Philippines, as the team looks to tap the rapidly expanding entertainment markets in Asia. "The idea would be to prepare Asian producers for the European market, to understand the funding system, and to train European producers to talk to the big Asian investors. There's so much knowledge to be shared," he says.
Saluveer believes that the need for innovation in the entertainment industry is greater than ever. "Public finance is decreasing and audiences are not going to cinemas anymore," he says of his concerns for the industry's future.
"There is a lot of complaining about new platforms [like Netflix], but instead of complaining, it's important to educate people about how they work and how to leverage the immense opportunities enabled by super platforms."
The key to Storytek's programme is
its combination of technology and storytelling, Saluveer explains. "A great technology or platform without great storytelling is meaningless. We need to help producers channel their creative skills," he says. "We need to give them an understanding of not only where technology is heading, but where audiences are heading too."
There is plenty of cause for optimism. "If you look at the numbers, people are consuming more content than ever across the five big platforms — Facebook, Apple, Amazon, Netflix and Google," says Saluveer. "The question for us is, how do we tap into and monetise that content?"
Find out more about Screen Network below: