Dir/scr: Steven Knight. UK. 2013. 100mins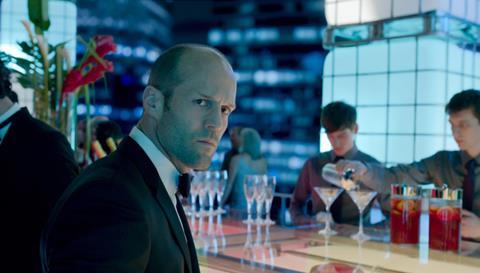 Jason Statham switches into avenging angel mode in Hummingbird, an intriguingly nuanced and moody tale of one violent and complex man's attempt at redemption, all set against the backdrop of London's Covent Garden and Soho areas. Though there are the brutal moments of stylised violence one comes to expect from a Statham film, his character is no simple one and as is so often the case his unusual brand of low-key charisma is what keeps the sometimes scattered storyline together.
Sometimes things slot together perfectly, especially when Joey is rampaging around Soho and Covent Garden, taking his revenge or acting as a Chinatown enforcer.
The film, which opens in the UK and US on June 28, lacks the sheer glossy action silliness to click with his fans from the Transporter series, but there is much to admire in its bleak allegory as Statham's muscular everyman takes an opportunity to pick himself up from the gutter and try and make a difference.
Steven Knight, screenwriter for films such as Eastern Promises and Dirty Pretty Things) makes his debut as writer/director, showing a sure hand with his own material, blending the violent with the tender and showing off London at its down'n'dirty, yet also oddly appealing, best. His story does lose focus at times as it tries to work in perhaps too many subplots, but he manages to pull it all together in the end, benefiting greatly from Statham's grim but also rather charming performance.
Ex-Special Forces soldier Joey Jones (Statham) is living homeless on the Soho streets after going on the run from a military court-martial, and after being beaten up by street thugs he breaks into a luxury Covent Garden apartment as the only way of escape. With the owner away for several months, he makes use of credit card, clothes, car keys to try and clean himself up, shaving off his long, straggly hair and getting a job as a dishwasher at a local Chinese restaurant.
Soon his abilities at dealing with violent drunks at the restaurant is spotted by a Chinese gangster boss, who recruits him as a driver and an enforcer. Now earning big money, he doesn't forget his old friends from the streets – he sends takeaways and pizzas to his old homeless shelter, and having taken a shine to Sister Cristina (Agata Buzek the nun who works there, gives her a roll of cash and later a slinky red silk dress.
He also sets about trying to track down Isabel, his girlfriend-of-sorts from when he was homeless, only to find that she has been lured into prostitution and murdered. Joey sets out on a mission of vengeance to find out who killed her.
Far from your traditional Jason Statham action film, Hummingbird weaves in many strands – from the plight of homeless ex-servicemen and the exploitation for young women from he streets through to the dilemma facing a well-meaning nun when faced with a charming killer and the morality of stealing another man's identity.
Sometimes things slot together perfectly, especially when Joey is rampaging around Soho and Covent Garden, taking his revenge or acting as a Chinatown enforcer, but there are times when the sheer weight of the multiple story strands weighs down the film as it veers around looking to find the way to conclude all of the storylines.
Jason Statham is as smooth and lethal as always, and comes across well as a traumatised military man struggling to find a way to do what he perceives as the right thing. He is faced with tough moral decisions – particularly when his mob work puts him face to face with a container lorry full of clearly suffering illegal immigrants – but he sticks to his own slightly skewed agenda, based on revenge as his way of achieving a form of redemption.
The 'hummingbird' title refers to the generic name for a type of drone used in Afghanistan, and links to Joey being observed around the city as the authorities look for him. Joey imagines seeing tiny hummingbirds in a couple of scenes…with the birds acting as a conscience and forcing him to face up to actions of his past and what step he might take to atone for past dark deeds.
Production company: Shoebox Films
International sales: IM Global, www.imglobalfilm.com
Producers: Paul Webster, Guy Heeley
Executive producers: Stuart Ford, Brian Kavanaugh-Jones, Joe Wright
Cinematography: Chris Menges
Editor: Valerio Bonelli
Production designer: Michael Carlin
Music: Dario Marianelli
Main cast: Jason Statham, Agata Buzek, Vicky McClure, Benedict Wong, Ger Ryan, Dai Bradley