Dir: Greg MacGillivray. US. 2015. 40mins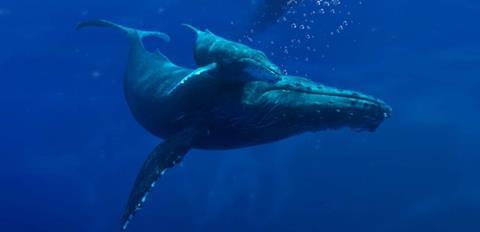 The latest IMAX documentary from MacGillivray Freeman Films – maker of Everest, Dolphins and other giant-screen hits — offers some impressive 3D footage of whales in the wild but fills out its forty-minute running time with more familiar imagery. The result is a mainstream-friendly mix of entertainment and education that, as nature docs go, feels more Disney than David Attenborough.
Visually captivating moments come with underwater close-ups of adult and baby whales.
Opening in select US markets on February 13 and expanding through the spring and summer, Humpback Whales should find an audience of families and schoolkids at specialised giant-screen venues, a market in which 1998's Everest took $87.2m and 2000's Dolphins $54m. IMAX's expansion outside the US could mean a better-than-historical-average gross from the international market, in which Everest took $40.8m and Dolphins $15.6m.
Using 15perf / 65mm IMAX cameras, director Greg MacGillivray captured his 50-ton stars in the oceans around Tonga, Hawaii and Alaska. The film, narrated by Ewan McGregor in his soft Scottish burr, touches on the history of whaling, delves briefly (with the help of scientist interviewees), into whale behaviour and makes a low-key appeal for whale preservation (humpbacks were nearly driven to extinction 50 years ago).
The visually captivating moments come with underwater close-ups of adult and baby whales and in set-pieces including a 'bubble net fishing' hunt, a chase sequence following males competing for a female and an expedition to rescue a whale entangled in fishing gear.
Less captivating are the overly-familiar shots of breaching and tail slapping, many of them accompanied by perky pop numbers or generic-sounding world music.
The 3D works well for the underwater close-ups but doesn't register as much in the above-water footage.
Production companies: MacGillivray Freeman Films, One World One Ocean
US distribution: MacGillivray Freeman Films, Pacific Life
International sales: MacGillivray Freeman Films, www.macgillivrayfreemanfilms.com
Producer: Shaun MacGillivray
Executive producer: Tennyson Oyler
Screenplay: Stephen Judson
Cinematography: Brad Ohlund
Director of underwater photography: Howard Hall
Editor: Stephen Judson
Music: Steve Wood
Website: www.humpbackwhalesfilm.com