Dir/scr: Tom Shadyac. US. 2011. 80mins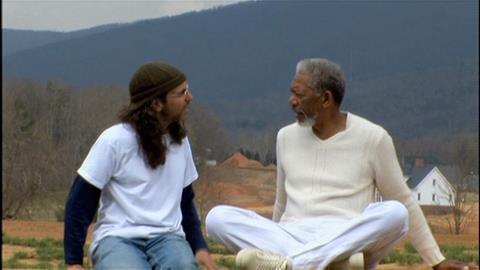 Hollywood director Tom Shadyac – who made blockbusters such as Ace Ventura: Pet Detective, Liar Liar and The Nutty Professor grossing close to $2billion – steps in front of the camera in this entertaining and challenging documentary to tackle how an accident and subsequent injuries changed his views on life. It is an engaging film that poses some big questions, and could well appeal to savvy broadcasters aware of its modest crossover potential.
Shadyac's enthusiasm and geniality is the driving force of the film.
Shadyac was at the top of his tinseltown game – with the cars, houses and other accoutrements to prove it – when a cycling accident left him badly injured with Post Concussion Syndrome, with symptoms including intense reactions to light and sound, severe mood swings and a constant ringing in his head.
After many months his PCS symptoms started to recede, but his near-death experience left him wanting to explore philosophical questions. So this big-time director, whose last film had a crew of400, got together a team of just four and set out to find and talk to the thinkers who had started to change his life to try and find a better understanding of the world.
He set out to identify the underlying cause of the world's ills, and embarked on a series of meetings and interviews with scientists, psychologists, artists, environmentalists, authors and philosophers in his search for the truth. His interviewees included Bishop Desmond Tutu, Dr Noam Chomsky, historian Dr Howard Zim, physicist Lynne McTaggart and poet Coleman Banks.
In putting himself front-and-centre in I Am, and happily admitting the shallowness of his relish for material items during his Hollywood career, Shadyac turns out to be an engaging, thoughtful and compassionate host, and his journey to try and figure out what is wrong with the world is a refreshing and often optimistic one.
In one delightful sequence he is seen asking each and every interviewee is they have seen Ace Ventura: Pet Detective (his hit film with Jim Carrey)…virtually all look at him with completely blank faces, apart from Lynne McTaggart, a recognised spokesperson on the science of spirituality, who admits it is one of her family's favourite films.
Shadyac's enthusiasm and geniality is the driving force of the film, and with a real sense of warmth and optimism that he weaves his way through a variety of viewpoints – both scientific and philosophical – and comes to the conclusion that the world isn't in such a terrible place.
One profound interview is with his own father Richard Shadyac, who for 13 years was the chief executive officer of ALSAC, the fundraising arm of St Jude Children's Research Hospital in Memphis that he founded with actor Danny Thomas.
He sees his recovery as part of the process, now living more simply, riding his bike to work and teaching at a local college. Proceeds from the film go to a non-profit foundation to find various worthy causes and to educate the next generation about the issues and challenges explored in the film.
Production companies: Shady Acres Entertainment, Paladin
Producer: Dagan Handy
Co-producer: Jacquelyn Zampella
Executive producers: Jennifer Abbott, Jonathan Wilson
Cinematography: Roko Belie
Editor: Jennifer Abbott
Website: http://iamthedoc.com