Dirs: John Requa & Glenn Ficarra. US. 2009. 100 mins.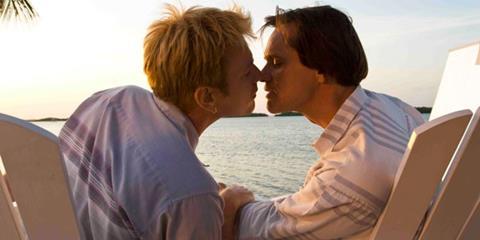 The studio movie which the studios wouldn't make, I Love You, Phillip Morris is a surprisingly conventional and sweet gay romantic comedy which isn't as funny as you might expect from the writers of Bad Santa, but is inherently remarkable for being a true story. Obviously audacious for the gay romance at its core, it otherwise plays like a polished Hollywood picture starring Jim Carrey and will satisfy a certain percentage of his audience even if the gay elements turn off some of his Yes Man audience.
Financed by Luc Besson's EuropaCorp, which stepped up when others balked, I Love You, Phillip Morris handles its gay characters with both sensitivity and irreverence, neither too politically correct nor off colour. The sexuality of Steven Russell, the extraordinary con artist played by Carrey, is central to the story, but first-time directors Requa and Ficarra and the actors play his gayness un-selfconsciously and honestly. In many ways, the film is as important as BrokebackMountain in breaking down barriers in mainstream cinema, although the level of US distribution has yet to to be determined after its world premiere last night at Sundance.
We are first introduced to Russell as a happy family man working as a cop in Georgia and living with his wife Debbie (Mann) and young daughter. But it doesn't take long for him to confess in voiceover that he is an active gay man who is living a lie. After a car accident shakes him up, he comes out, moves to Florida and starts dating Jimmy (Santoro). But, as he explains, it's expensive to live the gay lifestyle to the hilt and before long he is committing cons and frauds to pay for it all.
Committed to the state penitentiary, he meets the love of his life - a handsome blond, blue-eyed boy called Phillip Morris (McGregor) and Steven uses all his sway in prison so they get to share a cell. When he is released, he promptly pretends to be a lawyer to get Phillip out and the two start living together but soon he is back to his old tricks, conning his way to become CFO of a large company and embezzling millions.
When he is caught, Phillip leaves him in fury at his deceptions. Steven goes to prison but once behind bars, he commits the ultimate con to break out and win back Phillip's love.
While this is certainly an adult film with plenty of ribald humour and sexual language, I Love You Phillip Morris is at heart a sweet romance with only a couple of glimpses of the two lead actors kissing and very little actual sex. Still, like in the recent Milk from Gus Van Sant (who was originally slated to direct this film), the film-makers don't try to hide their characters' sexuality and, thanks to unfettered performances from Carrey and McGregor. the relationship between Steven and Phillip seems natural and unforced.
The tone is always bright and perky, though the storytelling could have benefited from some more shading, especially as the convolutions of the true story produce a drag on the momentum in the third act. Nonetheless Requa and Ficarra have structured their screenplay cleverly, leaving the audience in the dark to the end as to Russell's final, spectacular con.
Production companies
Mad Chance
EuropaCorp
International sales
US - CAA +1 424 288 2000/Endeavor +1 310 246 3126
Int'l - EuropaCorp + 33 1 53 83 03 03
Producers
Andrew Lazar
Far Shariat
Screenplay
John Requa & Glenn Ficarra
Based on the book by Steven McVicker
Cinematography
Xavier Perez Grobet
Production designer
Hugo Luczyc-Wyhowski
Editor
Thomas J Nordberg
Music
Nick Urata
Main cast
Jim Carrey
Ewan McGregor
Leslie Mann
Rodrigo Santoro
Antoni Corone