Animation, TV adaptations and documentaries among highlighted projects.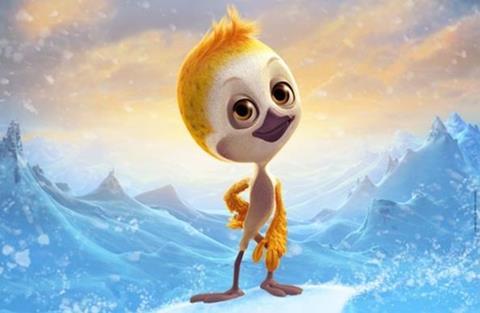 The second annual Stockfish Film Festival in Reykjavik, Iceland closed Feb 28 with its Shortfish film prize going to Like It's Up To You by Brynhildur Þorarinsdottir.
The festival – not to be confused with the Reykjavik International Film Festival (RIFF) – handpicks close to 30 local and international films and also showcases Icelandic works-in-progress (detailed below).
Films to screen included The Witch, The Diary Of A Teenage Girl, The Lobster, The Club, Arabian Nights, I Am Yours and Oskar Jonasson's local romantic comedy In Front Of Others.
Guests included France-based director Rachid Bouchareb who presented his new film Road To Istanbul.
The event, which is a collaboration between professional industry associations in Iceland, hosted a lecture from Son Of Saul production designer Laszlo Rajk, a retrospective of Armenian director Harutyun Khachatryan, script training events and film music masterclasses.
Stockfish also offered industry-focused works in progress presentations of select current Icelandic productions, listed below:
Ploey – You Never Fly Alone [pictured]
Arni Olafur Asgeirsson's animated film has been in the works for 6 years (on and off) and is employing animators in Reykjavik as well as in Antwerp, Belgium. The story is about a plover chick who never learned to fly and has to survive the winter after his family migrates. ARRI handles sales and the film has pre-sold to nearly 40 territories. The local release is set for December 2017, producer Hilmar Sigurdsson of GunHil noted.
Stella Blomkvist
This TV series is based on the bestselling eight-book series about a hard-nosed lawyer, coming to terms with her own past, who takes on dangerous cases. Each series is planned as three x 90 minutes, but also available as 6 x 45 minutes. Sagafilm leads the production and is currently casting to start shooting in the autumn for transmission in 2017. Sagafilm
Development Manager Johann Ævar Gromsson said: "We are playing with the noir tradition…We tried to go for something fresh something that we hadn't seen in Iceland before." Oskar Axelsson will direct. TV network Skjárinn and Red Arrow International are also on board.
Joe In The Tunnel
This 60-documentary tells the story of the Icelandic graffiti scene through the eyes of a janitor who became a graffiti lover and historian. Director, producer and screenwriter Hallur Orn Arnason said, "It's a mixture of Joe's story mixed with interviews with graffiti artists and stock footage." The film, which has launched a crowdfunding campaign, continues shooting this summer. Bjorgvin Sigurdarson also directs and serves as cinematographer.
Dive: Rituals In Water
A team experienced in visual arts – director Elín Hansdóttir and producer/co-director Hanna Bjork Valsdottir – offer a visually stimulating look at the work of Snorri Magnusson, who was the first infant swimming teacher in swimming-obsessed Iceland. The film counts Bergsteinn 'Besti' Bjorgulfsson (Of Horses And Men) as its cinematographer. The film is still shooting until summer.
"It's really about the foundations of human development," said Hansdottir. The project will be delivered with both feature-length and 60-minute versions.
The Great Football Adventure
This Sagafilm production is adapted from Gunnar Helgason's children's book series about a football tournament for kids in Iceland's Westman Islands. One young participant, Jon, has to grow up very fast on and off the pitch when he meets a troubled boy on another team. Baldvin Z, who directed huge box-office hit Life In A Fishbowl and several episodes of Trapped, will direct the 90-minute film (also to be made as an episodic TV-show for RUV).
It is being financed now for a summer shoot, and could be developed into a franchise. Producer Ragnar Agnarsson said: "Our aim is to make this picture for the whole family… parents will be willing to go with their kids to see this."
High Tension
This documentary looks at farmers and landowners in north Iceland who are fighting a new overhead power line. "The opposition started in 2012 and since then it's been spreading," said director and producer Olafur Rognvaldsson. "We've been following them for four years, every step of the way."
The film is now at rough cut stage for delivery later this year.
I Remember You
Oskar Thor Axelsson (Black's Game) directs this adaptation of Yrsa Sigurdardottir's popular novel. Axelsson said: "The story is actually two separate stories that intertwine, they are both set in the Westfjords of Iceland during winter. One is about three city-dwellers renovating a house in an abandoned village, they find out they are not alone…The other story is more of a procedural crime story about a doctor who moves into town and the local police want his help with a strange suicide case."
The shoot continues this spring for delivery later in 2016. The film was previously pitched in Goteborg's Works In Progress.