Dir: Sophie Fillières. France. 2014. 102mins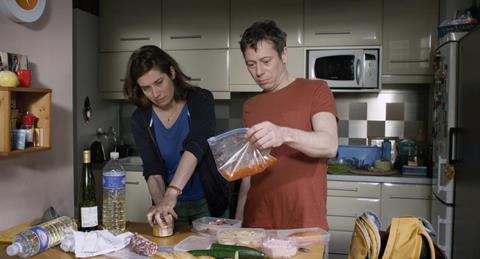 "What have we become?" asks Pomme, heroine of If You Don't, I Will (Arrête ou je continue). "Your parents," sniffs her husband. That sums up one of the curious characteristics of Sophie Fillières's wry marital comedy-drama, and its theme of young generations settling into comfortable middle age. In the 1990s, actors Emmanuelle Devos and Mathieu Amalric were at the forefront of a wave of young performers associated with up-and-coming directors such as Arnaud Desplechin; today, they're such well-loved faces on the French screen that their very presence in a film functions as a reassuring stamp of quality.
There are few surprises, but the two stars are in fine fettle, if not on their edgiest form.
This situation will certainly benefit Fillières' film both at the domestic box-office and on the export market, but it also betokens a certain middle-aged cosines and familiarity. This well-turned film from the maker of Gentille and Un Chat, un Chat is intelligent and passably witty, but not remotely cutting-edge.
The leads play a Lyon-based couple, Pomme and Pierre, who after many years together are finding the magic fading - and much tension gathering in the cracks. Life seems a routine business of meeting old friends, doing exercise together and taking occasional woodland hikes. But Pierre seems permanently testy, and to be spending an inordinate amount of time with young TV newswoman Mettie (de la Baume).
Meanwhile, Pomme has recently been operated on for a benign brain tumour, but in between contemplating her return to work and fussing over her young adult son (Delapalme) is finding the demands of life and fading love too much to handle. When a hiking weekend doesn't turn out as planned, she ditches Pierre and - in an improbable move on which the film has to stand or fall - takes to the woods for an extended spell of sleeping rough among the elements.
If you can believe Pierre simply shrugging off the situation while Pomme sleeps on logpiles or down holes in the ground - at one point, wrestling a confused chamois goat - then you'll have overcome the main obstacle to seeing the film as a bundle of mature wit and charm. There's certainly plenty to like besides the performances - elegant design, relaxed pace, and some gorgeous but low-key outdoor visuals. But often the characters' behaviour seems too obviously an eccentric conceit on which to hang what's basically a routine middle-class mid-life crisis comedy, albeit one with wit and feeling.
There are few surprises, but the two stars are in fine fettle, if not on their edgiest form. The normally likeable Amalric gives a creepier turn than usual to the self-absorbed Pierre, while Devos - who arguably scored a career best in last year's literary biopic Violette - is unfailingly watchable. This is a very physical performance, with pratfalls and nude scenes alike, but she also gives a nervy spin to the less-is-more ethic, playing vulnerably deadpan to eloquent and winning effect.
Production company: Pierre Grise Productions
International sales: Les Films du Losange, www.lesfilmsdulosange.com
Producer: Martine Marignac
Screenplay: Sophie Fillières
Cinematography: Emmanuelle Collinot
Editor: Valérie Loiseleux
Production designer: Manu du Chauvigny
Music: Christophe
Main cast: Emmanuelle Devos, Mathieu Amalric, Anne Brochet, Joséphine de la Baume, Nelson Delapalme