Dir/scr: Pedro Almodovar. Spain. 2013. 90mins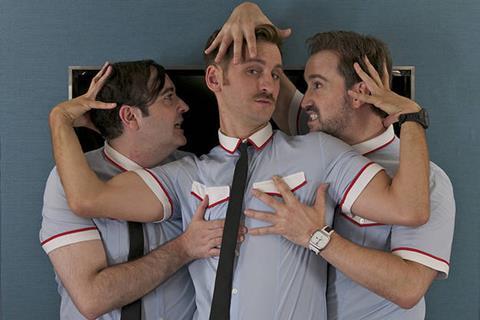 Camp, kitsch and deliciously entertaining, cult Spanish director Pedro Almodovar heads back to his wilder comedy roots with I'm So Excited!, a bright, breezy and frothy aircraft-set comedy that is strong on sex and sexuality and light on drama. The film opens in Spain today before international releases through the summer, and has the bold transgressive comedy moves to be a hit with savvy Almodovar-loving audiences.
I'm So Excited! is littered with hilariously over-the-top moments, and while some of the double-entendres may be lost in translation, the gloriously camp comedy often hits the sweet-spot.
After slightly darker material in more recent years, the film harks back to the Almodovar of Pepi, Luci, Bom (1980) and Women On The Verge Of A Nervous Breakdown (1987), and while there are some comments on Spain's current political and social situation in amidst the sexual shenanigans, I'm So Excited! is a deliberately broad and bold sexual comedy.
Though on the surface it has the cheap-and-cheerful look of a camp aircraft attendant comedy (particularly the UK series The High Life, or a gayer variation of Pan Am), Almodovar packs his film with delightfully over-the-top performances all working from a tight and witty script, and pushes the comedy concept as far as he can,
He also manages to – briefly – find some room for Spanish icons Antonio Banderas (an Almodovar regular) and Penelope Cruz who have oh-so brief cameo roles at the opening of the film as married airport workers whose baggage mishap leads to major problems on-board the Peninsula Airways jet bound from Madrid to Mexico City.
Once up in the air it turns out there is a problem with the landing gear, and the plane is held in a holding pattern while authorities work out what to do. In Hollywood this would be the starting point for a nerve-jangling thriller…but in the world of Almodovar the economy-class passengers (and their attendants) are promptly drugged and sent to sleep, leaving three male flight attendants to look after the smattering of business class passengers.
The gay threesome – chatty Joserra (Javier Camara), who is never able tell a lie and who is in a secret relationship with the captain; chunky Fajas (Carlos Areces), who prays to an alter in his suitcase for those around him, and thin and waspish Ulloa (Raul Arevalo) – set about providing food and drink to the captain and first officer (Antonio de la Torre and Hugo Silva) and also try and set passengers at ease.
The business class folk pick up on the problems on board, especially virgin psychic Bruna (Lola Duenas), who senses death after a close encounter in the cockpit. Other passengers are Norma (the elegant Cecilia Roth), a dominatrix who services Spanish and Mexican politicians; soap star Galan (Guillermo Toledo); Mas (Jose Luis Torrijo), who is escaping police after a scam; Mexican hitman Infante (Jose Maria Yazpik) and a beautiful young married couple (Miguel Angel Silvestre and Laya Marti).
As things get more and more tense, Joserra, Fajas and Ulloa resort to copious amounts of tequila (both for the passengers and themselves), before settling on their sure-fire way of calming the situation – a cocktail concoction called the Valencia Cocktail that happens to include liberal sprinkling of mescaline. They also – a delightful centrepiece to the film – perform a lip-synched version of the Pointer Sisters' I'm So Excited, just to help rack-up the sexual charged atmosphere.
Things soon give way to sexual barriers being dropped and a light-hearted orgy ensues, and there is a veritable (implied) feast of fellatio as some crew and passengers lower inhibitions and embrace what they think may be their last encounters. Even Bruna loses her virginity as she takes her pick of the drugged men in the economy section.
References to Spain's current situation are there – the economy class being 'drugged' a link to how workers in Spain are treated; Mas and his corrupt behaviour and Norma with client list of well-to-do bondage lovers – while the empty La Mancha airport they finally manage to land links to the real-life Castellón Airport north of Valencia, built in boom but now empty in bust.
I'm So Excited! is littered with hilariously over-the-top moments, and while some of the double-entendres may be lost in translation, the gloriously camp comedy often hits the sweet-spot while as usual Almodovar offers great parts for his actresses, with Cecilia Roth especially good as the charismatic dominatrix.
Oddly, it is when the film is on the ground that it lacks energy. The sub-plot involving Galan and his girlfriends (old and new) switches to land, and while entertaining you simply wait for the story to get back into the aircraft and its feast of bright colours, delightful production design and exuberant performances.
Production company/sales: El Deseo, www.eldeseo.es/en
Producers: Agustin Almodovar, Esther Garcia
Cinematography: Jose Luis Alcaine
Editor: Jose Salcedo
Production designer: Toni Novella
Music: Alberto Inglesias
Main cast: Antonio de la Torre, Hugo Silva, Cecilia Roth, Lola Duenas, Blanca Suarez, Raul Arevalo, Jose Maria Yazpik, Jose Luis Torrijo, Javier Camara, Miguel Angel Silvestre, Laya Marti, Carlos Areces