Iranian filmmaker Hadi Mohaghegh's Immortal and Walnut Tree from Kazakhstan's Yerlan Nurmukhambetov were presented with the New Currents Awards at the close of the Busan International Film Festival (BIFF) on Saturday night.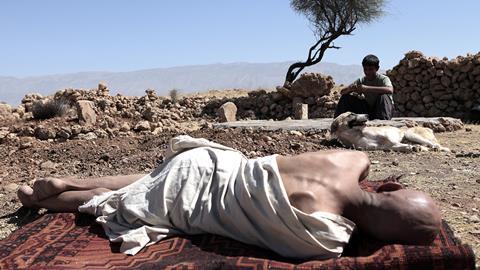 The jury described Immortal as "an extraordinary feat of visual storytelling, filled with emotion, that's partly about how to die but mostly about how to live, and how to keep our dignity as human beings." The film also picked up the FIPRESCI award.
Walnut Tree was described as: "A film that shows a way of life that's unfamiliar to most of us but proves how humour, kindness and forgiveness connect us all."
Taiwanese filmmaker Sylvia Chang headed the jury, which also included Indian director Anurag Kashyap, Korean filmmaker Kim Tae-young, actress Nastassja Kinski and US critic Stephanie Zacharek.
Meanwhile, the BIFF Mecenat Award for Korea went to Kang Seokpil's Boys Run, while the BIFF Mecenat Award for Asia went to Look Love from China's Ye Yun. Special mention went to Korean filmmaker Kim Youngjo's Still And All.
The Sonje Awards went to Korean filmmaker Kee Eunjeong's Shame Diary and Nia's Door from Taiwan's Lau Kek Huat.
Actor of the year went to Korea's Lee Ju-won for Alone, while Actress of the year went to Korea's Jang Sun for Lee Seung-won's Communications & Lies, which also picked up the NETPAC award.
Despite budget cuts, this year's festival drew a record number of theatre admissions with 227,337, compared to 226,473 last year.
Accredited guests (excluding press) reached 9,685, of which 1,571 attended the Asian Film Market.
FULL LIST OF BUSAN 2015 WINNERS
New Currents Award:
Immortal, dir: Hadi MOHAGHEGH (Iran)
Walnut Tree, dir: Yerlan NURMUKHAMBETOV (Kazakhstan)
BIFF Mecenat Award (Korea): Boys Run, dir: KANG Seokpil (Korea)
BIFF Mecenat Award (Asia): Look Love, dir: YE Yun (China)
BIFF Mecenat Award Special Mention: Still And All, dir: KIM Youngjo (Korea)
Sonje Award (Korea): Shame Diary, LEE Eunjeong (Korea)
Sonje Award (Asia): Nia's Door, LAU Kek Huat (Taiwan)
Actor of the Year: ALONE, LEE Ju-Won (Korea)
Actress of the Year: Communication & Lies, JANG Sun (Korea)
FIPRESCI Award: Immortal, Hadi MOHAGHEGH (Iran)
NETPAC Award: Communication & Lies, LEE Seung-won (Korea)
Daemyung Culture Wave Award: Overman, SEO Eunyoung (Korea)
KNN Award: Radio Set, Hari VISWANATH (India)
Busan Bank Award: Highway to Hellas, Aron LEHMANN (Germany)
Citizen Critics' Award: ALONE, PARK Hong-min (Korea)
Busan Cinephile Award: The Other Side, Roberto MINERVINI (Italy, France)
CGV Art-house Award: Eyelids, O Muel (Korea)
DGK (Directors Guild of Korea) Award:
The Boys Who Cried Wolf, KIM Jin-hwang (Korea)
Eyelids, O Muel (Korea)
Asian Filmmaker of the Year Award: Studio Ghibli
Korean Cinema Award: Wieland SPECK (Berlin International Film Festival Panorama Programmer, Germany)