Dir: Shari Springer Berman and Robert Pulcini. US. 2012. 102mins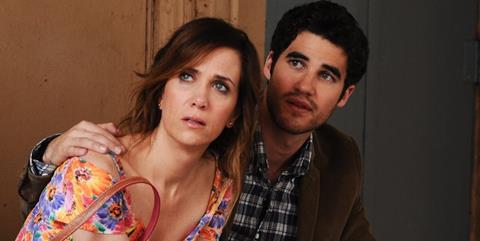 Directors Shari Springer Berman and Robert Pulcini have made a career focusing on lovable oddballs (American Splendor, The Extra Man), but their new film, Imogene, lacks the satiric sharpness and well-defined characters that have been the hallmarks of the duo's best work. Despite the presence of Kristen Wiig and Annette Bening, this look at a flailing writer and her down-and-out New Jersey family offers only sporadic, mild laughs, never kicking into a higher, more inspired gear.
Imogene's crippling weakness is that Imogene isn't a particularly funny or dynamic character.
Screening at the Toronto Film Festival, Imogene is seeking distribution, and no doubt Wiig will be a commercial asset after her Bridesmaids breakthrough. But to be sure, this low-key indie comedy doesn't aspire to the broad laughs of that film, suggesting that this will be a modest theatrical performer more in line with Berman and Pulcini's other films. (Their biggest hit, The Nanny Diaries, made about $48m worldwide.)
Wiig plays Imogene, who since she was a child has dreamed of leaving her low-class New Jersey home life behind. She now resides in Manhattan, but both her playwriting career and her hopes for true love have come to nothing, and in a moment of desperation she fakes her own suicide as a ploy to win back her ex-boyfriend. Instead, she's ordered by doctors to move back in with her white-trash single mother Zelda (Bening) so that Mom can keep an eye on her.
The film makes the case that Imogene's unhappiness stems from her fixation on being part of upper-crust society, which she considers culturally superior to her humble origins. But as Imogene reunites with her mother, who is a walking fashion show of tacky outfits, she's meant to learn that she needs to stop putting the snooty on a pedestal and instead embrace what's good about her upbringing.
This is a worthy premise — and, indeed, Berman and Pulcini have devoted a few films to the mocking of New York pretension — but Imogene's crippling weakness is that Imogene isn't a particularly funny or dynamic character. Wiig does what she can in the part, but Michelle Morgan's screenplay rarely crackles, which leaves Wiig falling back on her comedic bag of tricks that worked well during her celebrated run on Saturday Night Live but have started to feel overused.
Also problematic is that Imogene's family is strange without being delightfully or bizarrely so. Bening's horny middle-aged mother lacks much inspiration, and Imogene's withdrawn, nerdy brother Ralph (Christopher Fitzgerald) doesn't distinguish himself from dozens of other sweet, socially maladjusted misfits. (The one bright spot is Matt Dillon, an appealing buffoon who sleeps with Zelda and ponderously discusses samurai philosophy, although thankfully not at the same time.)
If Berman and Pulcini's loving send-up of Jersey trashiness is tepid, their treatment of Manhattan high society isn't any more sophisticated, dishing out predictable clichés about snobby socialites and bitchy backstabbers that don't have the requisite meanness that would make the jabs sting. No matter where Imogene goes, she's surrounded by half-realisd characters who aren't much fun to be around. Even Darren Criss, playing an aspiring singer who rents a room from Zelda and starts to take an interest in Imogene, can only do so much, although his charisma certainly enriches the experience.
Production companies: Maven Pictures, Anonymous Content Picture, Ambush Entertainment, 10th Hole Productions, LLC, Gambit Films
International sales: Voltage Pictures, www.voltagepictures.com
Domestic sales: United Talent Agency, www.unitedtalent.com
Producers: Celine Rattray, Trudie Styler, Alix Madigan-Yorkin, Mark Amin
Executive producers: Kristen Wiig, Michelle Morgan, Miranda Bailey, Matt Leutwyler, Steve Golin, Dylan K. Narang, Nadine De Barros, Dan Frishwasser, Marra B. Gad, Anne O'Shea, Pamela Hirsch
Screenplay: Michelle Morgan
Cinematography: Steve Yedlin
Production design: Annie Spitz
Editor: Robert Pulcini
Music: Rob Simonsen
Main cast: Kristen Wiig, Annette Bening, Matt Dillon, Darren Criss, Christopher Fitzgerald, June Diane Raphael