Dir/scr: Tomasz Wasilewski. Poland. 2012. 76mins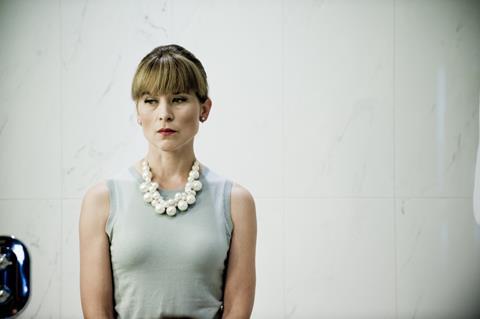 A slickly made arty erotic psychological drama, Polish film In A Bedroom (W sypialni) is an intriguing film driven by an impressive central performance by Katarzyna Herman, and while it slightly loses its edginess as it spirals towards its climax it is still a tantalising film that may interest art house distributors.
The film is at its best tracking Edyta as she traverses night-time Warsaw and towards her various assignations.
The film has been released in Poland, but had its international premiere at the Karlovy Vary International Film Festival. The fact that it has sex and sexuality at its core makes of immediate interest to some, though it attempts to become more complex and nuanced as the story develops.
Debut feature writer/director Tomasz Wasilewski shoots with a good deal of style and control, and In A Bedroom is certainly very different in tone and content to many other film emerging from Poland.
The 'heroine' of the film is 40 year-old Edyta (the impressive Herman), who prowls the internet posing as a series of different women all in search of casual sex. She drives to the homes of various men, slips a knockout pill into their drink, and then sets about stealing from them – usually cash, but often simply enjoying having a nice bath and sleep in a plush apartment.
These scenes are impressively staged, and despite her criminal behaviour Edyta comes across as a rather sympathetic character – though sex lies at the core of her story, there is a look of real fear on her face when faced with the real possibility of intimacy. Essentially she lives in her car, and these assignations are as much about living as they are crime.
When she meets a young actress who is preparing for her part in A Streetcar Named Desire it looks as if she may find actual friendship, but this is scuppered when her deceptions emerge. The film does change direction, though, when she meets artist Patryk (Tomek Tyndyk) and there begins a tentative relationship, initially based on mistrust but gradually developing as she slowly opens up about the reasons for her behaviour.
The film is at its best tracking Edyta as she traverses night-time Warsaw and towards her various assignations, and rather slows up when she meets Patryk. Though have a nice little trip to Poland's Batltic Coast, but the last third lacks the lingering psychological drama (despite Wasilewski's skill in keeping his shooting style interesting) as it drifts to its climax.
Production companies: IQ ART film Sp. z.o.o. Outpost One Entertainment
International sales: IQ ART film Sp. z.o.o
Producers: Michal Toczyski, Grazyna Strzalkowska
Cinematography: Marcin Martinez Swystun
Editor: Alexsandra Gowin
Main cast: Katarzyna Herman, Tomek Tyndyk, Agata Buzek, Miroslaw Zbrojewicz