Dir/scr: Hong Sangsoo. S Korea. 2012. 89mins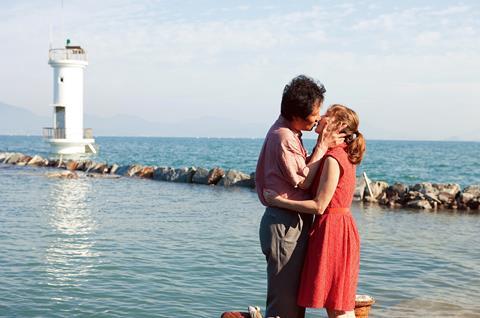 Echoes of the French New Wave resound all through this cute, light-hearted three-part romantic romp, which reads like a series of vignettes inspired by the encounter of Isabelle Huppert and the people and landscapes of South Korea. Yet another loving tribute by Hong Sangsoo to French cinema, somewhere between inconsequential and flimsy but pleasant to watch all through, In Another Country (Da-Reun Na-ra-e-suh) will charm both film students and their tutors, who will feast on the exercises of cinema language the film offers and over-analyse the use of identical dramatic ingredients in the three episodes that are much less separate than they pretend to be.
The entire cast, with Huppert in her sunniest disposition, seem to be having a lot of fun.
The framing story - just an excuse to keep these episodes together - has young film student, Wonju (Jung Yumi) and her mother Park Sook (Youn Yuhjung, the formidable older maid in Im Sangsoo's Housemaid) hiding from their debtors in Mohang, a seaside town. The bored younger woman sets out to write a script whose plot will use the place they're staying in for the location, but eventually comes up with three variants, using the same basic idea in all of them.
A French woman, Anne (Huppert, in three supposedly unrelated, but very similar parts) comes to Mohang and each time encounters a different set of characters, mostly played by the same actors. She goes through three different experiences, which are actually not that unlike each other. Not only the locations and the faces of the characters do not change but much of the dialogue remains the same as well.
First, there is Anne the filmmaker, visiting a fellow Korean director Jungsoo (Kwon Hyehyo) and his very pregnant and jealous wife Kumhee (Moon Sori, of Oasis fame). In the background, here as well as in the other two episodes, there are other characters, such as a dim but muscular lifeguard (Yu Junsang) whom Anne meets while strolling on the beach and looking (in all three episodes) for a mini-lighthouse.
The second Anne is the wife of a rich Frenchman who comes to the same guesthouse to meet her lover, a Korean filmmaker, Munsoo (Moon Sungkeun), and finally, there is Anne number three who comes arrives with her university lecturer friend Park Soon (again Youn Yuhjung) for some peace and quiet, after her husband left for his young Korean secretary.
Shot with the naturally sprightly approach of the early French New Wave, moving briskly and cheerfully while dispensing amusing wisecracks, Hong offers ironic portraits of the Korean male as a self-conscious, but not particularly competent, lecher who can't help hitting on pretty foreigners when they come their way.
The entire cast, with Huppert in her sunniest disposition, seem to be having a lot of fun with this series of stylish sketches that purport to show how the same dramatic bricks, if intelligently used, can serve to build different houses.
Production company: Jeonwonsa Film
Producer: Kim Kyounghee
International sales: Finecut, www.finecut.co.kr
Cinematography: Park Hongyeol, Jee Yunejeong
Editor: Hahm Sungwon
Music: Jeong Yongjin
Main cast: Isabelle Huppert, Yu Junsang, Jung Yumi, Yun Yuhjung, Moon Sori, Kwon Hyehyo, Moon Sungkeun