Dir/scr: Samanou Achece Sahlstrom. Denmark-Germany. 2015. 88mins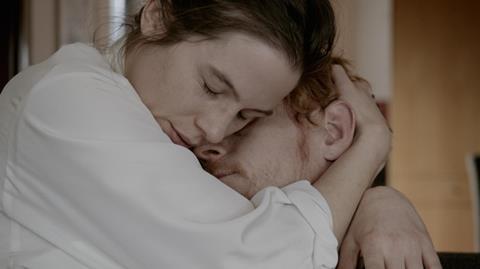 Assisted suicide is preoccupying film-makers right now. particularly in Denmark where Bille Agust made Silent Night late last year and Samanou Sahlstrom now delivers In Your Arms, winner of Best Nordic Film at the Gothenburg Film Festival.
As a writer-director, Sahlstrom hasn't shirked with his first film; he goes for the big one, and he won't be deflected from the ultimate destination.
August's story was about an ailing matriarch and the impact of the decision on her immediate family. French-born director Sahlstrom (who moved to Denmark in 2001) shifts the perspective to a sick man whose family either can't or won't travel with him to Switzerland to die, so he turns to a friendless Swedish nurse to help him in his hour of need.
Sahlstrom's hero is unlikeable, his heroine unconfident. His film is neither and it is a strikingly well-researched debut which nonetheless hits some predictable beats. Sahlstrom holds nothing back, travelling to a Dignitas-like clinic and witnessing the inevitable death of the central character and all the accompanying rituals in forensic detail. This, unfortunately, could limit the commercial potential for this director's debut, despite some fine acting and an assured aesthetic.
Sahlstrom is very much following in the footsteps of the author Terry Pratchett who suffers from Alzheimer's and made a 59-minute documentary for the BBC in 2011 called Choosing To Die in which he travelled to Switzerland to witness the assisted suicide of a 71-year-old man. Pratchett documented a stark and awful reality. Sahlstrom presents a drama which attempts to extract hope from a seemingly hopeless situation, to find life in death. Both add to an important debate.
Sahlstrom, who worked at Zentropa, and attended Copenhagen film school, follows up on the promise of his 2011 graduation short Les Amours Perdues, which starred Emmanuel Beart and Denis Lavant. He tries to avoid cliché with In Your Arms but the film hits routine beats nonetheless. Lisa Carlehed's Maria is not the first lost soul to find meaning - and love – with a doomed patient. Niels (Peter Plaugberg) is not cinema's first unlikable dying man either - In Your Arms does not identify his illness, although it would seem to be Motor Neurone Disease.
Peter is introduced in his room playing Mozart's Requiem at full blast; he wants to go to Hamburg's red light district and have a lap dance; Nick Cave features on the soundtrack (Into My Arms). Unassertive Maria has no friends, meanwhile, and a cat she can't be bothered to name. Niels tells her to "live a little – do something", which means, effectively, go smoke some pot and have an orgasm.
Once Sahlstrom has dispensed with the foreplay, it's on to Switzerland and the grim business at hand, the core of In Your Arms. Because even though Niels thinks Maria will try to talk him out of it, the audience is never in any doubt that soon a Swiss lake will come into view and Niels will follow through on his desire. This isn't so much an argument as a summation for the defence. As a writer-director, Sahlstrom hasn't shirked with his first film; he goes for the big one, and he won't be deflected from the ultimate destination. Leads Carlehed and Plaugborg are fully committed.
Brian Curt Peterson takes cinematography duties on In Your Arms, and delivers a fine colour palette, muted and sensitive to a fault. From the city hospital where an unlovable patient languishes, unloved, to his final destination, surrounded by nature, life, and all its beauty, Sahlstrom and his team are respectful to the last.
Production company: Meta Film
International sales: Meta Film, sara@metafilm.dk
Producer: Sara Namer
Cinematography: Brian Curt Petersen
Editor: Theis Schmidt
Music: August Rosenbaum
Main cast: Lisa Carlehed, Peter Plaugborg, Johanna Wokalek, Kirsten Olsen