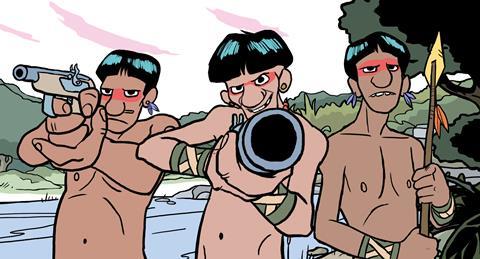 The first Animation! Work In Progress line-up at Ventana Sur curated by the Annecy International Animation Film Festival and Market has been unveiled.
Selections will present Latin American animation from Argentina, Brazil, Chile, Mexico and Peru to an audience of industry delegates in Buenos Aires including sales agents and distributors.
Screenings will take place at Cinemark Puerto Madero on November 29.
The selections are:
City Of Pirates (A Cidade Dos Piratas, pictured)
Brazil (Otto Desenhos Animados)
Director: Otto Guerra
Producers: Elisa Rocha and Erica Maradona.
Here Comes The Grump (Ahí Viene El Cascarrabias)
Mexico (Ánima Estudios)- UK (Prime Focus World)
Director: Andrés Couturier
Producer: Jessica Rovirosa
Dalia And The Red Book (Dalia Y El Libro Rojo)
Argentina (Vista Sur, Felipe Producciones, FilmSharks) / Peru (Golem Studio)
Director: David Bisbano
Producer: Álvaro Urtizberea
Koati, The Movie (Koati, La Película)
Mexico (Upstairs)
Director: Rodrigo Pérez Castro
Producer: Anabella Sosa-Dovarganes
Nahuel And The Magical Book (Ahuel Y El Libro Mágico)
Chile (Carburadores and Punkrobot)- Brazil (Red Animation)
Director: Germán Acuña
Producer: Patricio Escala, Germán Acuña, Sebastián Ruz