The combined box office of the top 50 international territories in 2010 was $17.9bn* from 14,504 titles, a staggering 10.6% increase on 2009, when 14,466 titles grossed $16bn.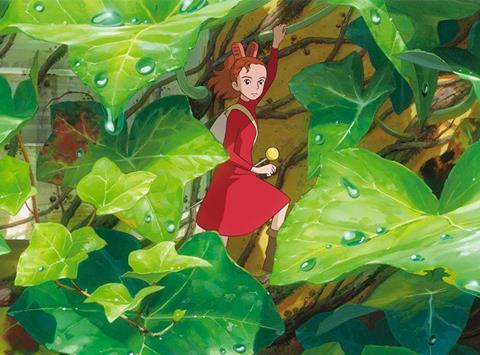 Japan was the biggest earner on the international scene, grossing $2.4bn, or 13.55% of the international marketshare, according to figures from Rentrak EDI.
Boosted by local smashes The Borrowers ($111.2m) – the top non-US international performer, Umizaru: The Last Message ($95.5m) and Bayside Shakedown 3 ($83.2), Japan is once again the world's second biggest box office territory behind US.
The territory accounted for five of the top ten non-US titles on the international stage, releasing 325 titles - the lowest number among the top ten territories.
The UK was the second biggest international market, retaining its slender advantage over France. The UK released 613 titles for $1.7bn and 9.59% of the international market share.
Third-placed France grossed $1.6bn and fourth-placed Germany, $1.2bn.
China has seen huge box office growth in 2010. Figures released by the country's Statistics from State Administration of Radio Film and Television (SARFT) indicate that the box office reached $1.5bn (RMB10 billion), up 61% on 2009. These figures would place China as the fourth-biggest international territory.
Boosted by a number of new multiplexes, increased attendance and ticket prices, 3D revenues, and an IMAX rollout, Russia posted the best swing among top ten territories, moving from ninth-biggest territory in 2009 to fifth-biggest in 2010, according to the numbers from Rentrak. The territory saw its box office surge from $733m in 2009 to $1.01bn last year (its first time above one billion.)
Italy, Australia, South Korea and Spain rounded out the top ten performers. Indian figures were not available.
Titles
James Cameron's blockbuster Avatar was the best performing title of 2010, taking $1.2bn internationally, despite being widely released in December 2009. The 3-D spectacular accounted for a stunning 7.35% of the international market share.
Alice In Wonderland was second-biggest, Toy Story 3 third and Harry Potter And The Deathly Hallows: Part 1 - which is still playing well in many territories - fourth.
47 of the top 50 international titles of 2010 were from US, with the three aforementioned Japanese titles the only challengers.
Among other non-US releases to perform strongly on the international scene were Elite Squad 2 ($61.5m), Le Petit Mouchoirs ($47.3m), The Ghost Writer ($46.5m) and StreetDance 3D ($43.7m).
Distributors
Among distributors, Fox retained its box office crown in 2010, grossing $400m more than 2009 for a total of $2.5bn, or 14.15% of the market share, despite releasing 16 fewer titles.
Largely thanks to major hits Inception and Harry Potter, Warner Bros. leapfrogged Sony into second place, taking $2.4bn from 125 titles and 13.69% market share.
Sony showed worrying decline in 2010, falling from second biggest studio in 2009 to fifth biggest last year. Its market share almost halved from 12.33% to 6.73%, despite its number of titles only falling from 105 to 81.
While the US majors accounted for the top six international distributors, Toho (4.79% market share in a record-breaking year) and CJ Entertainment (1.53%) were seventh and eighth, with ninth-placed Medusa (1.09%) the biggest earner among European outfits. The Italian giant released 64 titles last year and improved its year-on-year box office by 32%.
* these figures do not include India, which is estimated to have generated $1.6bn, and include only limited data from China. SARFT reports Chinese box office to be worth $1.5bn in 2010. The international total would stand at closer to $21bn if it included these estimates. Likewise, the 2009 figures do not include India and only limited data from China.
International box office top 20, 2010. Figures in US dollars (Source: Rentrak EDI)
| | | | | | | | | | |
| --- | --- | --- | --- | --- | --- | --- | --- | --- | --- |
| Rank | | Territory | # Titles | | | Date Range Gross | | Worldwide Market Share | International Market Share |
| 1 | | Japan | 325 | | | 2,420,372,783 | | 8.4912 | 13.5542 |
| 2 | | UK & Ireland | 613 | | | 1,712,887.837 | | 6.0092 | 9.5923 |
| 3 | | France | 741 | | | 1,614,741,123 | | 5.6648 | 9.0426 |
| 4 | | Germany | 529 | | | 1,191,173,784 | | 4.1789 | 6.6706 |
| 5 | | Russia | 370 | | | 1,049,600,625 | | 3.6822 | 5.8778 |
| 6 | | Italy | 747 | | | 1,026,937,448 | | 3.6027 | 5.7509 |
| 7 | | Australia | 387 | | | 1,018,682,717 | | 3.5737 | 5.7047 |
| 8 | | South Korea | 420 | | | 977,043,049 | | 3.4277 | 5.4715 |
| 9 | | Spain | 442 | | | 886,162,554 | | 3.1088 | 4.9626 |
| 10 | | Brazil | 391 | | | 724,410,729 | | 2.5414 | 4.0567 |
| 11 | | Mexico | 504 | | | 634,932,088 | | 2.2275 | 3.5557 |
| 12 | | China (limited data available) | 20 | | | 369,246,834 | | 1.2954 | 2.0678 |
| 13 | | Netherlands | 194 | | | 276,800,915 | | 0.9711 | 1.5501 |
| 14 | | Turkey | 208 | | | 248,678,875 | | 0.8724 | 1.3926 |
| 15 | | Poland | 148 | | | 214,515,796 | | 0.7526 | 1.2013 |
| 16 | | Sweden | 338 | | | 208,328,172 | | 0.7309 | 1.1666 |
| 17 | | Belgium | 403 | | | 189,176,884 | | 0.6637 | 1.0594 |
| 18 | | Switzerland | 208 | | | 180,471,087 | | 0.6331 | 1.0106 |
| 19 | | Denmark | 227 | | | 176,518,900 | | 0.6193 | 0.9885 |
| 20 | | Argentina | 386 | | | 175,677,947 | | 0.6163 | 0.9838 |