Blade Runner and Battlestar Galactica star is set to receive a lifetime achievement award in Madrid.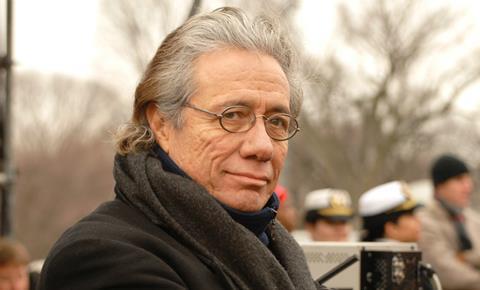 "Patience."
That's all Latin-American cinema needs before its talent is more widely recognised within the film industry, says US actor Edward James Olmos.
Time eventually puts everyone in their right place, asserts the Blade Runner and Battlestar Galactica star who was born in LA of Mexican descent.
Whether he's talking about the film industry, the market share of Latino cinema or American politics, Olmos underlines the importance of time as the great healer: "Time changes everything, I'm grateful for change. I was grateful when Obama came in and will be grateful when Trump leaves. It will come."
Platinos
After a film and TV career spanning more than 40 years, Oscar-nominated (Stand And Deliver) Olmos knows a thing or two about endurance.
It is that endurance which will be celebrated tomorrow at the fourth Platino Ibero-American Film Awards in Madrid, where the actor will receive the event's lifetime achievement prize, previously given to Sonia Braga, Antonio Banderas and Ricardo Darin.
Olmos for one, is not looking back, however. He is busier than ever.
The actor, also known for his star turn in hit TV series Miami Vice, has three big movies coming up: the sequel to Blade Runner - Blade Runner 2049 - with Harrison Ford and Ryan Gosling; the remake of Predator; and Pixar's Coco, alongside Gael Garcia Bernal and Benjamin Bratt.
Olmos recognizes the importance of the Platinos - which have been dubbed the Ibero-American Oscars - organised by EGEDA, the Spain-based Management Association of Audiovisual Producers' Rights with FIPCA, the Ibero-American Federation of Film and Audiovisual Producers:
"The Platinos personify exactly what the Oscars meant when they started back in the 1920s. They brought attention to the industry and did so by thanking the artistry and celebrating the craft of film, but it was all for the business.
"A unification of all Spanish-speaking cinema through an awards event was way overdue and I'm very grateful that we are now in the fourth edition of the Platinos. In ten years, in twenty years, they will be the most coveted awards second only to the Oscars."
Typecasting
Olmos is very involved in the promotion of Latino culture in the US, where he is the co-founder of the Los Angeles Latino International Film Festival. He hopes that the Platinos will help open the door for Ibero-American cinema worldwide.
But over the years, he has learnt that "the industry is very insecure, doesn't want to share its business. I can understand that, but if it was up to the Motion Pictures Association of America the only people who would be making films would be in the United States. Cinema is an art form and artists are from everywhere."
Asked if he has had to fight against typecasting in Hollywood, Olmos doesn't hesitate: "Fight against typecasting? All the time. There's a truth in the stereotype, that's why it becomes a stereotype but the problem starts when it's the only thing you see. When it comes to Latinos in the US, the truth is they [Americans] know very little about us."
Looking back on his career, Olmos says he feels privileged to be able to work on something he loves: "storytelling".
And he counts on doing so for years to come: "If I can make it until I'm a 100 years-old I'll be happy."
He refers to cinema as "art", and it's obvious how much he has enjoyed that art both as an actor and as an audience member after seeing him comically re-enact his fear of hotel showers after Psycho. "Oh, come on, you do it too," he laughs, after miming his anxiety.
Blade Runner 2049
Contractually, Olmos is not allowed to talk in detail about the upcoming Blade Runner sequel, which has reunited him with Harrison Ford.
Did it have a school reunion feel, I asked?
"Not quite. Unlike working on TV series like Miami Vice or Battlestar Galactica where we were together for years, very few films give you a sense of family. But it does feel great to inhabit the same universe, touch it again, because you don't get a chance to do that very often in cinema."