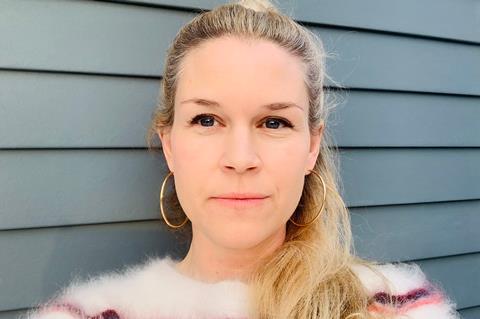 Danish director Tea Lindeburg's feature debut As In Heaven – which receives its European premiere in the main competition at San Sebastian Film Festival today (September 19) – provides an unflinching look at the brutality of motherhood, as told through the eyes of a young teenage girl named Lise (Flora Ofelia Hofmann Lindahl), living in Denmark's countryside in the late 1800s.
Across the space of a single day, we see Lise's life change forever when the girl, who is the eldest of a large brood of children, sees her mother in the throes of the most brutal and bloody of childbirths, triggering visions of blood raining down her face and swirling scarlet storm clouds.
Lindeburg's previous career highlights include writing the Danish supernatural thriller series Equinox for Netflix, based on a podcast she also created.
As In Heaven is based on Marie Bregendahl's 1912 novel A Night Of Dying. As well as directing, Lindeburg also wrote the script. Lise Orheim Stender and Jesper Morthorst produced for Danish production outfit Motor, with funding from the Danish Film Institute. It was shot on the island of Funen in Denmark in the summer of 2020 and had its world premiere at this year's Toronto International Film Festival. LevelK has international sales rights.
Lindeburg talks to Screen about how the film almost didn't get made, and the cinematic and religious influences running through her debut.
Where did the idea for the film come from?
I read Bregendahl's novel just after my son was born. The story just spoke to me. The more personal the project is for the filmmaker, the more interesting it is. I felt very lucky to be in the part of the world that I was when giving birth. Still today, 800 women around the world die each day either in childbirth or in pregnancies. After I read the book, this was five years ago, I introduced it to a producer [Morthorst]. He was totally on board, and I started writing it. But when we showed it to the Danish Film Institute to get funding, it was a blank no. Then about two years ago, there was a new film commissioner, Silje Riise Næss. We applied again and she immediately got it.
Christianity has a major presence in the film, with Lise furiously grappling with her faith. Was that based on personal experience?
The setting in the 1880s was very much a time of change. We were moving from the old ways to the new ways, and I've used that a lot in the characters. Some are still stuck – they still believe in spirituality and dreams and visions. Others are into medical science and moving forward. Some think all we have to do is lay our lives in the hands of God and whatever happens, happens.
Lise's whole journey with God in the story is something that really resonates with me. I didn't have a religious upbringing at all. My parents were totally atheist communists. But I had some kind of faith – not necessarily in God, but feeling that there's something more out there. We moved to Saudi Arabia when I was a child and lived there for many years. I was exposed to a whole new different way of believing and to the beauty of Islam. We all believe in in all our different ways, but maybe there isn't a Christian god or Muslim god, maybe it's just the same bigger power.
What are your cinematic influences? The bloody visions are reminiscent of the original Carrie…
That's an interesting observation, because I've always loved Carrie. In the back of my head there has been something of it that's resonated. Michelangelo Antonioni makes beautiful films, but there's a sense of distance to the characters that I knew I didn't want. In that way, I have been influenced by Ingmar Bergman, and Silent Light by Carlos Reygadas. Time passes in that film in such a slow way. There is not much plot on the outside, all the emotion takes place inside of the characters. That way of telling a story was very inspiring to me when making this film.
Much of the film rests on the lead character Lise's shoulders…
She was the first role I needed to cast and I built everything around her. It was difficult because a lot happens to a teenage girl in that time and we were casting eight months before filming. When we shot last year she had just barely turned 15, the character is 14 years old. I had two girls in mind just in case over the summer she came out the other side, but I was always in love with Flora.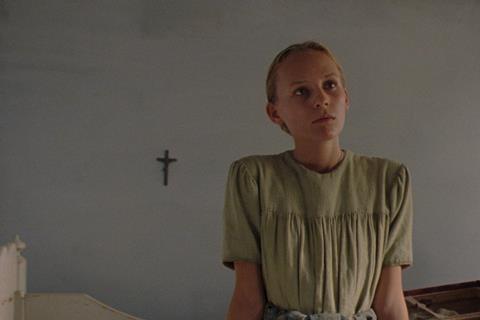 What was your journey into filmmaking?
I started as a child with acting. I didn't come from a family that was into arts in any way – I came from a family of academia and a doctor. My parents bought a video camera in the 1980s and I began using it and recording stop-motion films. That's when I realised that I actually preferred telling everyone else what to do. After high school I discovered the European Film College in Denmark and it all just went from there.
What did you learn from making your first feature?
You're never going to feel you made a perfect film, but all in all I'm glad for having had the experience and feel I have learnt a lot. What I would like next time is more time in pre-production. That's where all the big decisions are made. I can't read the reviews yet. My heart is too vulnerable.
How do you feel about your debut feature being in competition in San Sebastian?
I'm extremely honoured it's been chosen to be in the competition of this beautiful film festival. Toronto was great and nerve-wracking because it was the first time I showed it to any audience, but it was also very limited attendance because of Covid and they couldn't fill up the movie theatre. It was a wonderful experience, although when you have that big of a screening room and only half the people are there, it feels so empty. I'm excited to have a big screening at San Sebastian.