Zoë Kravitz and Emile Hirsch star in Unified Pictures' tough, romantic revenge thriller that premiered at Tribeca on Monday.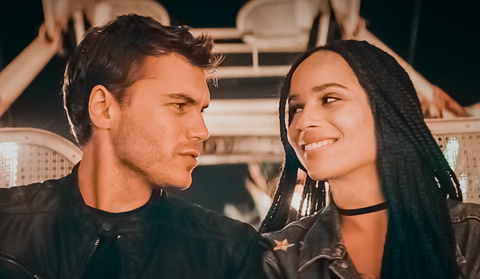 Hirsch plays a small-town loner who falls for Kravitz's rebellious punk rocker. Both are on the run from criminals and their own violent pasts.
Emory Cohen, Zoey Deutch, Jason Mitchell, Scott Mescudi aka Kid Cudi round out the key cast. Laura Henderson caught up with Schultz to find out more about his hard-hitting story of love and consequences.
WME Global represents US rights and Fortitude International handles international sales. The film screens again on April 22 and 23.
Why did you want to make this film?
I wanted to make Vincent N Roxxy because films like this really aren't getting made anymore: diverse, uniquely voiced and featuring a dynamic young woman [Zoë Kravitz] as the protagonist. Vincent N Roxxy is a story about love, family and how violence and secrets can unfortunately destroy that love. My experiences growing up in urban Chicago and rural southern Illinois gave me a unique perspective. I wanted to explore the similarities and differences of those environments and how they affect my characters. For me, Vincent N Roxxy is very personal story that I felt needed to be told.

When and where was it shot?
We filmed in Louisiana, mostly in and around Baton Rouge in December 2014 and January 2015. We filmed mostly on location, which presented its own challenges but also gives the film authenticity. Obviously the locations were dressed to fit our film's pallete but the basic structures were real working locations. We actually built the abandoned drive-in featured in the film on the property located directly behind the farmhouse and my amazing producing team and production designer brought the carnival to us. We literally built a carnival in someone's front yard. The people of Louisiana were very welcoming and supportive throughout filming, something I'm very grateful for.
In one sentence what is the film about?
Vincent N Roxxy is about two outsiders that unexpectedly fall in love, only to have that love destroyed by secrets and violence.
The casting is fantastic. I could really feel the chemistry between Vincent and Roxxy. A great mixture of romance and violence. Which scene was the most challenging to direct?
Thank you. My cast are some of the most special people I've ever had the pleasure to work with. The role of Roxxy was written with Zoë Kravitz in mind. She's an exceptional actress and created a dynamic character that I believe audiences will both champion and relate to. Emile Hirsch has delivered amazing performances for over a decade, however he has never really played a consummate loner like Vincent before and we were both excited about that.
The chemistry feels real because the actors brought uncompromising truth to their roles. I try to create an environment where my actors can take chances and never feel insecure or afraid to fail. When you have actors this talented that buy into their character's fully, it's really just about finding truth in the moment. Every scene has its own challenges, so you just make sure you give your actors what they need. Always support and protect them. It's all about family on my set.
The soundtrack is strong and helps to intensify the mood of the film. What was it like working with Questlove?
That was one of the biggest thrills of making Vincent N Roxxy – working with dream collaborators like Questlove. We spent some time talking about mood and feeling, then instrumentation. Once he had a feel for the emotion of the scenes and how they are all connected he went on and did what he does, and created an amazing composition. Questlove is a musical genius. He is limitless.
What does a viewer get from watching this film?
An uncompromising look at how violence and secrets can destroy love and family.
What films have been most inspiring or influential to you?
The cinematic inspirations are mostly films from the 1970's like Taxi Driver, Five Easy Pieces and Badlands. Taxi Driver is a story about an outsider who is trying to find his purpose in a world he doesn't really understand or fit into. Five Easy Pieces is a film about a guy coming home to confront the family and the past relationships he's been running from. Badlands is a fate-driven love story that begins almost like a fairytale about two characters that fall in love and ultimately make fatal decisions that destroy what they've created with each other. These films share similar themes to Vincent N Roxxy but ultimately all writing is inspired by life; the environments you grow up in and the people that influence you. That's also the case here. You write what you know. I guess I've always been more interested in the flaws of a character. Flaws are what make character's interesting and human.
What projects do you have lined up next?
I'm currently developing my next film with my producer Keith Kjarval of Unified Pictures.