The Netflix model 'makes no sense for the movie industry at large', says John Fithian, president and CEO of NATO (National Association Of Theatre Owners) on the eve of the group's annual Las Vegas convention.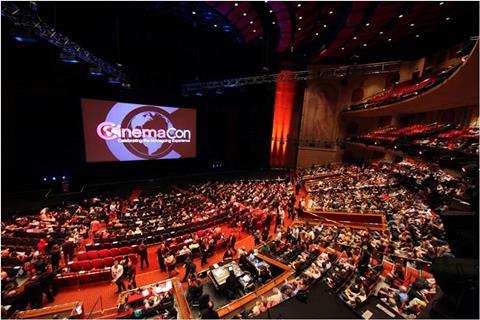 Fithian also talks to Jeremy Kay about why 2015 will be a thrilling year for box office, the growth of China and high dynamic range.
The fifth CinemaCon runs in Caesars Palace from April 20-23.
Heading into CinemaCon what is the sense of how 2015 will shape up at the box office?
The mood in exhibition is great. Our members have confidence that 2015 will be a great year. Domestically they believe we are turning to growth after a slightly down year in 2014. And globally they believe that growth will accelerate in 2015. I personally believe we will set records both in the US and abroad for box office receipts this year.
What are some of the major talking points likely to be at CinemaCon this year?
Box office growth. Great movie slate with better pacing across the 12 months of the calendar and movies that appeal to varied demographics. Continued partnership between exhibition and distribution on issues like windows and home market sales. New technologies coming to the cinema space.
Which films will be the big hits at the box office this year?
Let me just say, without naming titles, that we believe somewhere between four and six movies released in 2015 will gross more than $1billion at the global box office. I am rooting for all of them.
What will be some of the technical and innovative highlights we can look forward to?
Each year at CinemaCon we highlight a new technology that hasn't been seen before. In the past four years we highlighted high frame rates, immersive audio, laser-illuminated projection and satellite distribution. This year we highlight high dynamic range both in a major movie screening (Disney/Pixar's Inside Out) with HDR technologies provided by Dolby as well as a panel presentation on the technology. At the same time, we still have demonstrations and discussions on the other technologies we have highlighted at previous conventions.
At a time when audiences face more alternatives and distractions than ever, what are the most attractive aspects of going to the theatre today and what needs to be done to build on this?
Movie theatre operators continue to innovate to preserve the theatrical space as a unique and magical experience that cannot be found at home. Our members are offering more choices to consumers than ever before, from luxury dining and drink options, to more comfortable seats, to the best sight and sound experiences, to large screen formats.
Dalian Wanda fought hard to get AMC. What kind of benefits to North American patrons and the sector at large does Chinese ownership bring?
I don't believe there is any difference for patrons between Chinese ownership and Australian ownership and American ownership. Patrons want to see great movies in a superior cinema setting, regardless of who owns the cinema. Of course, it is a tremendous sign of confidence in the domestic cinema industry for such a large and significant player as Wanda to enter the space.
China as we all know is expanding and continues to make huge strides at the box office. Which other territories have impressed you with their expansion?
There is no close second to China. China is the fastest growing market in the world, and as import and ownership restrictions continue to be lifted, that growth will only accelerate. Other developing territories include Russia, SouthEast Asia, some parts of Latin America and Eastern Europe.
Netflix has been making more incursions into what one would regard as the traditional theatrical space, cutting deals with the likes of Adam Sandler and the Duplass brothers and getting on board Crouching Tiger, Hidden Dragon 2. What is the strategy among theatre owners regarding Netflix? Is it inevitable that the two will find a way to work side-by-side?
The Netflix model makes no sense for the movie industry at large. Why should the best product be released early on the lowest value in the chain? Beyond that, you raise two different scenarios. IMAX's announcement with Netflix on a proposed simultaneous release for Crouching Tiger, Hidden Dragon 2 was ill-conceived. And the responses of various leading cinema circuits to that announcement was telling.
But as for the Adam Sandler example, that is a different story. If Mr. Sandler wants to make lower value product for Netflix that doesn't play in cinemas, that doesn't bother me. Creative types go back and forth from television to cinema all the time. The consumer knows that a movie made for cinema is different than a product made for home release.
Amazon too is lining up a slate of movies and claim the model involves release on Amazon Prime four to eight weeks after theatrical release. How do your exhibition partners view this erosion of windows and will they carry the Amazon films?
You'll have to ask the individual exhibition companies what they plan to do. NATO doesn't make decisions about what movies do or don't get played or how.
How has your role personally changed over the years?
The work of a trade association is exciting and varied. Some years our "Washington" issues are hot and we spend more time working with the government. Some years the "Hollywood" issues are hot and we concentrate on industry relationships and dialogue. I enjoy both elements of that work. If my role has changed it is because the industry has changed. The industry has gone global and so too have our issues and our work. NATO now represents cinema companies that operate in 82 countries. What happens on windows, or movie theft, or technologies in Berlin or Boston can affect the global industry, just as policy issues in Brussels can be as important as those in Washington.
Are there any major goals you hope to achieve that you have not yet realised?
Though progress has been made over the years, I would like to see distributors and exhibitors work even better together as partners who collaborate more