Dir: Jonathan English. UK-US-Germany. 2011. 120mins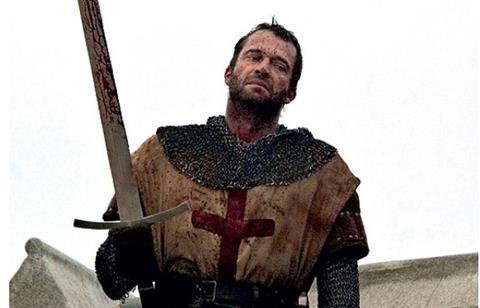 The Magnificent Seven hits the Middle Ages with Ironclad, a blood'n'guts medieval action-drama that offers little new in the way of script or plot, but brims with gritty performances and gory action scenes. While resolutely British in content, it has a strong enough cast to appeal to international distributors and enough sword-swinging action to work with fans of gory historical romps.
The sheer bravura staging of the action and sense of bleak, grim, hardship helps set the film apart.
Independently produced, Ironclad opened wide in the UK via Warner Bros., and with the headline casting of Paul Giamatti, Kate Mara, James Purefoy and Brian Cox should have the profile for a strongish theatrical release prior to a healthy life in home entertainment. The gore level – heads, hands and even feet are lopped off with abandon – may hamper appeal to general audiences.
The scene-setter is how in 1215 King John (played with zeal by Paul Giamatti) is forced to sign the Magna Carta, essentially undermining the notion of the absolute power of the monarchy. He meets and greets a mercenary horde led by Tiberius (Vladimir Kulich), with a plan to destroy the Barons who forced him to sign the document.
Baron Albany (Brian Cox), who realises the danger of this mercenary army, proposes occupying Rochester Castle, which has a strategic position and could hamper King John's ability to move from the English couth coast up through the country. He takes with him a rag-tag band of fighters, including a Knights Templar (James Purefoy); archer Marks (Mackenzie Crook) and swordsman Becket (Jason Flemyng). Add in a three other fighters and you have seven Middle Age warriors ready to take on the massed mercenary hordes…sound familiar?
Aging Baron Cornhill (Derek Jacobi) is less than thrilled to have his castle taken over by Albany and his men, though his young bride Isobel (Kate Mara) is more excited the prospect of some quality time with the hunky Templar. Before long, Kong John and his army are bombarding the castle, storming the battlements and battling with swords, boiling oil, arrows and even hacked off limbs.
The set-piece action scenes are extremely well handled, and while some of the dialogue is rather clichéd – and the film slows up far too much at the start of the second third as the fighters are holed up in the castle's main tower – the sheer bravura staging of the action (often shot in jittery hand-held camera fashion right in amidst the bloodshed) and sense of bleak, grim, hardship helps set the film apart.
Paul Giamatti and Brian Cox vie for overacting honours (Giamatti wins easily, though does seem to be rather enjoying his stint shooting on location in the Welsh mud, waving a sword with his crown precariously perched on his head), while James Purefoy – impressively sombre – seems to be using a similar character performance to the one he played in Solomon Kane.
The whole Isobel/Templar romance feels rather forced (and oddly, while Kate Mara looks good there is a niggling sense that she is just too contemporary an actress for the role), and while the likes of Jason Flemyng, Mackenzie Crook and Jamie Foreman are grittily fine as the team of fighters, their characters are sketched rather than developed. Czech actor Vladimir Kulich makes a striking impact as the leader of the mercenary hordes (as he did when playing Buliwyf in The 13th Warrior), but again is given little to do but look grimly determined.
Ironclad – which fits rather easily alongside Ridley Scott's Robin Hood in its dark and gritty delve into the Middle Ages, though clearly made on a much lower budget – certainly delivers in terms of bloody medieval mayhem.
Production companies: VIP Medienfonds 4, Rising Star, Silver Reel, Premiere Picture, the Wales Creative IP Fund, ContentFilm Intl., Molinare, Perpetual Media Capital, Mythic Intl. Entertainment
International sales: ContentFilm International, www.contentfilm.com
Producers: Rick Benattar, Andrew Curtis, Jonathan English
Executive producers: Steve Robbins, Alastair Burlingham, Christian Arnold-Beutel, Marcus Schoefer, Tilo Seiffert, Glenn Kendrick Ackermann, Jamie Carmichael, Graham Begg, Uwe R. Feuersenger, Linda James, Bethan Cousins, Mark Foligno, Deepak Sikka, John Evangelides, Evan Astrowsky, David Rogers, Adam Betteridge, James Gibb
Screenplay: Stephen McDool, Jonathan English, Erick Kastel
Cinematography: David Eggby
Editors: Peter Amundson, Gavin Buckley
Production designer: Joseph Nemec
Music: Lorne Balfe
Main cast: James Purefoy, Brian Cox, Kate Mara, Derek Jacobi, Paul Giamatti, Jason Flemyng, Jamie Foreman, Mackenzie Crook, Vladimir Kulich