Screen International ad from 1984 offers glimpse of what could have been a precursor to the latest Bond film.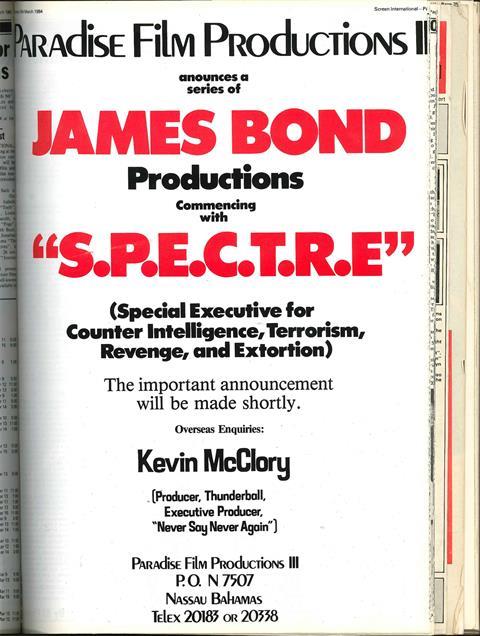 As Screen prepares to celebrate its 40th birthday, we have been busy trawling through the magazine's archives in search of landmark moments from our history.
This full-page ad from 1984, purchased by film producer Kevin McClory of Paradise Film Productions, reveals the company's intentions to create a series of James Bond films - beginning with SPECTRE - stating that an important announcement is forthcoming.
Evidently, the film never came to fruition, and the project is now consigned to Bond history.
In 1965, Kevin McClory had helped develop the story for the third entry in the Bond franchise, Thunderball, which introduced arch villain Ernst Stavro Blofeld as the figurehead of evil organization SPECTRE.
Following the film, a dispute arose over who owned the rights to those elements of the story, with a court eventually ruling after years of litigation that McClory was allowed to produce his own James Bond films.
Following that decision, he created the 'unofficial' entry in the series Never Say Never Again (1983), featuring the one-time return of Sean Connery as 007.
As shown by this advert in Screen, he clearly intended to follow up that film with multiple projects, of which SPECTRE would have been the first, but never managed to get them off the ground.
In 2013, seven years after Kevin McClory passed away, the dispute was finally resolved, with MGM reaching a settlement with the late producer's estate to take back the rights to Blofeld and SPECTRE.
Now, the 2015 incarnation of SPECTRE, featuring the return of the titular organisation, is breaking records at the UK box office.
However, if Kevin McClory had managed to garner more support for his future Bond projects, things could have been very different.