South Korean festival grows focus on alternative, experimental and "adventurous" cinema.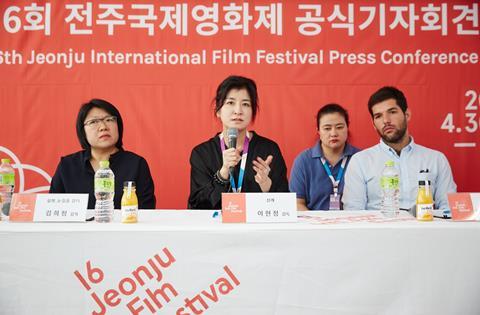 Held in a sunny Southern city with traditional houses and some of the hands-down most delicious food you'll find in Korea, the Jeonju International Film Festival (JIFF) is celebrating its 16th edition with multiple sold out cinemas.
The fest has always been focused on supporting and promoting alternative, experimental and "adventurous" cinema. From its inception, JIFF put its money where its mouth is - producing a different triptych of digital films every year. Directors such as Jia Zhang-ke, Pedro Costa, Bong Joon Ho, Eric Khoo, Claire Denis and Bahman Ghobadi have participated.
Last year, JIFF went from producing three shorts annually to three features with an aim to help get them more festival play and theatrical releases.
"We wanted to heighten out rate of involvement and let the directors unfold their creativity as much as they wanted," said JIFF programmer Jang Byungwon.
Revamp
This year, JIFF renamed this signature Jeonju Digital Project as Jeonju Cinema Project (JCP). Organizers explain this is to reflect how times have changed and the once controversial digital format has become ubiquitous.
Of the Jeonju Digital Project 2014 films, Shin Youn-shick's The Avian Kind has traveled to fests like SXSW and Moscow and saw local release earlier this year. Park Jung-bum's Alive, which was barely completed in time to make its world premiere in Jeonju last May, has been re-edited and screened at fests such as Locarno, Toronto, Busan and Rotterdam. It is set for local release later this month.
Gyory Palfi's Free Fall won the Best Jury Prize and Europa Cinemas Label Award in Karlovy Vary's Competition and also screened at BFI London Film Festival amongst others. The Hungarian director credited JIFF with saving his career as the JDP 2014 production funds became seed money for him to gather other co-financiers.
Indeed, all three features last year had co-financiers.
Growing pains
But this year, JIFF increased its total budget for the three films from KW180m ($177,400) to KW300m ($295,700) and tried producing them exclusively on their own.
"We had some tensions with partners last year and thought with this increased budget we could concentrate on expanding JIFF's production and distribution know-how this year," said Jang.
He emphasizes this in no way means they will continue to exclude outside partners on the Jeonju Cinema Projects to come.
"We hope to show you a more evolved Jeonju Cinema Project next year. We have a lot of interest from the industry and we are not stuck on just making three films annually. If there is an opportunity for more directors to make films, there's no reason for us to refuse," he added.
Jeonju Cinema Project 2015
The Jeonju Cinema Project 2015 directors started shooting in the second half of last year and premiered their works over the extended May Day weekend.
Winner of last year's International Competition Grand Prize at JIFF with his film History Of Fear, Argentinian director Benjamin Naishtat presented El Movimiento. Set in 1835 when Argentina was in leaderless chaos, an ambitious man starts experimental political communities in the pampas that eventually turn him into a tyrant.
"Doing El Movimiento was a marvelous experience because you usually have to work hard to get financing before you shoot, and in the process sometimes directors have to change their thinking to suit the financiers' preferences," he said.
Korean director Kim Heejung (Grape Candy) presented Snow Paths, about an alcoholic man struggling with rehab and his past.
"I started out with the image of a man trudging along a white snowy path, crying. 'Why is he crying?' I tried to deal with fateful and inescapable situations in my film. I watched it yesterday with my cast and crew and was happy. I felt like, 'This is my job and I am alive'," she said at the JCP press conference on May 2.
Experimental Korean filmmaker Lee Hyun-jung (The Virgin Forest) presented Samnye, saying she was aiming to document the old city before it changed.
"Samnye is an area between Jeonju and Iksan, which was significant in the Donghak Peasant Revolution [in the 19th century] and where the Japanese imperialists plundered rice [in the 20th century] and still holds memories of the past," she said.
"The film is about what happens to a director after he goes there and meets an exceptionally odd girl named Hee-in.
"I used surrealist expression, but it's also a very realistic story with comic, Korean sensibilities. I'm thankful to JIFF for giving me the opportunity to express my strange imaginings, because otherwise a film like this would be hard to make.
The three films have so far garnered mixed reactions, with festival programmer interest expressed for some.
JIFF runs until May 9, with the awards ceremony May 6.