Dir: Clay Jeter. US. 2011. 82mins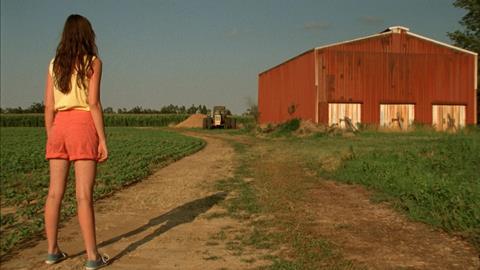 Bravura cinematography transforms the meandering tale of everyday boredom into a vivid collage of childhood and nature in Jess + Moss, a no-budget look at two cousins spending an aimless summer in rural Kentucky.Clay Jeter's first feature, which premiered in a section of Sundance exploring the overlap between film and art and screens in the Generation secion of Berlin, will make the rounds of international festivals. The visual magic of Jess + Moss could give it a second life in museums and film schools. Filmmakers will watch it to study what Jeter achieved at minimal cost.

One of the lessons of Jess + Moss is that beauty is hard to resist.
The film's title tells you almost everything. Jess (Sarah Hagan, who had a role in Buffy The Vampire Slayer), a bored blue-eyed long-legged girl of 18, lives out in the Kentucky tobacco fields, where her only company is her cousin Moss (Austin Vickers), a boy who's 12. They wander about, talking about whatever comes to mind, exploring deserted houses, playing house, and hinting vaguely at family events that left them in the middle of nowhere. The US independent filmmaker David Gordon Green seems the main influence on the plot-less ruminations.

Four screenwriters, including Clay Jeter, are credited, although the dialogue sounds mostly improvised. Conversation runs along familiar coming-of-age lines - "do you really want to live to be 120?" or "how did your granddaddy lose his finger again?" or "someday I'm gonna get out of here."
If there's any tension here, it is Jess's vacillation between childhood and adulthood. She keeps a suitcase packed, and she puts on heavy makeup and a wig to smoke in front of a mirror. Moss, predictably, can't wait to be older than his age.

Shot on multiple film stocks, Jess + Moss has a texture ranging from crystalline HD to a 16mm softness in lush vegetation and monochrome interiors that makes this experiment a lot more than watching the grass grow.

Will Basanta and Clay Jeter on the camera observe everything, whether it's blades of grass, forest moss or the seas of memory in the objects left in an abandoned farmhouse. The camera lingers on the façade of a barn as if it were taking a still photograph and assembles elegant still-life ensembles from ephemera left at random on tabletops.

The film would risk being a photo album, were it not for the same lustrous care that the cinematographers pay to their characters. Given the rudimentary script, Jeter could have veered into voyeurism or sentimentality as he explored the bond between the two. Instead, we get a portrait of the freshness and the vulnerability of youth.

There are still moments when Jess+ Moss looks like a photo shoot, with Sarah Hagan resembling a young Brooke Shields or Paulina Porizkova. And why not? One of the lessons of Jess + Moss is that beauty is hard to resist.


Production Companies: Blood River Pictures, Love Streams, agnes b. Productions
International Sales: Visit Films, www.visitfilms.com
Producers: Clay Jeter, Brian Harstine, Will Basanta, Isaac Hagy
Executive Producers: Deborah Jeter, Cliff Coleman, Kevin Iwashina
Screenplay: Clay Jeter, Deborah Jeter, Will Basanta, Isaac Hagy
Cinematography: Will Basanta, Clay Jeter
Editor: Isaac Hagy
Main cast: Sarah Hagan, Austin Vickers