Dir: Frank Pavich. France. 2013. 88mins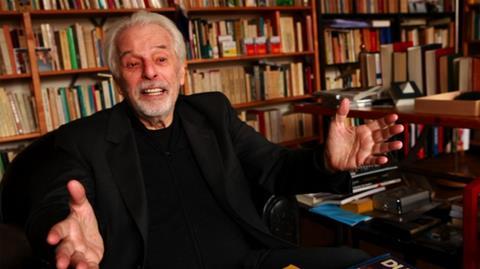 Cult Chilean film-maker Alejandro Jodorowsky's ambitious plan to make a big-budget adaptation of Frank Herbert's seminal science fiction novel Dune is the stuff of movie legend. Hailed as one of the great films never to be made, its content and structure have been much debated by Dune and film fans, but with Frank Pavich's film the truth behind the deliriously bold plans are finally revealed.
Jodorowsky is still clearly angry about the decision to not give any finance to the film.
From his plans to cast Salvador Dali as The Emperor and the years of long-training his young son Brontis underwent to prepare to play Paul Artredes through to his wooing of Pink Floyd to provide the music and sci-fi artists H.R. Giger, Moebius and Chris Foss to craft the look of the film, the development of Jodorowsky's planned version of Dune was always a bold and extravagant one.
Alejandro Jodorowsky created controversy with his first film Fando y Lis in 1967, a strange surrealist project that ended up being banned in Mexico, but quickly found cult status with his strange and equally surreal Western El Topo in 1970. He met French producer Michel Seydoux and together they made Holy Mountain in 1973, which ended up being a big success in France and several other territories.
Seydoux suggested they team again to make anything Jodorowsky wanted, and picking to the rights to Herbert's epic fantasy novel Jodorowsky set about gathering together the – in his own words - "spiritual warriors" he needed to make the film work.
Jodorowsky set about writing the script in a rented castle in France, and recruited French comic book artist Moebius (aka Jean Giraud) to prepare a storyboard based on the script. "His thousands of drawings became my camera movement," said Jodorowsky. "He was my camera."
Jodorowsky's cast of would-be 'spiritual warriors' grew to include Salvador Dali to play the Emperor (and his then muse Amanda Lear as Princess Irulan); he approached Mick Jagger, Orson Welles and Udo Kier for lead roles, and approached radical artist H.R. Giger (before his Alien experience) – on the advice of Dali – to design the evil Harkonnen empire.
Each Hollywood studio was given a copy of the 'Dune book', which assembled the script, drawings, costume design, but the proposed $15 million budget could not be raised. Seydoux said: We would given them the book. They would be impressed. It is economically feasible. But we don't get your director."
Danish director Nicolas Winding Refn (who made Drive) recalls being at Jodorowsky's house and being asked if he wanted to see Dune. He showed him the legendary 'Dune book', which compiles the script and drawings, and talked him through the story. "If he had have made it, then Dune would have been the first epic film of that nature and not Star Wars," said Refn. "I believe deep down that the people in America didn't make the film because they were afraid of him. Afraid of his mind and what he was going to do with them. People were scared. "
Jodorowsky is still clearly angry about the decision to not give any finance to the film. The rights were subsequently taken away and a version of the film was made by David Lynch…Jodorowsky recalls seeing the film, adding that he was in tears to begin with, but in the end "I was happy because the film was awful," he added. "Its not beautiful but I have that reaction."
Production companies: Snowfort Pictures, CameraOne, Endless Picnic
Contact: Travis Stevens, snowfortpictures@gmail.com
Producers: Frank Pavich, Stephen Scarlata, Travis Stevens
Executive producer: David Rosenfeld
Co-producer: Michel Seydoux
Cinematography: David Cavallo
Editors: Alex Ricciardi, Paul Docherty
Music; Kurt Stenzel
Animators: Syd Garon, Paul Grisold
With: Alejandro Jodorowsky, Michel Seydoux, H.R. Giger, Chris Foss, Brontis Jodorowsky, Richard Stanley, Devin Faraci, Drew McWeeny, Nicolas Winding Refn, Gary Kurtz, Diane O'Bannon, Amanda Lear