The Three Musketeers swashbuckle their way to third, while Real Steel fails to land a knockout blow.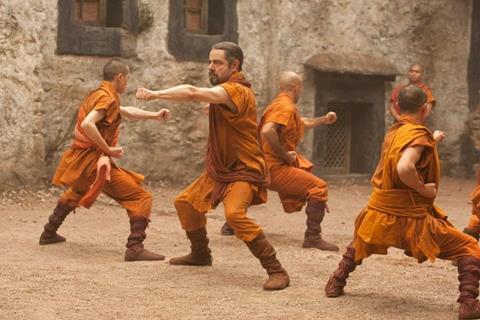 Universal's comedy sequel Johnny English Reborn held firm at the top of the UK box office this week after grossing a further $4.9m (£3.1m) to stand at $15.2m (£9.6m) after ten days, achieving the week's highest location average of $9,317 (£5,897) in the process.
It's still less than halfway towards challenging Mr. Bean's Holiday ($35.3m/£22.4m) as Rowan Atkinson's biggest UK grosser but the upcoming school half term could give it a significant boost towards toppling its predecessor's $31.0m (£19.7m) tally.
Disney's 3D re-release of The Lion King continued to perform impressively in its second week, posting only a 31% drop on its way to $3.0m (£1.9m) to hold firm in second. The half term could well see it post another £1m+ weekend this week; either way, its current $9.4m (£5.9m) running total is still excellent business for a re-release.
eOne's The Three Musketeers needed previews (totalling £428,417) to bump it above Disney's Real Steel into third place, the week's highest new entry. Paul W.S. Anderson's 3D version of Alexandre Dumas' classic novel grossed a solid, if unremarkable, $2.3m (£1.5m), around £500,000 off Anderson's best UK opening which remains Aliens Vs. Predator's $3.2m (£2.0m) debut back in 2004.
While not director Shawn Levy's worst UK opening, Real Steel hardly inspired with a $2.1m (£1.3m) opening salvo to land fourth. Disney's action-sci-fi recorded a $5,488 (£3,474) average across its 385 locations, but there's no doubt that more would have been expected.
Rounding off the top five, StudioCanal's Tinker Tailor Soldier Spy showed signs of slowing down in its fifth week with a 46% drop but can take comfort in its hugely impressive $19.5m (£12.3m) haul so far.
Paramount's reboot of Footloose failed to sparkle, taking only $727,126 (£460,271) from its 380 locations at a weak average of $1,913 (£1,211) to chart sixth. This pales in comparison to the remake of Fame which danced its way to a $3.8m (£2.4m) debut back in September 2009, albeit from more locations (459).
Not faring any better in seventh was Warner Bros' Dolphin Tale with a lacklustre $677,946 (£429,140) opening from its 384 locations, adding up to a poor $1,765 (£1,118) average.
Strongest holdover performance from last week's openers came from Warner Bros' Midnight In Paris in eighth. Dropping just 20%, it added another $626,515 (£396,584) for $2.0m (£1.3m) overall, still someway off Allen's biggest UK grosser Vicky Christina Barcelona which took $4.2m (£2.7m).
Following on from Universal's live offering of The Phantom Of The Opera earlier in the month, Saturday's live stream of MET Opera's Anna Bolena performed strongly as well. While its $214,428 (£135,733) is down on Phantom's haul, it did so from significantly fewer locations (50 compared to 255) and achieved a higher average of $4,289 (£2,715) to chart 13th.
Next week sees saturation releases for Warner Bros' Contagion, Fox's Monte Carlo and Paramount's threequel Paranormal Activity 3. Universal's Judy Moody And The Not Bummer Summer and Sony's Restless receive wide releases, while Paramount's We Need To Talk About Kevin gets a limited release.