Dir/scr: Jerome Bonnell. France-Belgium. 2013. 106mins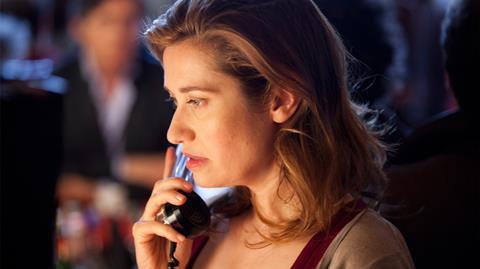 If there's a gestational quota for pregnant glances, writer-director Jerome Bonnell makes the most of it in Just A Sigh ( Le Temps de l'aventure), the carefully made and very well acted tale of a fling set in Paris on the longest day of the year. Predicated in large part on the notion that most any 43-year-old French woman — in this case, an actress played by Emmanuelle Devos — would find Gabriel Byrne's lived-in lookes irresistible, the film will play like a pleasing fantasy to most and a borderline parody of a French movie to some.
If anybody's planning a 'Movies Set During One Day' film festival, this would be a fine addition.
This 21st century Brief Encounter-mit-bonking, which figures in the Tribeca competition line-up, has met with reverent critical approval in France and promising local attendance since its April 10 release.
Alix (Devos), who is performing in an Ibsen play in Calais, takes the train to Paris at the crack of dawn for an audition and is due back on stage that night. It's June 21st, the annual anybody-can-perform-anywhere Fete de la Musique which is as good an excuse as any for the otherwise incongruous musical acts that sometimes punctuate the romantic proceedings.
On the train, Alix spots a fellow passenger (Byrne, whose character's name is long left unspecified). She keeps stealing glances at him and he seems neutral or slightly pained rather than intrigued.
When the train pulls in to Paris, Byrne asks in adequate French whether she speaks English and requests directions to a specific church. Another passenger obliges, but Alix now knows where the mysterious man is headed. Alix goes to her audition — an amusing set piece in which she shows her range when a desultory assistant has her play the same scene twice.
She should meet her mother for lunch and then hop back on a train but instead proceeds to the church where the reason for Byrne's melancholy expression is revealed. Alix half-loiters, half stalks him while various clocks indicate the passage of time.
When they do speak it's in English although flighty-cum-determined Alix probably couldn't articulate quite what she's up to in any language.
An overheard conversation supplies her with the name of his hotel and after a few amusing obstacles are overcome, bingo. Needless to say, he's a generous and creative bed partner.
A student of sex scenes in recent French films could pause to ask why the carnal interludes between Jean Dujardin and Cecile De France in Mobius were much mocked but the manner in which Devos and Byrne sensitively cavort has met with approval and not a little envy. ("Why can't I meet Gabriel Byrne on a train?" a female critic reportedly sighed on her way out of a screening.)
The clock keeps ticking, Alix goes to see her holier-than-thou sister (a highlight replete with passive-agressive comic timing) and does battle with cash machines that refuse to spit out a lowly 30 euros because she's overdrawn. Her mobile phone's battery is kaput and she left the charger in Calais, which occasions a great many scenes of dialing in telephone boxes, a once-common activity that has grown as scarce as Last Tango-style encounters in which nobody gets killed, catches a disease or otherwise has reason to regret the impetuous near-anonymous satisfaction of an unspoken urge.
Will Alix get through to her boyfriend of eight years who never answers his mobile phone? Will she catch the train back to Calais in time for that night's performance?
Bonnell gets appealing performances out of his two leads and although a few lines in English are slightly too literary, it's not impossible that a real person might utter them.
While pleasant enough, the classical music (Vivaldi, Verdi, Mozart) that surges forth at certain junctures detracts from the hard won aura of plausibility. (There's that celestial choir again; the violins are back.) Continuity spanning multiple Paris locations is excellent. If anybody's planning a 'Movies Set During One Day' film festival, this would be a fine addition.
Production companies: Rectangle Productions, Scope Pictures, Element Pictures, France 3 Cinema, Alvy Distribution
International sales: Le Pacte, www.le-pacte.com
Producer: Edouard Weil
Cinematography: Pascal Lagriffoul
Production designer: Anna Bachala
Editor: Julie Dupre
Music: Raf Kavnen
Main cast: Emmanuelle Devos, Gabriel Byrne, Gilles Privat, Aurelia Petit, Laurent Capelluto