Dir: Jon M. Chu. US. 2011. 105mins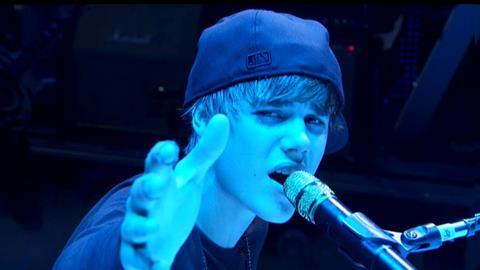 A memento for the fans who have fuelled his meteoric rise over the last two years, Justin Bieber: Never Say Never is a fitfully engaging concert documentary that stays on message so strenuously it barely has room to breathe. Charting his 2010 tour, which culminated in his sold-out performance at the iconic Madison Square Garden in New York City, the film gives hints into the 16-year-old pop star's personality, but Never Say Never's insistence on furthering the Bieber brand makes the movie feel more like a well-honed presidential campaign than an insightful look into the teen sensation.

The film works best in its concert segments, where Chu is able to utilise the 3D to suggest the size of these massive concert venues.
Opening domestically on Friday, this Paramount release will cater to a younger (largely female) audience - in other words, the same people who love Bieber's music and are seen endlessly screaming feverishly during the documentary. Boosted by 3D surcharges, Never Say Never looks to be a modest theatrical success, although the film's inability to attract other demographics could lower its overall ceiling.
Directed by Jon M. Chu, the man responsible for the Step Up sequels, Never Say Never splits its time between scenes of Bieber performing on stage, backstage moments of Bieber on tour, and biographical back-story on Bieber's upbringing and unlikely discovery on the Web, where he posted YouTube videos of himself singing other artists' songs.

While the film examines how Bieber became a pop sensation after growing up in a small town in Canada, the documentary largely exists to give fans a sense of what Bieber's current life is like, showing him pal around with friends, family and business associates. Though photogenic and charismatic, Bieber remains a teenager, which provides the film with an interesting tension between the superstar the world sees and the kid he still is.
Unfortunately, any sort of nuance or investigation is quickly discarded so that Never Say Never can steamroll over the audience with its generic messages about believing in one's dreams and always being there for one's fans. Even if these sentiments are genuine, Never Say Never has such an impersonal air about it that such emotions end up feeling calculated.

The film works best in its concert segments, where Chu is able to utilise the 3D to suggest the size of these massive concert venues. Still, Bieber's slick pop songs are only sporadically compelling, with his onstage dance routines highly derivative of Michael Jackson, Madonna and their followers. A song like the ballad "U Smile" can be arresting, but too often Chu overemphasizes the frenzied adulation of Bieber's young female audience at the expense of a closer connection with Bieber as a performer.

Production companies: Scooter Braun Films, L.A. Reid Media, AEG Live
Domestic distribution: Paramount, www.paramount.com
Producers: Scooter Braun, Justin Bieber, Antonio "L.A." Reid, Usher Raymond IV, Dan Cutforth, Jane Lipsitz
Executive producers: David Nicksay, Randy Phillips, Doug Merrifield
Cinematography: Reed Smoot
Editors: Avi Youabian, Jay Cassidy, Jillian Moul
Music: Deborah Lurie
Website: www.justinbieberneversaynever.com