Dirs: Roger Allers, Gaëtan Brizzi, Paul Brizzi, Joan Gratz, Mohammed Saeed Harib, Tomm Moore, Nina Paley, Bill Plympton, Joann Sfar, Michal Socha. Canada-France-Lebanon-Qatar-US. 2014. 84mins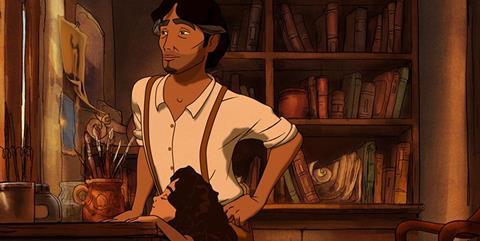 The sheer weight of its great intentions and illustrious source material sometimes weighs heavily on Kahlil Gibran's The Prophet, but in the end this rather enjoyable and tender film – made up from the work of a series of wonderful animators – is gently watchable, punctuated by memorable moments and impressive voice performances. Perhaps too niche to break-out (it isn't clear if it is aimed at children or adults) on a large scale, it is worth celebrating for its compassion despite its simple story stuttering rather than flowing.
It is all beautifully rendered and delivered with well-meaning grace and charm.
Based on The Prophet, by Lebanese author Khalil Gibran, which is among the most popular volumes of poetry ever written and read in more than forty languages since its publication in 1923, the story set within a simple linear structure, allowing the various animators to provide their individual look and take on different verses. The rather lumbering title of Kahlil Gibran's The Prophet may in theory help it reach the target audience, though of course much will depend on the voice cast for international territories.
The formal plot very naturally takes certain liberties with the book, using the story of Mustapha (voiced by Liam Neeson), a write and artist who has been jailed for years for supposedly writing provocative and subversive texts. On the day he is to be released he befriends the troubled young girl Almitra (Quvenshane Wallis) – the daughter of Kamila (Salma Hayek-Pinault, also one of the producers) the beautiful woman who clean and cooks for him – and as he is taken by police to supposedly be sent away on a ship she follows him and observes his interactions with locals and officials.
The simple structure forms the spine of a story that allows various of Mustapha's recollections, writings and stories to be spun-off into a series of short animated films, all from different directors and utilising very different animated styles. These include Tomm Moore (who made The Secret Of Kells and other TIFF film Song Of The Sea) balancing the look of Gustav Klimt with Islamic motifs; Nina Paley's distinctive puppet style images and Bill Plympton's swirling drawings that focus on food, though each is distinctive and often vibrant in their own right.
It is all beautifully rendered and delivered with well-meaning grace and charm (with Gabriel Yared's attractive score helping proceedings) but may prove to be lacking in action and adventure for younger audiences. Yes, there is some nicely judged slapstick but the core of the film is the profundity of the message and this may just be too gentle and thoughtful to click with youngsters and bemuse adults who may see the film as another family film. That would be a shame, because there is much to appreciate in Kahlil Gibran's The Prophet and it could well be a film that stays around for while gently preaching its message of peace, good-will and compassion.
Production companies: The Prophet Screen Partners, LLC, Doha Film Institute, Participant Media, FFA Private Bank, MyGroup Lebanon, Financiére Pinault, Code Red Productions, Ventanarosa Productions, Hanson Inc., Creative Projects Group, The Gibran National Committee
International sales: Wild Bunch, www.wildbunch.biz
Producers: Salma Hayek-Pinault, Clark Peterson, José Tamez, Ron Senkowski
Executive producers: Steve Hanson, François Pinault, Jeff Skoll, Jonathan King, Julia Lebedev, Leonid Lebedev, Naël Nasr, Haytham Nasr, Jean Riachi, Julien Khabba, William Nix
Screenplay: Roger Allers, based on the book by Kahlil Gibran
Editor: Jennifer Dolce
Production designer: Bjarne Hansen
Music: Gabriel Yared
Main cast (voices): Liam Neeson, Salma Hayek-Pinault, John Krasinski, Frank Langella, Alfred Molina, John Rhys-Davies, Quvenshane Wallis