World premiere of Intimate Lighting restoration, a focus on Mexican female directors, a tribute to Otto Preminger and the first Eurimages Lab Project Award set for 2016 edition.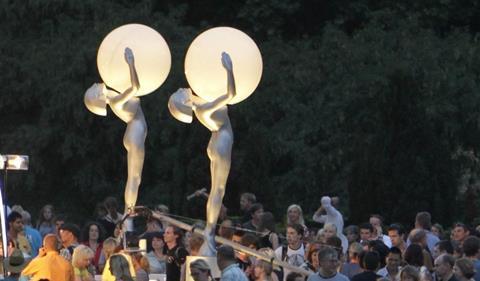 Karlovy Vary International Film Festival (KVIFF) has unveiled the first wave of titles and industry initiatives set for its 51st edition (July 1-9).
The festival, hosted in the picturesque Czech spa town, will world premiere a digital restoration of Ivan Passer's Intimate Lighting. The bittersweet comedy about an encounter between two former classmates and musicians is described one of the most striking films of the Czechoslovak New Wave of the 1960s.
The 82-year-old director, who was honoured with KVIFF's Crystal Globe for Outstanding Artistic Contribution to World Cinema in 2008, will be present at the premiere on July 2.
Mexican female directors
KVIFF will also spotlight Mexican female directors, screening nine features and one short from the past five years. The filmmakers include Elisa Miller, who won a Palme d'Or at Cannes for her short film Watching It Rain in 2006.
Tatiana Huezo's Tempestad, which screened at this year's Berlinale, and Yulene Olaizola's Fogo, which played in Directors' Fortnight at Cannes in 2012, are among the films set to be screened. Titles include:
Through the Eyes (A los ojos), Victoria Franco, Michel Franco (2014)
Borde (short), Victoria Franco (2014)
Amazing Cat Fish (Los insólitos peces gato), Claudia Sainte-Luce's (2013)
The Pleasure Is Mine (El placer es mío), Elisa Miller (2015)
Semana Santa, Alejandra Márquez Abella (2015)
You'll Know What to Do With Me (Sabrás qué hacer conmigo), Katina Medina Mora (2015)
Fogo, Yulene Olaizola (2012)
Tempestad, Tatiana Huezo (2016)
Kings of Nowhere (Los reyes del pueblo que no existe), Betzabé García
Preminger tribute
The festival will host a retrospective to Austrian-born, US filmmaker Otto Preminger with eight films, including classic noir Laura and a documentary from 1991 about the career of the director.
The tribute will include the titles:
Laura (1944)
The Moon Is Blue (1953)
The Man with the Golden Arm (1955)
Bonjour Tristesse (1958)
Anatomy of a Murder (1959)
Exodus (1960)
Advise & Consent (1962)
Anatomy of a Filmmaker (1991)
KVIFF artistic director Karel Och said: "KVIFF's special tributes will once again become an exciting meeting point between the modern and the classic.
"The festival will highlight the vital creativity of contemporary Mexico's young female directors and will remember, three decades after his passing, the visionary genius of Otto Preminger, a fellow Central European who conquered the United States with his overpowering charm and unflagging advocacy for freedom of artistic expression."
Industry move
A new industry meeting place will be introduced at the forthcoming edition - Film Industry Pool located above the Thermal swimming pool - where professionals and filmmakers can meet throughout KVIFF.
Works in Progress will return, with titles yet to be announced, and the winning project awarded a post-production package as well as finances for the completion of the film in Czech post-production studios
The first Eurimages Lab Project Award, announced last year, will be presented at KVIFF. The initiative aims to award "innovative" films with funding of up to €50,000 per project.
For the second consecutive year, KVIFF will host the annual gathering of the network of independent European distributors, Europa Distribution, whose workshops on the theme of "Film Education and Literacy" will also be open to film professionals.
The festival also stated it aims to devote more time to the issue of the digital market in the context of new strategies from the US.
Meanwhile, a partnership with Torino Film Lab will see a focus on comedy and how to approach it properly so that it works on an international level.
Also, for the first time, the MIDPOINT screenwriting platform, hosted in cooperation with experts from the Sundance Institute, will present an intensive programme the festival.
Back to Future Frames
For the second year, KVIFF will host the Future Frames: Ten New Filmmakers To Follow programme, organised with European Film Promotion.
Based on nominations of EFP member organisations, the festival has selected 10 students of film schools from 10 European countries whose work shows potential. During two days of the festival, the young filmmakers will present their films to the general and professional public, and will have the opportunity to meet leading experts from the film industry.
Special screenings, festival trailer
For the first time, this year's festival will include special re-screenings of this year's winning films to take place on July 10. There will be screenings of three winners, including the best feature film.
In addition, the traditional festival trailer will this year feature 80-year-old Czech star Zdeněk Svěrák, who received KVIFF's festival president award in 2014.