Dir/scr: Kieran Evans. UK. 2012. 90mins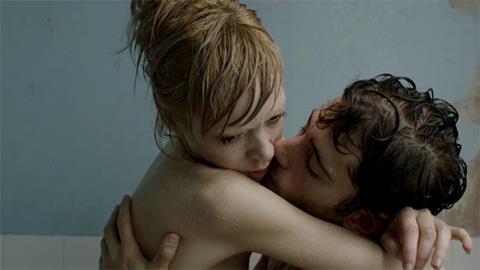 The beautifully intense Kelly + Victor is driven with such passion and commitment that it cries out for attention. With a wonderful sense of location and featuring a series of memorable performances this tale of tough and transgressive love seems marked to get that attention, and should well appeal to distributors of challenging yet satisfying material.
The powerfully complex performances by young leads Antonia Campbell-Hughes and Julian Morris are the backbone of the film.
The film, which had its world premiere at the London Film Festival, is a dark, passionate and inverted love story, and while steeped in sex and violence it is also very much a contemporary love story that mixes tenderness with the toughness.
The powerfully complex performances by young leads Antonia Campbell-Hughes and Julian Morris are the backbone of the film, and while these characters are flawed and at times floundering to try and find their place and their struggle to be true to the love they find is touching and memorable.
Kelly (Campbell-Hughes, who starred recently in Storage 24 and received acclaim for her role in Jane Campion's Bright Star) meets Victor (Morris, who appeared in ER and 24) on the dance floor in a Liverpool nightclub, and after wandering through the night find themselves at her flat, making love with a passion and urgency neither had experienced before.
Both are doing their best to live life as best they can. She is escaping a brutish former lover and her best friend (Claire Keelan) is a dominatrix prostitute – who tries to get Kelly to come along and work with her at a posh house where a wealthy client seeks extra attention – while his two best friends are engagingly genial wannabe drug dealers, who drive off into the countryside to make their score.
The more time Kelly and Victor spend together they more they realise how much they care each other. At the same time their time in bed begins to get more and more intense, until it all goes a little too far (for Victor at least) and he decides to break things off.
But love is not a simple thing and there remains a chance, despite the complex nature of their relationship, that they should be together.
Debut feature writer/director Kieran Evans (who made documentary Vashti Bunyan: From Hero To Before), has astutely adapted Niall Griffiths' acclaimed novel, and makes wonderful use of the Liverpool locations to tell this hauntingly honest love story.
It is a candid and compelling story that, while it heads into dark and vaguely disturbing territory, is infused with a real sense of honesty and affection. The support performances are all terrific (with Claire Keelan especially good and there is a nice late cameo from Mark Womack), and the soundtrack chosen effectively, but this is a film that belongs to the open, powerful and tender lead performances by Antonia Campbell-Hughes and Julian Morris.
Production companies: Hot Property Films, Venom Films, Film Agency for Wales, Irish Film Board, Domino Publishing
Sales contact: Hot Property Films, www.hotpropertyfilms.com
Producer: Janine Marmot
Co-producer: Andrew Freedman
Adaptation: Kieran Evans and Niall Griffiths, based on the novel by Niall Griffiths
Cinematography: Piers McGrail
Editor: Tony Kearns
Production designer: Anthea Nelson
Main cast: Antonia Campbell-Hughes, Julian Morris, William Ruane, Shaun Mason, Michael Ryan, Mark Womack, Stephen Walters, Claire Keelan