Dir: Nick Hamm. UK. 2011. 114mins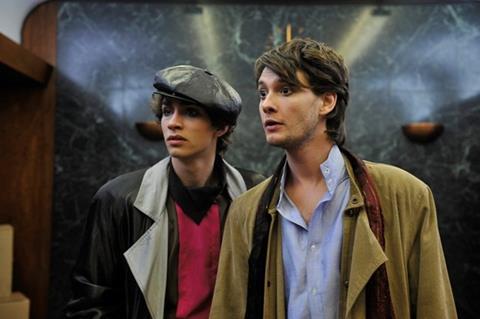 There is a good deal of dramatic fun to be had with the notion of a wannabe rocker growing up in the shadow of a classmate who turns out to be a worldwide superstar, and while there are impressive moments in Killing Bono, all of the elements never seem to properly gel as the film freewheels between rock'n'roll comedy and dramatic thrills.
Killing Bono starts as a playful comedy, with Ben Barnes playing Neil as an optimistic charmer.
Based on the book by Neil McCormick – a former would-be rocker, music journalist as classmate of one Paul David Hewson (now calling himself Bono and fronting band U2) – the story was adapted by the veteran British screenwriting duo of Dick Clement and Ian La Frenais (who scripted The Commitments), but even they seem to have a tough time finding the right balance in the story. However, a strongish cast and the whole U2 link could well help international distribution and press profile.
The film opens engagingly enough as young Irish songwriter and musician Neil McCormick (Ben Barnes) plots his route to stardom. But when his schoolmate Paul (Martin McCann) bags the role as singer for school band The Hype, Neil decides to form his own band with his brother Ivan (Robert Sheehan) as bass guitarist.
Meanwhile, The Hype changes its name to U2…and Paul has transformed himself into 'Bono'.
Neil secures backing from Dublin gangster Danny Machin (Stanley Townsend), and the brothers head off to London seeking fame and fortune. What they find is a quirky landlord (Pete Postlethwaite in his final screen role) and a sexy next-door-neighbour (US actress Krysten Ritter), as well as an oddball producer (Peter Serafinowicz).
As Neil gets further and further into debt with the Irish gangster, so their musical career stumbles onwards. But while they pick up gigs here and there, so US's fame grows and grows internationally, only fuelling Neil's jealousy and causing problems between the brothers. As his rock'n'roll dream collapses, Neil increasingly links Bono's success with his own failure and becomes determined to take some sort of revenge.
Killing Bono starts as a playful comedy, with Ben Barnes playing Neil as an optimistic charmer, though as the story develops the film becomes darker in tone and spirals towards a rather frantic and unconvincing climax. Barnes is fine as Neil, though does over-play things at times, but is nicely contrasted by a gently charming performance by Robert Sheehan as his talented younger brother.
Krysten Ritter is rather wasted as the feisty American neighbour who embarks on an on-off romance with Neil, though it is nice to see Pete Postlethwaite (though clearly very ill when making the film) as the camp landlord who is won over by the two Irish chancers who rent a rock'n'roll-style loft space from him.
Music – and especially U2 - fans will find moments to enjoy in Killing Bono, especially when it details the rise to stardom of Bono and the band, but the film never manages to find a consistent tone. The fumbling climax involving the Irish gangsters, a gun and a sort-of showdown between Neil and Bono never convinces despite director Nick Hamm's best efforts.

Production companies: Greenroom Entertainment, Isotope Films, Matador Pictures, Northern Ireland Screen
International sales: The Salt Company, www.salt-co.com
Producers: Piers Tempest, Ian Flooks, Nick Hamm, Mark Huffam
Executive producers: Nigel Thomas, Charlotte Wells, Russell Allen, Simon Bosanquet, Mark Foligno, Jon Hamm, Tommy Moran
Screenplay: Dick Clement, Ian La Frenais
Cinematography: Kieran McGuigan
Production designer: Tom McCullach
Editor: Bill Sneddon
Music: Stephen Warbeck
Website: www.killingbono.co.uk
Main cast: Ben Barnes, Robert Sheehan, Pete Postlethwaite, Krysten Ritter, Martin McCann, Peter Serafinowicz, Justine Waddell, Luke Treadaway, Stanley Townsend, Hugh O'Conor