Dir/scr: Xan Cassavetes. USA. 2012. 96mins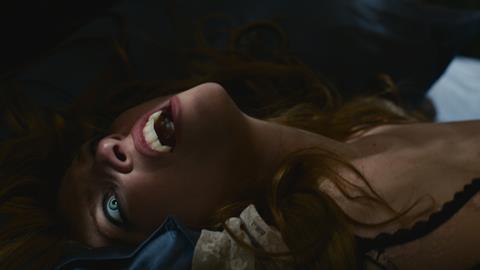 Daughter of John Cassavetes and Gena Rowlands, and director of cinephilia documentary Z Channel: A Magnificent Obsession, Xan Cassavetes was never going to make a standard-issue vampire movie. Her feature debut, Kiss Of The Damned, mixes explicit nods to Italian horror fare of the sixties and seventies (especially the films of Mario Bava) with turbo-charged eroticism and tongue-in-cheek humour, together with a more reflective strain that analyses the social and psychological strains of everyday vampire life.
Cassavetes doesn't forget, though, that she's directing a vampire movie, and there's enough fang-sinking, tomato sauce and squelchy sound effects to keep us from feeling peckish.
The film traces a satisfying enough dramatic arc and has enough gore and steamy softcore sex to keep things ticking over. Its main problem is that alongside the visual and soundtrack homages to low-budget Italo horror, Cassavetes has also imported the tendency of films by Bava, Argento and others to clumsy plotting, and to wooden dialogue in the mouths of a Euro-pudding cast (here with the addition of some US support).
Kiss Of The Damned, in other words, is unlikely to do much serious arthouse crossover business – but it will get its fangs into genre fanboys and Tarantino-style cineastes. Picked up in the last couple of days by Magnet Releasing, the genre arm of Magnolia Pictures, this is a title with healthy auxiliary prospects, but it has enough energy to do some theatrical action too.
At its core, the film is the story of a love affair between sexy but gentle Goth-style vampire Djuna (French actress, model and pop star Josephine de la Baune) and chiseled scriptwriter Paulo (Milo Ventimiglia, who made his name on the NBC series Heroes). While staying in a mansion in the woods that belongs to Xenia (Mouglalis), a famous actress whose fans know nothing about her vampire identity, Djuna 'turns' Paulo by biting him without ripping him to shreds as they have sex on a bed where she's been shackled at her own request; she later takes him hunting for 'safe' animal prey in the forest.
But the arrival of Djuna's bad-girl, sexually predatory sister Mimi (Mesquida, whose line delivery is sometimes excessively laboured), who is waiting for a place at a vampire rehab clinic, throws a spanner into the works. Not only does Mimi transgress the vampire code by using disposable human victims as walking soda fountains; she also despises what she sees as her sister's goody-goody style of vampirism, and sets about prising Paulo away from her.
We're used to the tired vampire conventions being updated in films from Abel Ferrara's The Addiction to Tim Burton's Dark Shadows. What Kiss Of The Damned adds to the genre is a focus on the social and psychological strains on a vampire class that lives in the same relationship with the 'lay' world around them as those with the gift of magic do to the muggles in Harry Potter.
Cassavetes' vampires, who all seem fairly well off, live alongside ordinary mortals but have a Masonic-style parallel social network, meeting up for evening gatherings where they sip blood aperitifs (as in a scene where filmmaker Jonathan Caouette is given a cameo role). Another nicely underplayed theme with blackly comic overtones is the vampirism of the film industry, brought out especially in a scene where Paulo's fast-talking, coke-snorting agent Ben comes to visit and – guess what? – ends up having to stay the night.
Cassavetes doesn't forget, though, that she's directing a vampire movie, and there's enough fang-sinking, tomato sauce and squelchy sound effects to keep us from feeling peckish. And a soundtrack that cites classic Italo film music composers like Sante Maria Romitelli will keep the genre geeks happy.
Production companies: Deerjen Films, Verisimilitude
International sales: Magnet Releasing, www.magnetreleasing.com
Producers: Alex Orlovsky, Jen Gatien
Cinematography: Tobias Datum
Editor: John Lyons, Taylor Gianotas
Production designer: Chris Trujillo
Music: Steve Hufsteter, Demdike Stare
Main cast: Josephine de la Baume, Milo Ventimiglia, Roxane Mesquida, Michael Rapaport, Anna Mouglalis