Dirs: Joachim Roenning & Espen Sandberg. Norway-Denmark-UK. 2012. 118mins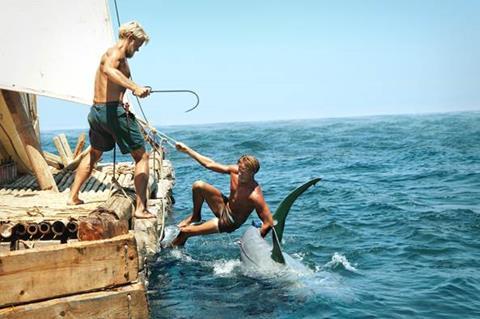 Based on the true story of Norwegian explorer Thor Heyerdahl's perilous 1947 voyage from Peru to Polynesia on a raft, Kon-Tiki has its stirring moments but mostly resembles a Nordic variation on the typical award-seeking Hollywood biopic: earnest, stodgy, impressively mounted but a little too enamoured with its own importance to cut very deeply. Norwegian directors Joachim Roenning and Espen Sandberg deliver an old-fashioned adventure yarn that revels in its gorgeous photography, which turns out to be this muted drama's most memorable element.
There's a beautifully understated digression that links Heyerdahl's journey to those of modern-day explorers.
The film, which opened August 24 in Norway and broke local box office records, screens at the Toronto Film Festival, but its chances for international commercial success are far from assured. Kon-Tiki's rugged men-against-nature plot and widescreen visuals could help, but for territories unfamiliar with Heyerdahl, the movie's lack of marquee names could be a major detriment.
Kon-Tiki stars Pål Sverre Hagen as the plucky Heyerdahl, who became convinced that the accepted notion that Polynesia was settled by Asia is incorrect — it was instead, he insists, colonized by South American explorers. He cannot convince the scientific community of his theory, though, so he recruits a handful of men to join him on a journey across the Pacific Ocean on a handmade raft to duplicate the South Americans' initial expedition.
At first, Hagen plays Heyerdahl as an impossibly handsome, charismatic adventurer whose confidence is infectious, recalling Peter O'Toole's dashing turn as another enigmatic 20th century figure, T.E. Lawrence, in Lawrence Of Arabia. At the same time, though, Hagen hints at the uncertainty underneath Heyerdahl's brash exterior. (In truth, the explorer couldn't swim, and the actor implies that Heyerdahl's desperate compulsion to be proved right spurred his willingness to risk his and his crewmembers' lives.)
Unfortunately, despite cinematographer Geir Hartly Andreassen's striking photography — which contrasts the beautiful, vast oceans with the stark desperation of the men's quest — Kon-Tiki rarely resonates as strongly as the subject matter would suggest. From the beginning of the voyage, there's concern that the raft's logs aren't bound tight enough, which would lead to certain doom, but no matter the many daunting obstacles in Heyerdahl's path (including shark-infested waters and terrible storms), the filmmakers don't sufficiently dramatise the gruelling 100-day journey. Ideally, such a film would draw a parallel between the physical quest and Heyerdahl's emotional journey, but Kon-Tiki functions more as a brisk historical primer rather than as a complex psychological portrait.
Because Kon-Tiki doesn't do enough to examine the anguish and self-doubt inherent in such a dangerous, potentially foolhardy expedition, the film feels oddly anticlimactic once it reaches its triumphant ending. Roenning and Sandberg ably stage a few harrowing ocean sequences — and there's a beautifully understated digression that links Heyerdahl's journey to those of modern-day explorers — but the lingering sensation is that one has witnessed a prestige production in which every emotion and dramatic irony has been finely manicured, scrubbing away the messy (and fascinating) humanity that gives such moments their power.
Production companies: Nordisk Film Production, Recorded Picture Company, Aircontactgruppen, DCM Productions, Solbakken, Roenbergfilm, Motion Blur, Henrik Bergesen, Film 3, Film i Väst, Filmlance International, Norwegian Film Institute, Eurimages, Nordic Film and TV Fund, Malta Film Commission, Swedish Film Institute, Danish Film Institute, Media i2i
International sales: HanWay Films, www.hanwayfilms.com
Producers: Jeremy Thomas, Aage Aaberge
Executive producers: Lena Haugaard, Henrik Zein, Peter Watson, Johan Chr. Stenersen, Petter Skavlan, Dario Suter, Christoph Daniel, Marc Schmidheiny, Lone Korslund, Harald Zwart
Screenplay: Petter Skavlan
Cinematography: Geir Hartly Andreassen
Editor: Per-Erik Eriksen
Production designer: Karl Juliusson
Music: Johan Söderqvist
Website: www.facebook.com/kontikifilmen
Main cast: Pål Sverre Hagen, Anders Baasmo Christiansen, Jakob Oftebro, Tobias Santelmann, Odd-Magnus Williamson, Gustaf Skarsgård, Agnes Kittelsen